Teaching & Learning Breakfast Series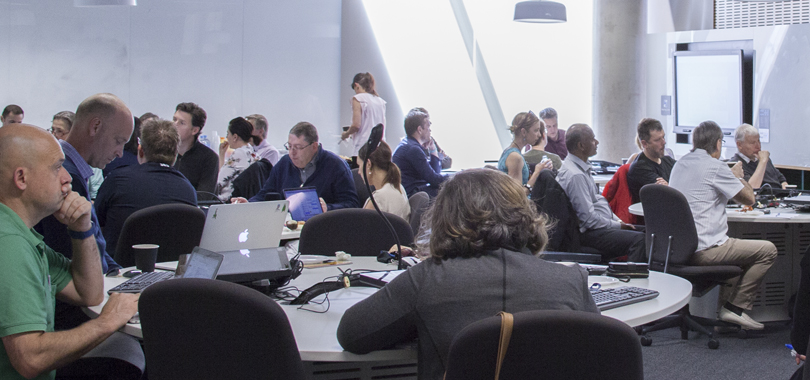 The Teaching Innovation Unit hosts a series of Teaching and Learning Breakfast events throughout the year.
Since 2015 we have addressed an extremely wide range of topics in teaching and learning with some world-class speakers visiting Adelaide or presenting to us remotely.
These sessions regularly have in excess of 100 attendees and draw participants from Universities across the world. Below you'll see an archive of recordings from previous sessions and links to register for upcoming events. We look forward to seeing you in person or online for a future presentation.
TIU Teaching and Learning Breakfast Series
– Past Recordings
---
2017 Event Recordings
2017 Date
Event Topic + Speaker
Resources

20
Oct

Dr Jaclyn Broadbent (Deakin University)

View Recording

7
Sept

Professor Perry Samson (Arthur F. Thurnau Professor at the University of Michigan)

Do Students Get Questions Right for the Right Reasons? A New Two-Stage Approach to Formative Assessment

15
June

Associate Professor Tracey Bretag & Dr Rowena Harper (University of South Australia)

Contract Cheating in Higher Education: Preliminary Findings from a Survey of Australian Students and Staff

4
May

Dr Cathy Stone (2016 Equity Fellow and a 2017 Visiting Research Fellow with the National Centre for Student Equity in Higher Education)

Opportunity through online learning: Improving student access, participation and success in online higher education Equity

View Recording

6
April

Simon Young (Lithmodos VR)

Using Virtual Reality in the classroom

View Recording

25
Jan

Dr Sheryl E. Burgstahler (University of Washington)

Using Universal Design in digital learning environments

View Recording
---
2016 Event Recordings
2016 Date
Event Topic + Speaker
Resources

20
Oct

Professor Sue Bennett (University of Wollongong)

Design Thinking for Teaching in Higher Education

View Recording

22
Sept

Dr Andrew MacKenzie & Dr Karin Oerlemans (University of Canberra)

Passenger in the studio: The intentional use of learning technologies to improve learning outcomes in studio

View Recording

8
Sept

Zac Woolfitt

Video Teaching: An essential skill for lecturers in the 21st Century

24
June

Dr Mathew Hillier (Monash University)

e-Assessment: leveraging twenty first century tools of the trade for more authentic and scalable assessment

View Recording

26
May

Dr Rowena Harper & Language and Literacies Team (University of South Australia)

What are Digital Literacies?

View Recording

17
March

Associate Professor Jelena Jovanovic (University of Belgrade)


Examining students' learning strategies in a flipped classroom through learning sequence analysis

View Recording

16
March

Dr Abelardo Pardo from the University of Sydney

Using technology to provide feedback on learning strategies

View Recording

15
March

Nia Dowell from the University of Memphis

Modelling Discourse and Social Dynamics of Successful Collaborative Interactions.

View Recording

11
March

Panel discussion by the Learning Innovation and Networked Knowledge Research Lab, from the University of Texas, Arlington. Panellists: Professor George Siemens, T. Lisa Berry and Justin T. Dellinger

View Recording

10
March

Professor Simon Buckingham Shum (University of Technology Sydney)

Algorithmic Accountability for Learning Analytics

View Recording

8
March

Presented by Sasha Poquet & Srećko Joksimović from the University of South Australia and the University of Edinburgh

Understanding and Analysing Networks: Concepts and Tools

View Recording

2
Feb

Dr Craig Williams (University of South Australia)

Demonstrating Critical Analysis

View Recording
---
2015 Event Recordings
2015 Date
Event Topic + Speaker
Resources

4
Nov

Associate Professor Michael Sankey (University of Southern Queensland)

The student learning journey is more than a concept, it's about real people and providing them holistic support

15
Oct

Dr Steve Lonn (University of Michigan)

Digital Innovation Greenhouse at U-M

View Recording

1
Oct

Dr David Jones (University of Southern Queensland)

The perceived uselessness of the Technology Adoption Model (TAM) for digital learning

View Recording

10
Sept

Dr Jason Lodge (Melbourne University)

The brain on campus: Can neuroscience contribute to innovation in higher education?

View Recording

27
August

Rob Peregoodoff (University of British Columbia)

Digital Assessment (Online Examination)

View Recording

6
August

Dr Negin Mirriahi (University of New South Wales) and Dr Abelardo Pardo (Sydney University)

Flipped Classrooms

View Recording

23
July

Dr Tim Rogers (University of South Australia)

Learning Analytics at UniSA

20
May

Professor George Siemens (University of Texas)

Preparing for the Digital University

View Recording