Academic spotlight
Tim Sawyer
How have you as an educator transformed your learning environment?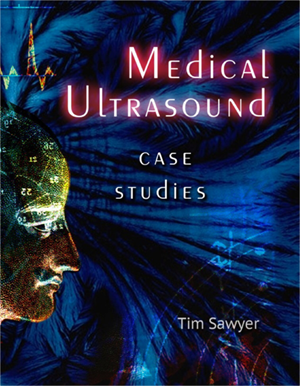 Twenty-five years ago as a new academic, I began to reflect on how I could develop a learning environment that enabled learners to grasp difficult concepts no matter what their learning style was. This was particularly important in my discipline of medical imaging, as it required a clear understanding of physics and diagnostic reasoning. I also became committed to helping those students who felt disconnected with academic life. Providing an environment of effective learning that promoted equity drove my thinking about education for the next two and half decades. Today, while I have achieved a great deal, these aspirations still influence the way I think about my teaching and I now understand even more importantly, student learning. The search for learning resources to assist all students in grasping concepts, led to Computer Aided Learning (CAL) or eLearning. This form of teaching can enhance learning through its visually engaging, self-directed approach as it allows the learner to acquire and test new knowledge. My first CAL module was created in 1992 and the response from my students was a watershed moment for me, they wanted more! Students were able to grasp the concept of gamma imaging and benefitted from the self-paced quizzing with feedback. By providing evidence of student learning, I was then able to advocate to management for extra resources in the form of a student pool of computers, thereby acknowledging my efforts and the power of eLearning. Establishing new ways of learning often involves risk taking, the support of students and management. 1996 was the year that the Internet was having an influence on education and this was also the year that our Bachelor of Applied Science program was converting to a problem based learning (PBL) curriculum. To support PBL, as a new learning environment, online resources were developed with the assistance of a T&L grant. Information Technologies can be utilized to present real life problems, and assist in the sharing of information between students (social learning), resulting in a better comprehension of the concepts being considered. In recognition for our outstanding contribution to learning and teaching, our medical radiation teaching team received an Australian Award for University Teaching, category: Biological Sciences in 1999. In 2006 I was an agent of change with the introduction of podcasting of lectures. This was initially used to promote inclusivity with my distance education students. But being so widely valued by students they subsequently made available to internal & external students. As part of my ongoing reflection on student learning, I became interested in 1st year undergraduate social engagement as an important element to student learning, retention and success. The work of Russian psychologist Lev Vygotsky highlights that the single most powerful approach to develop learning environments, involves social interactions in the development of cognition. I therefore created a private first year wiki to provide opportunities for students to interact and develop first virtual and then physical communities. In 2010, as coordinator for a new 1st year course, a curriculum was developed that uses 'flip teaching' with the course content online (videos, documents, links) and weekly face to face tutorials. Tutors work closely with students using learning activities and collaborated student learning. In 2012 I was a key driver for the establishment of a mobile learning group for staff, and have provided workshops & advice about integrating iPads into T&L (i.e. the use of iPads in Anatomy classes, student iBook 'Medical Ultrasound Case Studies'). Recently Apple Inc. invited me to co-author an iBook on the use of the iPad in blended learning. With the iPad I'm looking forward to again taking risks and treading new paths to transform the learning environment.
What successes have you seen with your learners?
I have found that eLearning is a powerful way of supporting students' learning particularly those students who are for one reason or another, marginalized. Typically in higher education the dominant teaching approach is through lectures. However, many students lack the skills to make the most of lectures. Students from low SES, English as second language (ESL) students and those students who learn through deeply reflecting on learning, are all disadvantaged by lecture formats. The examples below highlight the successes I've seen with my learners through implementation of information technology to overcome some of the above barriers. Podcasting The use of podcasting to support learning indicated the following successes : 1. Students found the podcasts to be useful in helping to clarify terminology and theoretical constructs, as demonstrated in the following student comment: 'Hearing a lecture a second time helps the theory to sink in and get the most out of the lecture. During lectures there is always times where you lack concentration and may miss bits that are vital to comprehension but within the lecture you don't want to interrupt the flow of the lecture by asking too many questions'. 2. Podcasts are important for both ESL and native English speaking students, as it supports their conceptual understanding as well as pronunciation of new terminology. 3. Students listened to the podcasts during exam preparation as they found that it increased their comprehension of difficult topic areas. 'I re-listened to every lecture at least once when revising for exams. I also spent about 2 hours listening to each lecture and pausing it constantly so I could read the textbook and write notes. I think podcasting increased my grades enormously when I was doing this'. Lecture recording has slowly replaced podcasting with similar benefits but with the added advantage of visual queues. Flip Teaching For my 1st year foundation course, all online content has been designed for mLearning, with no flash and documents formats in pdf or ePub. Students then study the content prior to attending their weekly 2 hour tutorial. The close interaction with the tutor has resulted in deep and reflective learning from the students with improved comprehension of concepts being considered. Using a Wiki to develop first year engagement As well as social events, students used the Wiki to organize study groups, discuss content and clarify their understandings of difficult concepts (social learning). My wiki provided a communication medium that encourages a relaxed environment of information sharing, that is socially conducive in the style that fosters student culture and retention.
Ruth Geer
How have you, as an educator, transformed your learning environment?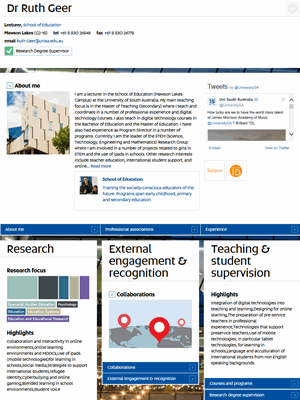 Teaching in Higher Education Faculty spotlight What are the greatest challenges as HE teachers? The greatest challenges are meeting the requirements of high quality innovative teaching, dynamic research with a steady flow of grants or competing for grants and meeting commitments of active community engagement and finding time to excel in all three These demands however are not new, but with the evolution of technology and particularly mobile devices, the expectations to personalize the learning has placed increased pressure on staff. Most students may be adept at using technologies but they don't necessarily know how to use them for learning. Therefore this brief reflection will particularly focus on the teaching component of HE teachers. Universities are perceived as leading the way and being at the cutting edge of innovation. Thus there is increased pressure to utilize the latest technologies, meet students' demands of flexibility, anytime & anywhere, while also implementing creative and engaging strategies that meet the expectations of today's students. Further to this there is increased pressure to have more fully online courses available, so that students can work, sometimes full time while also wanting to study full time. These courses need to be more than dumping grounds for text-based materials. We need to draw on the capabilities of the technologies which involve designing the information using a variety of media and utilizing the many tools that encourage collaboration in the sharing and constructing of new knowledge. A further challenge is how we motivate students to engage in discussion with the course material without making it an assessment task. Also time and resources are a factor in developing quality materials that continually incorporate new and emerging technologies, while also ensuring that those without the latest technologies are not disadvantaged. This means being socially just. We also need to prepare students for the future in encouraging the development of eportfolios or something similar that can evidence their learning for employment purposes. There seems to be an increased number of components in our teaching that need to be considered as our lives become increasingly complex. These are just a few of the challenges faced by HE teachers. What are some of your best strategies for building student engagement? When I think of engagement I think of students wanting to learn for learning's sake. They are motivated to go beyond the information provided by the lecturer/tutor; they also want to share and test their ideas with their colleagues. As students are all individuals and have different preferences for the way they like to learn, we move towards the notion of personalization where students are given choices to demonstrate the achievement of the required goals. With personalization students take ownership of their learning which requires students to take on that responsibility. Personalization is more than just the students adapting the environment to meet their needs, but it requires teachers to ensure scaffolding and flexibility of the learning as that those who need more time can have it while others can move ahead at their own pace. The importance of collaboration and sharing is well documented in the literature, so trying to build a community of learners is an important step towards engagement. Sometimes this may mean that initially an aspect of participation and collaboration may be built into the assessment to help the students recognize the benefits of such exchanges. Since others are reading their contributions there is increased pressure on students to engage in quality exchanges which hopefully leads to a deeper examination of the topics being discussed which ideally increases engagement. Another way to encourage engagement is to present the material in a variety of ways using different media to convey the message and giving students different paths towards the same goals. Designing role plays has proven to be a successful strategy if there can be some flexibility in the topics being enacted; similarly with debates. It is important to provide some choice in the articles you may ask students to read and then in the assessment topics so that hopefully they can identify a path of interest. Finally then, providing students with options in the way they might present their assessment tasks, and taking advantage of the technologies at our disposal can also improve engagement. Equity also becomes a consideration when offering such choices and so we need to be mindful of providing support for those without the technologies If the course is online, utilizing video conference, such as the Virtual Classroom, may help motivate, maintain interest and keep students on track. Incorporating video conferencing can be a challenge to find a convenient time when the majority are available, particularly with undergraduate students. These are just a few of the strategies I've used to build student engagement. How has research improved my teaching? Slightly adjusted question Particularly with constantly emerging technologies there is a need to be relentlessly reading & keeping up with the latest innovations. However just reading about it is not sufficient; you need to actively investigate the ideas/tools/strategies in relevant and useful ways. Being able to report back on your findings is far more meaningful and relevant to the students than having them just reading about some research in an article. In general the research is current and authentic and students are more likely to be engaged and maybe even follow up with some of their own research in the area. In general lecturers will be more excited and animated in reporting back their own research and this enthusiasm/ animation will hopefully brush off on the students. It is also important as a way of gaining the respect of the students in recognizing your knowledge and authority in the area. Thus my teaching becomes more engaging, authentic and meaningful for the students. Talking about my own research opens up opportunities for increased and enhanced discussion with my students.
Tony Wood
What are some of your best strategies for building student engagement?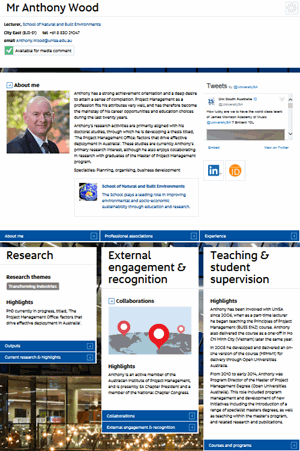 • Transparency – explain in detail what the students need to do to succeed in the course, what learning will look and feel like, how assessments will be marked, and how they can get help if they want it. • Fairness – show that the study load and assessments are reasonable, what practices will be employed to ensure everyone has the same opportunity, and how extra effort will be rewarded. • Sincerity – show that you really want to help the students succeed; include some in-class time for groups to work on their assignments, and make yourself available to wander amongst the groups as a mentor. • Brevity and Activity – I try very hard to not talk for longer than 10 minutes at a time, and even then I intersperse my speaking with open questions. Each session is structured on a 50-minuite cycle: talk – questions – talk – group activity – discussion, take a 10 minute break and move into the next session. I have a detailed lesson plan for every session I deliver, which helps me stay on track, moderate my delivery speed, and allocate group discussion time. • Humour – the right amount at the right time and in the right context. Some of the best 'lessons learned' in the world of practice can be wrapped up in a cloak of humour and revealed to the class, even if I have to expose some of the dumbest mistakes I ever made, and how I moved onwards and upwards as a result. I'm not infallible, and I don't try to pretend otherwise to my students. 6. What single piece of advice would you give to new Academic today? • Go to a creditable training provider and do a Cert IV in training and Assessment. This might sound peculiar, given Cert IV is vocational and HE is, well, Higher Education. But adults are adults nevertheless, and the TAE qualification teaches you a lot about how adults learn. More importantly, you will learn how to plan, organise and facilitate individual and group-based learning, and plan and validate assessment. Do the whole course in class (don't go for distance or RPL if you can avoid it), because this way you can practice your skills with a live audience. I've done this course twice now; once as a vocational trainer some years ago, and the second time more recently as a Higher Education lecturer – and I got the most out of it by far the second time around. 7. What changes have you seen over your career with regard to student learning and how have you adapted to them? • I started teaching as a casual lecturer in 2006 and full-time lecturer/researcher from 2010. • Teaching was much more teacher-centred than it is now. We have moved some distance away from simple transmission of information, to a more deliberate focus on student-centred learning and shared knowledge and understanding of concepts and principles. We used to print all the slideshows and issue them to the students; phones in the classroom were an unacceptable distraction and the height of rudeness to be seen to use one in a lecture. Today, I only print worksheets for group activities; students sometimes print their own copies of the slideshows, but more and more often they just open them on their tablets or notebook PCs. I encourage students to use whatever resources they feel they need to support their learning; it is perfectly 'normal' in my classes for students to look up answers to questions using online resources in real time. If there's a hyperlink in one of my slides, it's certain that at least several students will open that link on their tablets and look up the reference – and this can lead to all sorts of value-added learning as we bring unscripted discoveries into the discussion.