Disconnecting NEC phone from Docking Station
IMPORTANT NOTICE:
Before attempting below, ensure you have saved all work/files etc because you will temporarily lose network access.
ISTS recommend doing this while your PC is turned off or laptop is not connected to the docking station.
NOTE: LAN cables (or commonly referred to as network cables) can come in a variety of colours e.g. yellow, different shades of blue, grey and even red. There is no colour standard at UniSA for LAN cables, so the colours shown in the following pictures may vary from the ones at your desk, but the location of the plug for the cable on the phone/device will not.
Unplug both the network cables from the phone. One of these will be connected to your dock and will not be required.


Remove the network cable from the back of the dock and put aside.

Find the network cable that is still connected to the network point in the wall and plug it into your dock.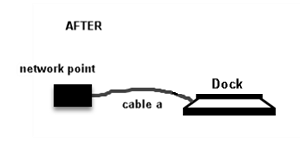 Further Assistance
If you require further information or assistance please contact the IT Help Desk on (08) 830 25000 or 1300 558 654.