Research Electronic Data Capture - REDCap
What is REDCap?

REDCap is a secure web application for building and managing online surveys and databases. Whilst REDCap can be used to collect virtually any type of data, it is specifically geared toward supporting online and offline data capture for research studies and operations.
How do I access REDCap?
Access to the REDCap application is free for researchers and can be requested by clicking the link below (UniSA Staff and Students only). If you wish to be added as a user to an existing project, please contact the project administrator to request access.
How do Iog in to REDCap?
You will need to use your University credentials through the Australian Access Federation (AAF) to log in to REDCap. Multi Factor Authentication (MFA) will also be enforced if you are off-campus.
For step-by-step instructions, please visit the REDCap login instructions page.
Key features offered by REDCap
Smartphone application with offline data collection


REDCap offers a smartphone application for both Android and iOS smartphones and tablets. This application allows for remote collection of data even without an active internet connection. Once a REDCap project has been created in REDCap, a smart device can be connected to the project by scanning a QR Code.
Once a device has been connected to the project, administrators can provide devices with identifying nicknames, see all activity undertaken by a particular device and if necessary, block devices.
Easily built online surveys and databases
REDCap provides a clean out of the box interface to create easy to use and professional surveys and data collection instruments with an online designer tool. The easy-to-use tool provides users with a number of options to gather different types of data such as; multiple-choice answers, free text fields, true/false statements, and more; easily through an online form. There is even the functionality to upload a file or have a form digitally signed by a participant or data collector.
There also exists the ability to utitlise more advanced fields when creating surveys such as calculated fields and branching logic.
If using REDCap as a survey tool, it is possible to manage a list of survey participants and utilize the application to directly send the survey to participants in a number of different methods. These options include the option to email direct links to participants in order to take the survey. This provides the ability to track responses for individual participants. Alternatively, the survey can be exposed to the public for anonymous responses using either a direct URL link, embedding into a webpage or a QR Code.
Data Analysis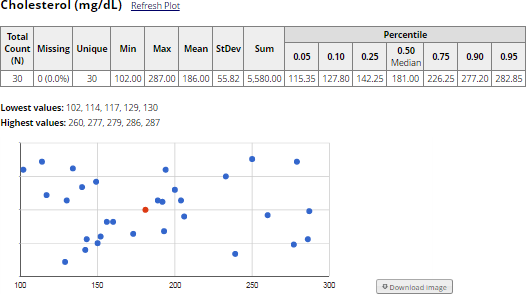 Once data has been created, REDCap allows users a number of ways to use their data. There is a powerful export tool that allows for data to be downloaded to Microsoft Excel (CSV) as well as SPSS, SAS, R and Stata statistical software packages. There are also a number of tools built in to the application that allow a user to analyse the data without the need to extract it from the application first.
These in built analysis tools allow a user to;
Compare 2 separate data sets against each other
Plot all numerical data from a particular query
Chart number of responses to multiple choice answers
View information about results such as standard deviation, median, mean etc.
Use data quality tools to find

Data that is a statistical outlier
Data that has not been entered for a field
User Friendly Interface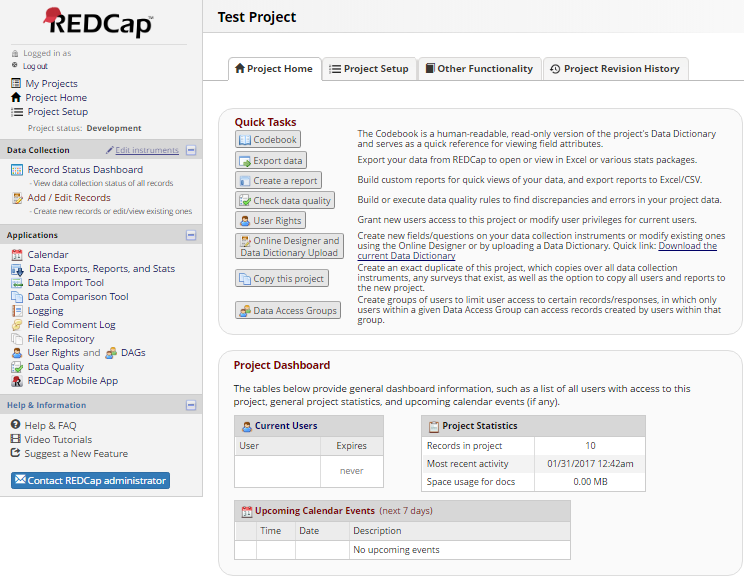 REDCap provides users with a clean and intuitive interface to navigate to different parts of your project. In particular, the project home landing page allows users to manage all aspects of their projects easily from the one screen.
From this page, you are able to access key functions for the project with quick links to export data, create a report, check data quality, user rights, online designer and the possibility to copy the entire project to a new project instance.
A number of these options also exist in the side navigation bar which is present on every page you visit. This navigation bar also provides quick shortcuts to other functionality like the file repository, mobile application setup, data import and comparison tools as well as audit logging.
The project setup page provides a clear start to finish checklist style view that walks you through the project creation process in order to move from conception to production-level survey/database in less than one day. This includes, creation of surveys/data-collection instruments, defining events, repeating surveys and permissions and rights of individual users before moving on to testing and publishing your project for use.
Video Resources
The REDCap Consortium provides a number of informational and training video to help get you started and understand the functionality it offers.
A quick summary of what REDCap is and what it can do.
This video provides an overview of basic functions and features within a REDCap project. It will serve as a starting point for learning about the basic concepts of REDCap, what REDCap projects are, how to create them, and how to use them.
A focused exploration of basic data entry workflow. Suitable for training data entry staff.
A number of videos on additional features and functionality such as building a project, basic features & modules, types of REDCap projects and special features within REDCap projects. These videos are all accessible through the home page of the REDCap application if you already have access or from the REDCap Consortium link above.
If you have any questions regarding REDCap, please contact IT Help Desk.
Installed Modules
The following REDCap modules are currently installed on the UniSA REDCap instance and can be enabled in your REDCap projects:
Form Render Skip Logic (v3.3.11): this module allows survey creators to hide some instruments using a limited set of logic.
Image Viewer (v1.3.2): this module allows uploaded images to be directly visible in the page without having to download them first.
Inline Descriptive Pop-ups (v1.4.2): this module allows descriptive text to be displayed when hovering over keywords.
Mass Delete (v1.1.1): this module is used to perform a bulk deletion of records.
REDCaptcha (v1.0.1): this module is used to provide Captcha functionality for survey respondents.
Swiss Army Tools (v1.0): this module offers a range of useful features such as background theme selector, Merge Menu selection and Language (file) Switch.
Image Map (v1.9.0): this module offers the capability to use predefined image maps for survey respondents (see ImageMap module documentation for a list of existing image maps).
Custom Image Map (v1.12): this module offers the capability to define a custom image map. This requires some basic knowledge in HTML and HTML image maps.
If you require an additional module to be installed in UniSA REDCap for your project, please contact IT Help Desk.