Division Newsletter
December 2018
Pro Vice Chancellor Update
Dear Colleagues,
Welcome to the final edition of the Division of Health Sciences Newsletter for 2018.
It has been a busy time for the Division's International portfolio with a recent trip for me to China (3rd – 11th November), accompanied by Professor Rachel Gibson (Dean: Academic) and Gabi Yu (Academic Translator). As part of this trip we visited Yantai, Weihei and Jinan to showcase aspects of our first short course written entirely in Mandarin: Culture and Health. Over 250 students attended the presentation! Our colleagues from Binzhou Medical University (Yantai) showed interest in our short courses and in articulating the next intake of their Health Services and Management students with our undergraduate Bachelor of Health Sciences program. This is a very pleasing result and I provide my personal thanks to Rachel and Gabi who have done an enormous amount of work to make this happen.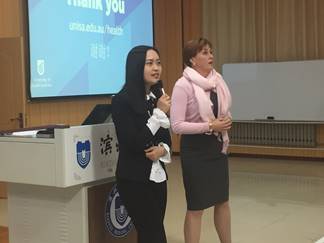 Gabi Yu and Professor Rachael Gibson at Binzhou Medical University
It is always a pleasure to be a part of the China – Australia Centre for Health Sciences Research Symposium, with this fifth symposium being held in Jinan on 9th November. I joined a delegation of 22 from the University, who for some experienced their first trip to China! Our exceptional Shandong University hosts do not disappoint and provided such a warm welcome. I look forward to further visits in strengthening our research partnership, which has just been extended for another five years.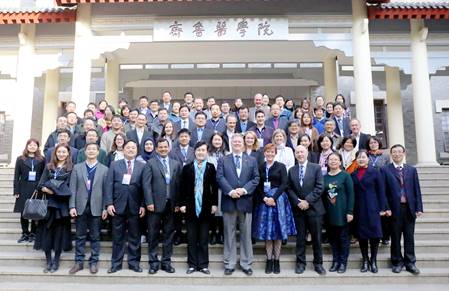 I am delighted to announce the following successful academic promotions for 2018:
Dr Larisa Bobrovskaya (PMB) – Level D Teaching and Research Academic
Dr Saravana Kumar (HLS) – Level D Teaching and Research Academic
Dr Hong Lee (HLS) – Level D Research Academic
Associate Professor Nayana Parange (HSO) – Level D Teaching Academic
Dr Sally Plush (PMB) – Level D Teaching and Research Academic
Dr Natasha Stanton (HLS) – Level D Research Academic
Dr Gabrielle Todd (PMB) – Level D Teaching and Research Academic
Dr Rietie Venter (PMB) – Level D Teaching and Research Academic
Dr Tuan Nguyen (PMB) – Level C Research Academic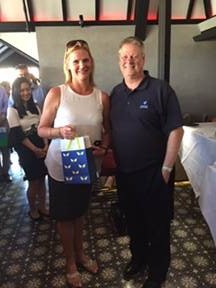 Our annual Celebrating Success event was held on Thursday, 6th December at the Mayfair Hotel. This event acknowledges a range of achievements across our Division, including grant successes, Teaching and Learning awards, competitive external awards, promotions, those staff who have completed 10 years of service, and our superb staff who have been nominated for a Staff Recognition Award. It is an opportunity for staff to come together to celebrate these outstanding contributions to the Division across 2018.
As in every year, it was an absolute pleasure to announce the 2018 Staff Recognition Award recipients. The recipient for the 2018 Staff Recognition Award (Professional) was Mrs Tracy Jones, Project Officer within the School of Health Sciences, whilst the winner of the award's Academic category was Dr Arjun Burlakoti, Lecturer in Anatomy, also from the School of Health Sciences.
Congratulations to both Tracy and Arjun, who each received a $200 Short Breaks Australia travel voucher.
Please also join me in congratulating Associate Professor Craig Williams, who was merit selected to become the Associate Head: Academic, School of Pharmacy and Medical Sciences.
It was lovely to see many of you at my last PVC Forum for the year on Friday, 7th December, where we had the opportunity to reflect and look back over the successes and accomplishments we have enjoyed during 2018. Noting some of the staff movements announced recently, I also appreciated the opportunity to network with fellow colleagues over a glass of wine in seeing out the year.
I again thank you for your valued contribution to the Division this year and would like to wish you and your families a safe and very happy Christmas. Sit back with family and friends, relax and enjoy the break.
For more updates from colleagues across the Division, please enjoy the rest of our newsletter.
Bob
Professor Robert Vink
Pro Vice Chancellor: Division of Health Sciences