Highlights and Achievements
Farewell to Professor Robert Vink
Pro Vice Chancellor: Division of Health Sciences, 2014 – 2018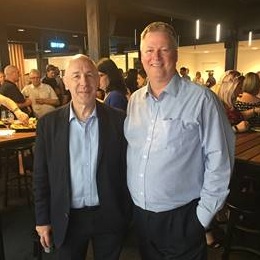 We had the opportunity to farewell Bob at the last PVC Forum for the year held Friday, 7th December in our fabulous new student lounge. Professor Ian Olver represented the Division in acknowledging the fantastic leadership, achievements and support Bob has provided during his time at UniSA. We will certainly miss Bob and wish him all the very best in his next adventure!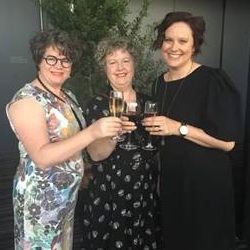 Kim Gibson (Lecturer in Nursing: Complex Care) was the winner of the Best Paediatric or Neonatal Nursing Free Paper at the Annual Scientific Meeting (ASM) on Intensive Care for her presentation/paper titled, Non-contact heart and respiratory rate monitoring on preterm infants based on a computer vision system: a method comparison study. Her prize, totalling $2,150, was announced at the ANZICS/ACCCN ASM Gala Dinner held at the Convention Centre on Saturday 13th October 2018. A wonderful achievement Kim!
Dr Jackie O'Flaherty (Senior Lecturer: School of Pharmacy & Medical Sciences) has won a 2018 International Effective Online Practice Award for her proposal, Science & Uniready: Tailoring an Online Workshop for Successful Transition and Academic Performance in Health Sciences. Jackie used learning analytics to predict and improve first study period success for transitioning Nursing & Midwifery students. The award was presented at the International Online Learning Conference, Accelerate,in Orlando, Florida last month. Congratulations Jackie!
Mrs Heidi Holla has had her application for Associate Fellow for the Higher Education Academy accepted. Fellows of the academy aim to improve learning outcomes by raising the status and quality of teaching in higher education. Further information is available here.
China – Australia Centre for Health Science Research (CACHSR)
The China – Australia Centre for Health Science Research (CACHSR) is an international collaborative research centre established between Shandong University in China and the University of South Australia. The Centre undertakes research addressing various medical and scientific disciplines with an aim to address health-related issues both in Australia and China, and at the same time, to further enhance research experience, education and training of staff and students between both universities.
The fifth CACHSR Joint Symposium, hosted by Shandong University on Friday, 9th November 2018, saw 22 delegates from UniSA travel to Jinan. Several researching staff from both universities presented their research to a wider audience, with an emphasis on addressing many health-related issues including and not limited to the need for novel mechanisms for rapid diagnosis of cancer, development of novel antimicrobial agents and antiviral vaccines, and development of novel carriers for better drug delivery.
Three of our PhD students- Wern Chern Chai (Brian), Candace Day and Laura Gonzalez- delivered oral presentations that were highly commendable. Their studies provide them with the opportunity to collaborate and strengthen ties with international partners by forming networks and collaborations beyond UniSA, in line with the University's Transformed PhD, as well as further enhancing their skills as high-calibre researchers.
As a result of collaborative efforts between both universities, the following are some of the key achievements that have resulted from the creation of the Centre:
Publications of 40 peer-reviewed articles in pertinent fields, many in high impact factor journals such as Nature;
Presentation at conferences in Australia as well as in Asia, Europe and the United States of America;
Three joint patents from Professor Shudong Wang's and Dr Rietie Venter's lab;
External grants from the National Health and Medical Research Council, Medical Research Future Fund and National Science Foundation of China;
17 staff and student exchange visits and 32 student industry placements;
A joint Masters in Research, with the first batch of students having commenced at UniSA in 2018.