Research and Research Education
Recent PhD Completions within the Division
| Student Name | School | Principal Supervisor | Thesis Title |
| --- | --- | --- | --- |
| Charlick, Samantha | NRC | Dr Lois McKellar | Exploring the lived experiences of first-time Australian mothers in their journey towards exclusive breastfeeding: an interpretative phenomenological analysis |
| Dening, Tahnee | PMB | Professor Clive Prestidge | Nanostructured clay materials for solidifying lipid-based drug delivery systems |
| Dowell, Caitlin | HLS | Professor Leonie Segal | Maternal incarceration, low birth weight, and infant mortality in a longitudinal sample of Western Australian children |
| Lewthwaite, Hayley | HLS | Associate Professor Marie Williams | Health behaviours occur over the whole day for people with chronic obstructive pulmonary disease: exploration of opportunities for optimising habitual physical activity, sedentary and sleep behaviours |
| Li, Ka Leung | PMB | Professor Richard D'Andrea | Investigating a novel CDK9 Inhibitor, CDKI-73, as a treatment for AML |
| Watson, Nerylee | HLS | Dr Karen Murphy | The effects of low-fat diets, differing in protein and carbohydrate ratio, on glycaemic control, cardiometabolic health risk factors, food cravings, psychological wellbeing and cognitive function in adults with type 2 diabetes |
Medical Research Future Fund (MRFF) Rapid Applied Research Translation (RART) Health Impact Grants
Congratulations to two Division researchers, Dr Kylie Johnston and Professor Susan Hillier, who were successful in securing Health Impact Grants recently.
Translating evidence-based chronic breathlessness intervention services to South Australia: personal, clinical and cost effectiveness (Lead: Dr Kylie Johnston (UniSA); Associate Professor Marie Williams (UniSA); Mrs Mary Young (Nurse Practitioner, Royal Adelaide Hospital); Ms Debra Kay (SAHMRI Consumer Engagement Faculty Member) and Dr Sara Booth (Palliative Care Physician and founder, Cambridge Breathlessness Intervention Service, UK).
Chronic breathlessness is a common symptom of people living with advanced disease such as chronic heart, lung and cancer conditions. Breathlessness is a distressing and often stigmatised symptom that severely limits physical capacity and has profound negative effects on the wellbeing of those living with chronic breathlessness, as well as those that care for someone with chronic breathlessness.
Despite its prevalence and severity, chronic breathlessness is often overlooked or under-treated. This funded project, Translating evidence-based chronic breathlessness intervention services to South Australia: personal, clinical and cost effectiveness, includes two components. The first will adapt, deliver and evaluate a short home-based program that helps people to manage and cope better with breathlessness. The second will develop a training course delivered to health care professionals in the management of chronic breathlessness, building capacity and enabling clinicians to continue delivering such services across diverse settings, beyond the life of this project.
Acting fast to increase time-critical stroke treatments to all South Australians (Lead: Professor Susan Hillier (UniSA); Associate Professor Tim Kleinig (Head: Stroke Unit; Royal Adelaide Hospital), Professor Simon Koblar (Director: Stroke Research Program, University of Adelaide), Associate Professor Jim Jannes (Director of Neurology, Royal Adelaide Hospital), Dr Jyoti Khadka (Health Economist, UniSA & SAHMRI), Ms Karen Dixon (Manager Strategic Clinical Change, Country Health SA), Mr Bruce Martin (Country consumer advisor/stroke survivor).
One in six South Australians will have a stroke in their lifetime. Recent trials have shown that treatments for stroke are time-critical but have also shown that some benefit may persist for up to 24 hours. Therefore, we must design health systems to deliver these treatments as fast as possible, to all who may benefit. This imperative to reduce inequity is especially pertinent for rural and remote citizens, and Aboriginal people, who live disproportionately in non-metro areas and experience more severe strokes at younger ages.
This project will introduce a suite of system-wide stroke care improvements to reduce disparities and improve access to certain treatments, improve the speed they are administered, thus reducing death and disability from stroke, and improving patient flow through the SA Health system. The aim is to end the 'postcode lottery' that currently determines stroke outcomes.
Vice Chancellor and President's Scholarships Success
Congratulations to two PhD candidates from the School of Pharmacy and Medical Sciences, Ramin Hassankhani Gharagozlou (supervised by Professor Shudong Wang) and Kay Khine Myo Min (supervised by Associate Professor Claudine Bonder), who were successful in obtaining prestigious Vice Chancellor and President's Scholarships recently. The $10,000 awards support recipients whose research project exemplifies the objectives of the Transformed PhD (tPhD) and who can demonstrate how they would use the scholarship to further these objectives.
The Vice Chancellor and President's Scholarships will provide funding towards gaining engagement or experience with industry, overseas or domestic trips for the purpose of collecting data or input from an end user on the research project, travel to conferences to present a refereed conference paper, or other activities identified in the candidate's application and approved by the selection panel.
Well done to both candidates on their success.
Research Australia Highly Commended Award
Professor Bill Runciman was recently invited to attend the Research Australia award night, where he received Highly Commended in the Health Services Research Award. The Award is for an individual who has provided leadership and made an outstanding contribution to health services research; has driven research that had led to a significant improvement in healthcare; and/or has championed the development of health services research field. View the video here.
STEM Tour of UniSA Cancer Research Institute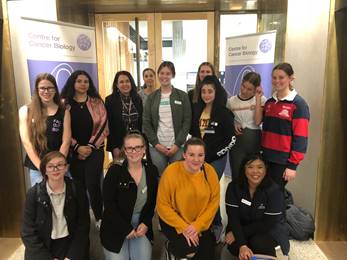 School of Pharmacy and Medical Science postgraduate students Hayley Schultz, Santhni Subramaniam, Jessica Heatlie, Ruth Genuino and Alex Shoubridge, together with Associate Professor Claudine Bonder and Associate Professor Natasha Harvey from the Center for Cancer Biology, co-hosted a UniSA Connect STEM tour for approximately 90 Year 11 female students at the University of South Australia Cancer Research Institute.
By all reports, the Year 11 students found it highly inspiring!
Research Day Award Success
The University hosted an inaugural University-wide Research Day on 22nd October 2018. We achieved several successful outcomes for the Division as follows:
Research Excellence Category – Early Career Award joint winners: Dr Brenton Hordacre (HLS) and Dr Stephanie Reuter-Lange (PMB);
Best Research Themes Investment Scheme (RTIS) application winners: Professor Clive Prestidge (PMB), Dr Nicky Thomas (PMB), Professor Allison Cowin (FII), Dr Zlatko Kopecki (FII) and Dr David Ogunniyi (FII) for Re-sensitising Resistant Bacteria Against Antibiotics: Giving New Power to Failing Medicines.
Our Higher Degree by Research (HDR) candidates were also successful:
Training and Support Category – Best Transformed PhD Student of the Year winner: Tahnee Dening (PMB);
Ian Davey Research Thesis Prize winner: Dr Jessica Wojciechowski (PMB).
SAHMRI Annual Scientific Meeting Research Showcase – Pitch Perfect Award
Associate Professor Kristin Carson-Chahhoud (HLS) was recently awarded the Pitch Perfect Award at the Annual Scientific Meeting, which took place on 25th -26th October. The research showcase took place on day two of the meeting.
CSL Florey Next Generation Nominees
Following a University-wide selection process, both Commonwealth Serum Laboratories (CSL) Florey Next Generation nominees were selected from our Division. The 2018 CSL Florey Next Generation Award will shortly be conferred to a PhD candidate who has demonstrated outstanding capability, creativity and potential in the biomedical sciences and/or health and medical research.
Our good wishes go to Alexandra Wade (HLS) and Hayley Schultz (PMB), who submitted applications and a short 90-second video that answered the question, What research challenge do I intend to solve during the course of my career?. Alex's video can be viewed here, whilst Hayley's video is available here. Both are exceptional nominees!
Beat Cancer Travel Grant Success
Congratulations to Naranie Shanmuganathan (PMB PhD candidate) for her success in the Beat Cancer Project Travel Grant. The Beat Cancer Project is a South Australian state-wide initiative intended to support and advance cancer research within the state. It is funded by Cancer Council SA and the SA Government (through SA Health) and administered by the South Australian Health and Medical Research Institute (SAHMRI). Naranie received $2500 in the Conference Attendance and Travel subcategory, which she will use towards her attendance at the America Society of Haematology Conference.
Success at the Controlled Release Asia Meeting
A large delegation from the School of Pharmacy and Medical Sciences attended the Controlled Release Asia (CRA) Meeting in Singapore in September. Two PMB students, Santhni Subramaniam (Honours) and Chelsea Thorne (PhD), were selected from a pool of 130 students to present, resulting in first- and third-place presentation awards respectively.