Clinical Education and Equity
Congress of Aboriginal and Torres Strait Islander Nurses and Midwives and theIndigenous Allied Health Australia Conference
The Clinical Education & Equity portfolio, together with the School of Nursing & Midwifery, supported nine high-achieving Aboriginal Nursing, Midwifery and Allied Health students to attend the Congress of Aboriginal and Torres Strait Islander Nurses and Midwives (CATSINaM) and the Indigenous Allied Health Australia (IAHA) Conference.
The following four students were supported to attend the CATSINaM conference in September:
Georgia Turner (Midwifery);
Jessica Graham (Nursing);
Tonie Sheehy (Nursing);
Rhianon Warneke (Midwifery).
Indigenous Allied Health Australia (IAHA) is a national not for profit, member-based Aboriginal and Torres Strait Islander allied health organisation. Its aim is to support Aboriginal and Torres Strait Islander health professionals to play a vital role in addressing the health and wellbeing of Australia's First Peoples, in order to close the gap in health outcomes.
The IAHA Conference values and builds on the strengths of Aboriginal and Torres Strait Islander communities and allied health workforce and fosters collaboration and connection between health professional bodies, allied health professionals and communities.
The following five students were selected to attend the IAHA conference in late November due to being identified as future leaders in Aboriginal health:
Laurie Haynes (Physiotherapy);
Amy Pfitzner (Medical Imaging);
Jonty Doudle (Human Movement);
Brooke Coleman-Oakes (Occupational Therapy);
Luke Newall (Nutrition and Food Sciences).
Networking as Aboriginal future health professionals and hearing from leaders in their respective professional areas was seen as very valuable and inspiring. Thank you to everyone involved.
The Rural Health Association for UniSA (ROUSTAH)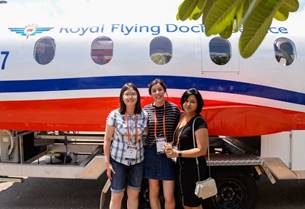 The Department of Rural Health (DRH) funded three members from UniSA's rural health club, ROUSTAH, to attend the Services for Australian Rural and Remote Allied Health (SARRAH) Conference held in Darwin in September.
The conference aims to bring together allied health students and professionals from around Australia who share a common interest for rural health. It provided an opportunity to talk directly with rural health professionals and develop important connections. An interesting variety of session topics were offered, such as wellbeing and avoiding burnout, caring for Indigenous patients, the benefits and challenges of working rural, strategies for rural workforce retention, virtual reality therapy and the use of escape rooms to facilitate problem solving in health students. In addition to the conference, the students had the opportunity to visit the Royal Flying Doctors Service (RFDS) facility and tour the Royal Darwin Hospital radiology department.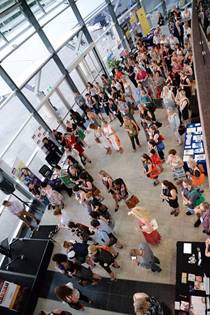 "A visit of the radiology department in the Royal Darwin Hospital, where I was lucky enough to be introduced to the radiology team there, the structure of how radiographers work and what it's like to be a rural and remote radiographer, allowed me to see a rare glimpse of a public hospital setting in Darwin and has sparked my interest in choosing Darwin as one of my placement sites next year." – Jenny Han, 3rd year Medical Imaging Student
"I have also gained a deeper understanding and appreciation for the wide range of allied health professionals involved in the patient's healthcare journey." – Krystle Crouch, 3rd year Radiation Therapy Student
"As a nursing student who wants to work in a rural setting after graduation, I believe the network building with rural health professionals gave me an insight into how it feels to be a rural health professional." – Sumaiya Sheen, 3rd Year Nursing Student