Division Newsletter
July 2018
Pro Vice Chancellor Update
Dear Colleagues,
Welcome to the third edition of the Division of Health Sciences Newsletter for 2018.
It has been a busy few months since our last communication! During the month of May I travelled to China with Professor Rachel Gibson, Professor Roger Eston and Professor Sanjay Garg where we discussed collaborative opportunities with Binzhou Medical University (Yantai), Shandong University (Jinan) and Shandong Sport University (Rizhao).
Our meeting in Yantai explored a new relationship with Binzhou Medical University, following up on their expression of interest in the possibility of undertaking short courses from our suite of Health Science programs, as well as an articulation with our new Master of Health Services Management program. These are exciting developments and I look forward to further meetings in bringing these opportunities to fruition.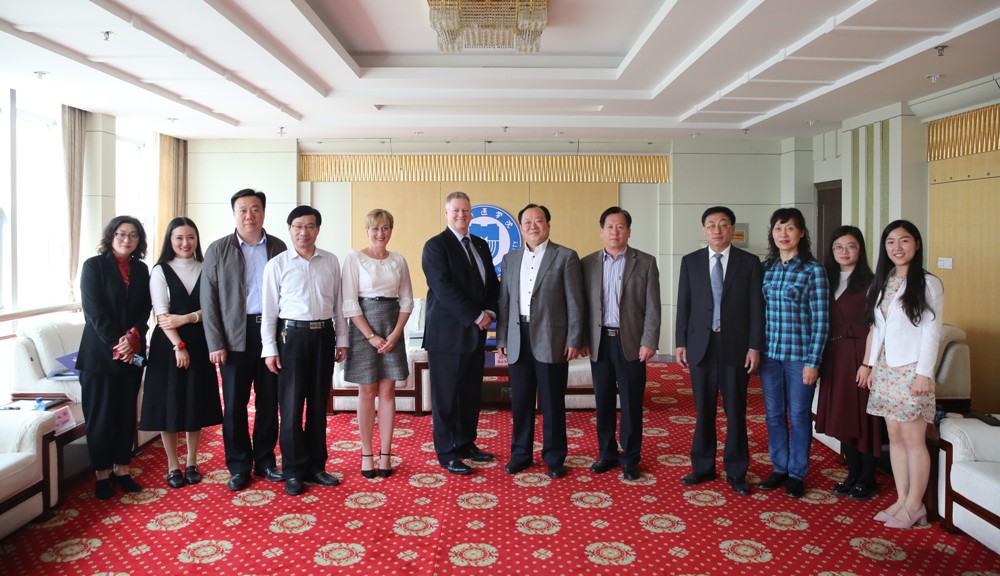 Professors Bob Vink and Rachel Gibson meeting colleagues at Binzhou Medical University (Yantai)
In partnership with Shandong University, we continue to work together within the China-Australia Centre for Health Sciences Research for our next joint symposium, to be held in Jinan in November this year. There is an interest in exploring collaborations in areas such as aged care, which is a major focus in China right now. Researchers with an aged care focus should contact Professor Sanjay Garg for further information about research proposals seeking project seed funding.
Shandong Sport University is home to many elite Chinese athletes undertaking degrees in Sports Science, while simultaneously training to represent their country. Our current focus with Shandong Sport University is the development of research collaborations that involve their cohorts of athletes, as well as the delivery of short courses in the area of elite sports performance.
As President of the NeuroSurgical Research Foundation (NRF), it was an honour to be present at the NRF Gala Dinner held on Saturday, 26th May at the Adelaide Convention Centre, at which the NRF donated $1 million to the University of South Australia. This funding will be used to establish the NRF Chair in Brain Tumour Research.
On behalf of the University, Professor Allan Evans (Provost and Chief Academic Officer) accepted the donation from the NRF Vice-President, Dr Glenn McCulloch.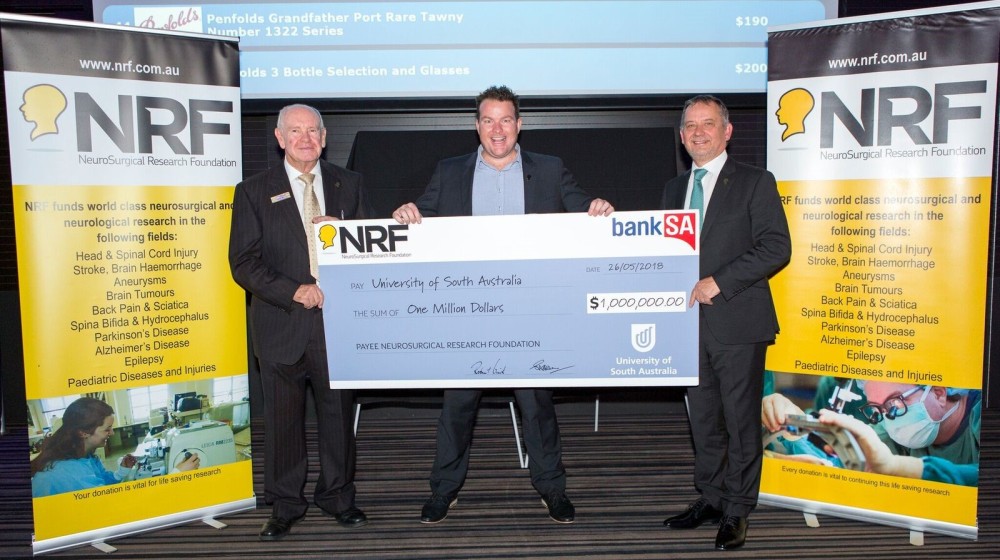 Dr Glenn McCulloch (NRF Vice President), Andrew 'Cosi' Costello (MC), Professor Allan Evans (UniSA Provost and Chief Academic Officer)
A small group of senior Divisional colleagues attended an off-campus strategic retreat on Thursday, 31st May and Friday, 1st June. The retreat was an opportunity to discuss the Division's strategic direction within the context of the University's new strategic plan, Enterprise 25, which will focus on programs, people and precincts. The discussions were very fruitful, with a number of very worthwhile suggestions to be explored further.
Lastly, most staff are aware of the current exploration of a potential merger with the University of Adelaide. That decision will be considered over the next six months and in the meanwhile, we should not lose sight of the fact that our core business is teaching and research, which should continue as usual. As the Vice Chancellor stated to senior staff recently, 'Enterprise 25 will set up our institution for a great future as Australia's University of Enterprise. A merger will set up an institution which, if created and crafted appropriately, would in a very short time outperform the sum of its parts- and build on the best of both. Either future is exciting to contemplate and whichever eventuates, your engagement will help shape it for the better'. The Vice Chancellor will host a Town Hall meeting on Monday, 9th July at City East to answer any questions that you might have.
Our next Pro Vice Chancellor's Forum will follow shortly thereafter on Friday, 20th July, commencing at 3.00pm in H2-02. The forum is an opportunity to ensure that all staff are aware of what is happening across the University more broadly, and within the Division specifically. Of course, as always, there will be an opportunity for informal discussion afterwards over drinks.
For more updates from colleagues across the Division, please enjoy the rest of our newsletter.
Bob
Professor Robert Vink
Pro Vice Chancellor: Division of Health Sciences