Research and Research Education
Recent PhD Completions within the Division
| Student Name | School | Principal Supervisor | Thesis title |
| --- | --- | --- | --- |
| Bartlett, Louise | PMB | Professor Libby Roughead | Fixed dose combination medicine use in cardiovascular disease: implications for quality use of medicines and subsidy in Australia. |
| Byard, Roger | HLS | Professor Robert Vink | Pathological investigations differentiating the causes and characteristics of sudden accidental and inflicted early childhood deaths from sudden infant death syndrome. |
| Chalmers, Katherine | HLS | Professor Lorimer Moseley | Below the belt: Investigations into the assessment, treatment, and pathophysiology of pelvic pain in women. |
| Dumuid, Dorothea | HLS | Professor Tim Olds | Time use: a case for compositional data analysis. |
| Graham, Stuart | HLS | Professor Roger Eston | Application of a mathematical variable dose-response model to professional Australian football training and performance data. |
| Karran, Emma | HLS | Professor Lorimer Moseley | Can we do better? Optimising the clinical management of low back pain. |
| Li, Katrina | HLS | Associate Professor Marie Williams | Offspring of people with chronic obstructive pulmonary disease (COPD): intergenerational and life course influence on respiratory impairment. |
| Tan, Li Yin | PMB | Dr Lisa Ebert | Vasculogenic mimicry: regulation and function in melanoma. |
2018 Global Voices Scholar
Hayley Leake, a first year PhD candidate in Body in Mind, was recently awarded the Global Voices Scholarship which sends a UniSA student to Geneva, Switzerland to attend the World Health Assembly (WHA). The WHA acts as a formal decision-making body for the World Health Organisation and scholars will deepen their knowledge of public health policy, disease and development.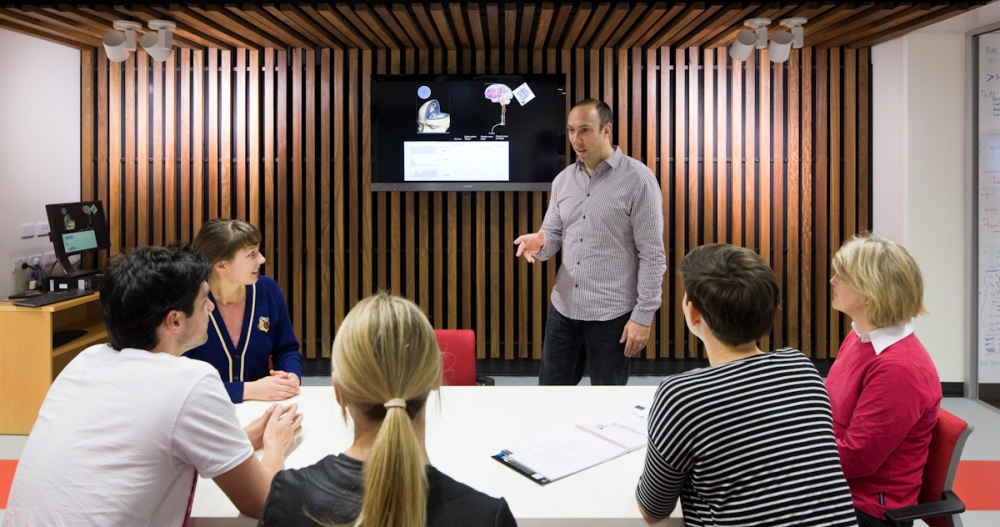 BUPA Health Research Grants
Four PhD students from the Division have been selected to receive UniSA's BUPA Health Research Grants which may be used to cover PhD research-related travel. Congratulations to Verity Booth (School of Health Sciences), Sandra Lucas (School of Health Sciences), Mitchell Lock (School of Pharmacy and Medical Sciences) and Imogen Ramsay (School of Nursing and Midwifery) on this accomplishment, which was awarded on the basis of their academic achievement, a written statement and their performance at a selection panel interview.
Vaccine Innovation
Professor John Hayball and his team in the Experimental Therapeutics laboratory have had their research on infectious diseases spread by mosquitoes published in Nature Communications, as highlighted in the UniSA News; the group also received coverage in The Advertiser.
Prestigious Award for CCB Professor's Genome Research
Congratulations to Professor Greg Goodall from the Centre for Cancer Biology on being awarded the Julian Wells Medal at the 2018 Lorne Genome Conference. The annual award is given to a scientist who has made an outstanding contribution to the understanding of the organisation and expression of the genome and has made a major contribution to the development of this field of research in Australia.
Recognition for Volunteer Work to Improve Health of Mums-to-Be
Associate Professor Nayana Parange has received a 2017 Governor's Multicultural Award for volunteer work in developing ultrasound services, as well as upskilling health professionals in rural, remote and Indigenous communities. The annual Governor's Multicultural Awards celebrate South Australians who promote multiculturalism and increase understanding of the benefits of cultural diversity in the community. You can read the full story here.
The Repat Foundation – The Road Home Scholarship
PhD Candidate Holly Bowen from the International Centre for Allied Health Evidence has been awarded a PhD Scholarship by The Repat Foundation – The Road Home to investigate whether art therapy could be an effective treatment for PTSD. You can read more about Holly's project and the University's broader involvement with the Invictus Pathway Program here.
Feeling Human Exhibit at MOD.
Professor Lorimer Moseley and Dr Tasha Stanton from Body in Mind have collaborated with the Museum of Discovery (MOD.) to develop the Feeling Human exhibit: an immersive, multi-sensory exhibit that invites you to consider and experience first-hand- how the body and mind work together to make us feel pain. MOD. was launched in May on the ground floor of the UniSA Cancer Research Institute.
From Ideas to Outcomes
Ever wondered how a great research idea makes its way from the lab to a product in market? UniSA Ventures is here to provide advice and guide to researchers through the commercialisation process.
Over the last six years, UniSA Ventures has quadrupled the number of technology licenses developed each year for UniSA researchers. They have also supported the formation and ongoing operations of numerous spin-out companies that are taking their products and services to the global market.
A recent example of success is Myriota Pty Ltd, a global leader in nanosatellite internet of things (IoT) connectivity, which recently closed an AUD$20 million 'Series A' capital round. Myriota was born out of the Global Sensor Network program at UniSA's Institute for Telecommunications Research. UniSA researchers, Dr Alex Grant and Dr David Haley, worked closely with UniSA Ventures to develop an IP and commercialisation strategy, which led to the formation of Myriota. Dr Grant and Dr Haley are now Directors and employees of Myriota. The company is now poised to become a key communications network for the global IoT sector. This rapidly growing market sector is set to have 27 billion connected devices globally, generating a revenue of US$3tn per annum, by 2025.
Please contact UniSA Ventures if you'd like to discuss turning your great idea into a commercial success, on 08 8302 5300 or at unisaventures@unisa.edu.au.