Teaching and Learning
International Day of the Midwife and International Nurses Day
On Wednesday, 16th May 2018, Professor Carol Grech (Head of School: Nursing and Midwifery) and School staff joined other nursing and midwifery colleagues to hear Ms Nat Cook, Shadow Minister for Human Services, put forward a motion to the House of Assembly in honour of International Day of the Midwife (5th May) and International Nurses Day (12th May). It recognises the essential role that nurses and midwives play in health care across South Australia.
The Honourable Stephen Wade, Minister for Health and Wellbeing, together with Ms Cook, Mr Chris Picton MP, Shadow Minister for Health and Wellbeing, and other members of Parliament then hosted a lunch for those nurses and midwives present at Parliament House.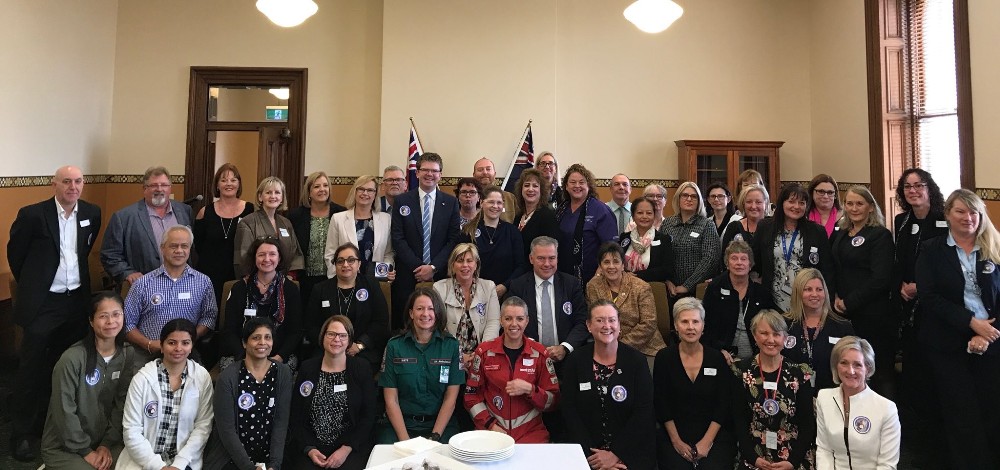 Interprofessional Learning: Manual Handling
Dr Rose Boucaut, Tanya Simmonds (School of Health Sciences) and Catherine Miller (School of Nursing and Midwifery) are undertaking a research project to determine whether interprofessional learning, provided by final year Physiotherapy students to first year nursing students for Manual Handling, would be beneficial to both nursing and physiotherapy students.
Fifteen physiotherapy students and 100 nursing students took part in this experience. In clinical practice, allied health professionals work together and nursing staff are often provided with Manual Handling training by physiotherapy staff. Students were surveyed directly after the sessions, with nursing students providing feedback to note that they enjoyed the experience of being taught by their peers.
All the students (both physiotherapy and nursing) were highly engaged during the session, which was exciting to see. Nursing students will be surveyed again after their first clinical placement to determine whether the training provided was useful in the clinical setting. As part of the training session, the students also enjoyed a morning tea together to encourage interprofessional dialogue.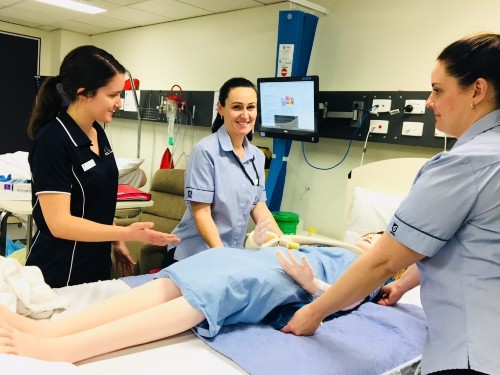 This education and research project was made possible by support from both schools and the Horizon Hospital and Health Service staff, who wish to provide learning opportunities which reflect the health landscape in Australia.
Open Universities Australia Recognition
In celebrating and showcasing excellence in online teaching, Dr Jackie O'Flaherty (School of Pharmacy & Medical Sciences) recently received a letter of recognition from Open Universities Australia (OUA) for her work across Human Health (HEA110) for study periods 1 and 3, 2017. These units have been ranked within the OUA's top performing units by measures of student satisfaction and exceptional student engagement.