Division Newsletter
June 2019
Pro Vice Chancellor Update
Dear Colleagues,
Welcome to the second edition of the Division of Health Sciences Newsletter for 2019.
In April, we welcomed visitors Professor Hector Tsang (Head: Department of Rehabilitation Sciences) and Dr Amy Fu (Associate Head: Department of Rehabilitation Sciences) from Hong Kong Polytechnic University (HKPU). The HKPU: Department of Rehabilitation Sciences provides extensive undergraduate and postgraduate training to Occupational Therapists and Physiotherapists in Hong Kong and is keen to collaborate further with UniSA. In August, Professor Esther May (Dean: Academic and Clinical Education) and Associate Professor Shylie Mackintosh (Head: School of Health Sciences) will travel to HKPU to formalise a partnership with UniSA by signing a Memorandum of Understanding. We look forward to working with HKPU going forward.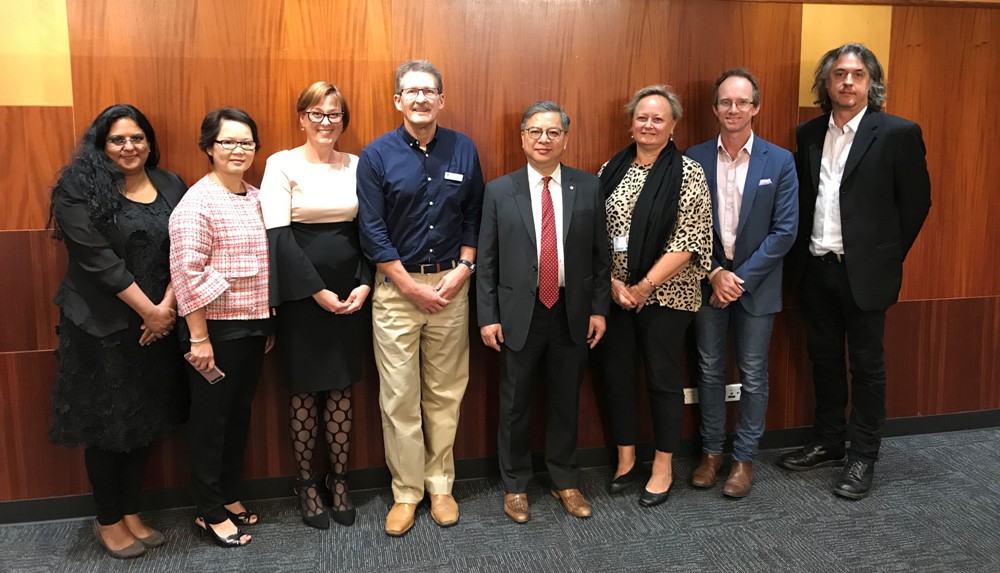 April and May were a couple of busy months for graduations! I attended graduation ceremonies here in Adelaide on 16th – 17th April, in Whyalla on 3rd May, and in Mt Gambier on 17th May. All graduations are very special events, and it is such a pleasure to see our students reach their milestone and celebrate with staff, family and friends. A wonderful achievement!
It is also my pleasure to note that Professor Robert Vink AM and Professor Jason White were awarded the prestigious title of Emeritus Professor at the April Graduation ceremonies.
As part of the Whyalla Graduation Ceremony, the Rural Health Clinic- based at our Whyalla Campus- was officially opened by Professor David Lloyd (Vice Chancellor & President). The UniSA Rural Health Clinic provides a range of health-related community services delivered by our Podiatry, Physiotherapy and Exercise Physiology students (pictured below) who are supervised by highly qualified and experienced professionals in their field.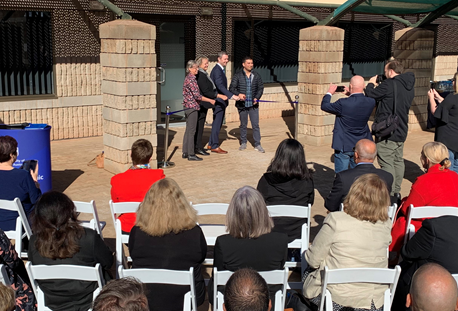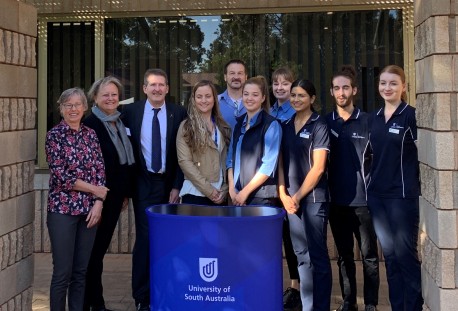 Along with Division-based colleagues and University staff, I enjoyed attending the 2019 National Reconciliation Week Breakfast, held on Monday, 27th May at the Adelaide Convention Centre. The breakfast launched South Australia's Reconciliation Week, with this year's theme being Grounded in Truth: Walk Together with Courage. It was a great opportunity to show our support for and engagement with reconciliation here at UniSA.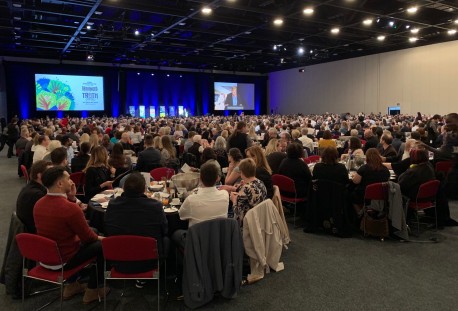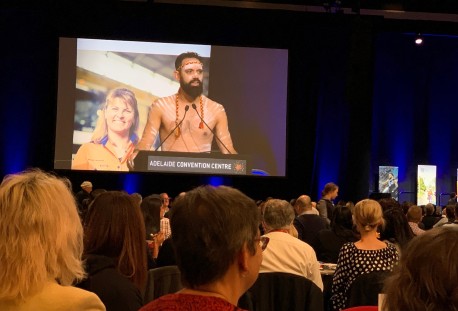 A number of Divisionally-based colleagues attended the Hospital Research Foundation's launch of its Together. Fight. campaign in June. Readers may well have seen some powerful messaging on television and cinema screens over the last few weeks. The HRF is a strong supporter of various health research projects at UniSA, particularly in the area of Cancer research.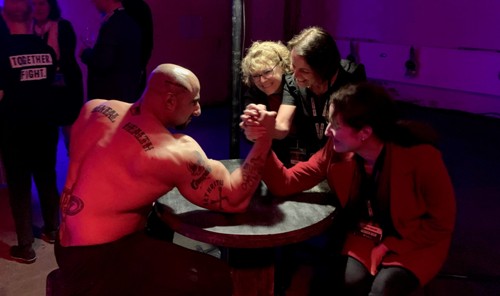 Associate Professor Gaynor Parfitt, Dr Kerstin Holata and Susana Freegard are pictured "working together" at The Hospital Research Foundation Launch event, Together. Fight., held on Wednesday, 12th June at the Queen's Theatre.
Divisional staff will have received a City East Campus town hall invitation from Professor Simon Beecham (Deputy Vice Chancellor: Research & Innovation) for Tuesday, 30th July (9.00am – 10.30am) in Brookman Hall (B5-09). Professor Beecham is visiting each campus in July to provide staff with an overview and update around UniSA's research initiatives, including the Scale and Focus Institute and Centre Strategy, the Aboriginal Research Strategy and the Research Benchmarking Framework. The session will involve a short presentation by Professor Beecham followed by Q&A session and networking opportunity for both academic and professional staff to engage more informally with the DVC: R&I.
If you are unable to attend the City East Campus session, please note other opportunities below:
Enterprise25 Discussion Paper Now Available for Feedback – Your Opinion is Valued!
By the time you read this, the University's Enterprise25: Building a Program-Focussed University Discussion Paper will have been circulated. The University is committed to orienting itself around our academic programs and ensuring that resources are focussed on the quality of our teaching, research and the student experience. As such, the Discussion Paper seeks to redefine program oversight, management structures and capabilities, bolstering academic leadership and professional management to reflect and reinforce our program focus.
The Discussion Paper is intended to engage staff, students, alumni, industry partners and the wider University community, and represents the next stage in a process for academic transformation under the University's Enterprise25 Strategic Plan. It outlines the rationale for change, targeted outcomes, proposed names and composition of the seven Academic Units, the proposed organisational structure for each Academic Unit, descriptions of the proposed Academic Unit executive team and supervision of staff, the transition approach, and discussion questions for feedback. I strongly urge you to read the paper and engage in the process of providing feedback through the channels provided. We are keen to listen and receive your feedback around the new academic structure, providing answers and making adjustments if there are compelling reasons to do so.
There is so much going on within the Division of Health Sciences, with an ever-increasing number of exciting external partnerships being developed nationally and internationally, in both our research and our academic programs. Just a few of these updates are captured in this edition of the Division of Health Sciences Newsletter.
For more updates from colleagues across the Division, please enjoy the rest of our newsletter.
Roger
Professor Roger Eston
Pro Vice Chancellor: Division of Health Sciences