Highlights and Achievements
Regional Visits and Public Lectures at Whyalla and Mount Gambier
In coordination with Whyalla and Mt Gambier graduation activities, the Division Executive Committee undertook its annual visit to regional campuses to conduct its fortnightly meeting, as well as enjoying the opportunity to engage with local key stakeholders and network with campus staff. For the first time, the Division of Education, Arts & Social Sciences joined Health Sciences in undertaking a coordinated visit to the regions.
Each campus hosted a public lecture event as part of the visit, which was well-attended by community members and local professional stakeholders. In Whyalla, Associate Professor David Evans provided a lecture entitled Working with Dementia, detailing the development of dementia in younger people and those still engaged in the workforce. Professor Kurt Lushington highlighted sleep trends and the use of mobile phones and digital devices in a lecture entitled Smartphones Under the Covers: The Intrusion of Digital Devices into the Bedroom and the Impact on the Sleep of Children. Attendees enjoyed supper and networking with both Division Executive Committees, and the evening received local media attention via the Whyalla News. The full article is available here.
We were pleased to acknowledge Professor Marion Eckert and Professor Kurt Lushington (again!), who kindly delivered public lectures at the event held in Mt Gambier on Thursday, 16th May. In her presentation, South Australia's Report Card on Non-Melanoma Skin Cancer Rates: Factors to Consider, Professor Eckert shared the incidence of non-melanoma skin cancer amongst the South Australian population, highlighting a new study which explores the regional variability and multiplicity of this cancer type and providing suggestions for early detection and improved outcomes.
The lectures we deliver in the regional areas are pleasing and well-attended community events, and very well-received. Well done to all those involved, and particularly to Whyalla and Mount Gambier Regional Managers Paul Havelberg and Ian McKay, for their great hospitality.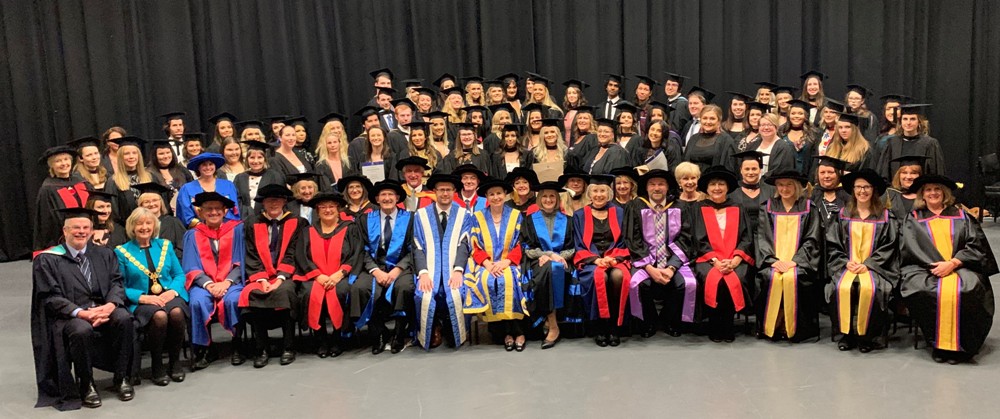 Mt Gambier Graduations (Friday, 17th May 2019)
Employment-Ready, Accredited Exercise Scientists
It is pleasing to note that Exercise and Sport Science Australia (ESSA) have advised that the National Fitness Industry Code of Practice has been changed to indicate that people working in the fitness industry require registration with a reputable registration body, including Exercise Scientist status with ESSA. What this means is that graduates of UniSA's Exercise and Sports Science program (the only accredited program in South Australia) who want to work within the fitness industry do not require a Certificate IV or Fitness Australia registration, but can simply register via ESSA instead. This is great news for UniSA and for our students, and further enhances UniSA's lead in the delivery of employment-ready Exercise and Sports Science students in Australia.
Australian College of Critical Care Nursing
Postgraduate student Theodora Taylor was recently awarded the Australian College of Critical Care Nursing Graduate Prize in Critical Care Nursing. Theodora was awarded this prize for excellence in critical care nursing in clinical and academic domains, while demonstrating a high level of leadership and professionalism. Well done, Theodora!

2019 South Australian Nursing and Midwifery Excellence Awards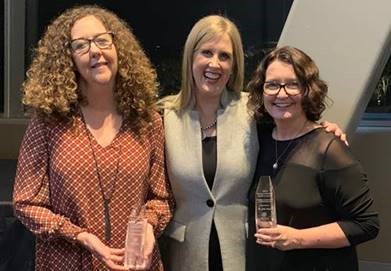 The South Australian Nursing & Midwifery Excellence Awards presentation ceremony was held at the Adelaide Convention Centre on Friday, 10th May 2019.The ceremony acknowledged and recognised best practice, the contributions and the difference that midwives and nurses have made within the community and their profession. We congratulate:
Dr Julie Fleet (Program Director: Bachelor of Midwifery):Excellence in Innovation in Clinical Research (Registered Nurse/Registered Midwife)
Dr Lois McKellar (Senior Lecturer: Midwifery):Excellence in Practice (Registered Midwife)
A full list of finalists is available here.
Announcement of the New NRF Chair of Brain Tumour Research
Funded by a $1M donation from the Neurosurgical Research Foundation (NRF), Professor Stuart Pitson, from the Centre for Cancer Biology, was announced as the first NRF Chair of Brain Tumour Research at a special celebration held in UniSA's Cancer Research Institute on Thursday, 20th June.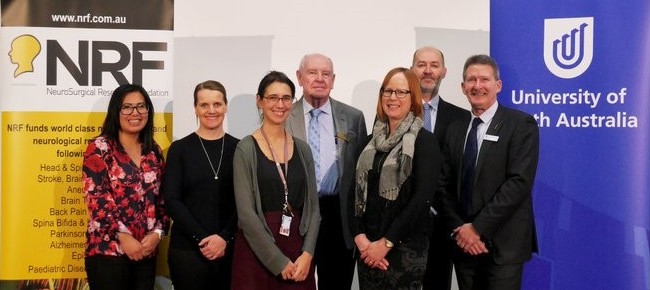 2019 UniSA Sport and the Adelaide Crows Co-Coaching Session
The Communications and Marketing Unit, in conjunction with UniSA Sport and the Adelaide Crows, held a co-coaching session at Pridham Hall on Tuesday, 28th May. Over 200 prospective students entered the competition and a lucky 35 students from years 10 – 12 won an opportunity to participate in the experience.
As part of the exclusive event, participants had the opportunity to hear from some of our current students on their journey from high school to university and why students chose the degree they are currently studying, before participating in a range of training drills with UniSA Sport staff and players from the Adelaide Crows women's and men's teams.
Attendees of the event are prospective students who have an interest in studying Exercise and Sport Science, Human Movement, Health Science, Physiotherapy, Nutrition and Food Sciences after high school- so you never know, we may see some of them on campus next year!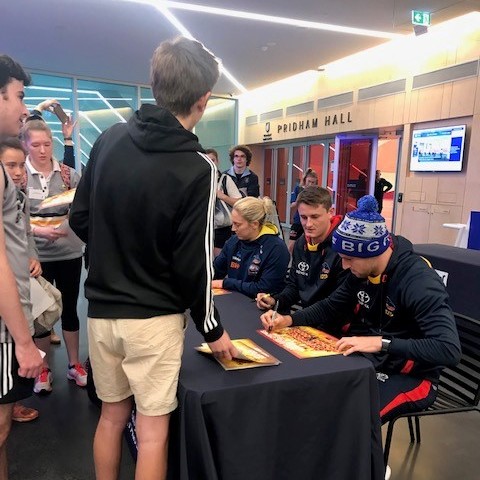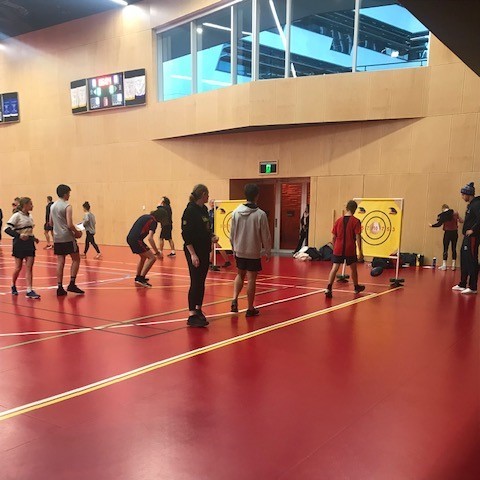 Career Adviser Information Session
The Communications and Marketing Unit held a Career Adviser Information Session in the Pridham Hall conference room on Friday, 31st May.
The annual event was attended by over 90 Career Advisers from high schools across South Australia and was a great opportunity to share updates from the University, including information around new degrees, facilities and career opportunities.
The event included a session, Driving Healthy Futures, which was delivered by Associate Professor Saravana Kumar and focussed on promoting our new Bachelor of Health Science (Public Health) degree. A professional development workshop, Supporting Our Youth, was also provided by Dr Monika Ferguson, in which she provided tools and strategies that Career Advisers could use in their roles.
Australian Defence Force (ADF) and UniSA Adaptive Sports Partnership
We are delighted to note that UniSA and the Australian Defence Force (ADF) have formalised a Memorandum of Understanding (MoU) for Adaptive Sports. A Clinical Services Collaboration Agreement with the ADF will see final year UniSA Physiotherapy, Exercise Physiology and Exercise Science students applying their skills and knowledge to support current and former serving ADF members to take part in adaptive sports trials, such as selection for the Invictus Games and Warrior Games. The MoU builds on a highly successful collaboration to support serving and former serving ADF wounded, injured or ill service members since 2017, via the ADF, RSL, and UniSA and Invictus Pathways Program, in partnership with The Road Home.