Division Newsletter
March 2019
Pro Vice Chancellor Update
Dear Colleagues,
Welcome to the first edition of the Division of Health Sciences Newsletter for 2019.
I am thoroughly enjoying my new role as Pro Vice Chancellor: Health Sciences, supported by such a great team in the Division – some of whom are pictured below! Thanks all – I have appreciated your friendly welcome and support.

It's great to note that UniSA continues its partnership with the Australia Defence Force's Invictus Games and Adaptive Sports Program, providing support for the Warrior Games and Australian Invictus Games cycling and swimming national teams, comprised of both current and ex serving Australian Defence Force (ADF) personnel with their training base in Adelaide. The ADF program stems from the Invictus Pathways Program, a unique collaboration with The Road Home which provides great training opportunities for UniSA's sports science and allied health students.
There have been quite a few senior staff changes within the Division over the last few months. As you may be aware, Professor Carol Grech was appointed Pro Vice Chancellor: Student Engagement and Equity at the end of last year, which created an opportunity for a new Head of School: Nursing and Midwifery. Associate Professor Rachael Vernon has stepped in as the new Head of School, with Dr Terri Gibson being merit-selected for the role of Associate Head of School: Academic.
The School of Health Sciences has also seen changes, with Associate Professor Shylie Mackintosh recently appointed as Head of School: Health Sciences. Recruitment is in train for Shylie's replacement as Associate Head of School: Academic, and we should have an update around this shortly.
Following the departure of Professor Ian Olver AM, Professor Alan Boddy has recently commenced his new role as Director: Cancer Research Institute. Alan will undertake this role as well as maintaining his duties as Head of School: Pharmacy and Medical Sciences. Alan will be expertly supported by Associate Professor Craig Williams (Associate Head: Academic) and Professor Sandra Orgeig (Associate Head: Research).
We also welcome Professor Matt McDonald (Clinical Professor) to the Division. Matt has previously worked closely with Mr Nigel Relph (Deputy Vice Chancellor: External Relations and Strategic Projects) and his office in relation to the development of the University's partnership with Calvary Hospital Adelaide. We look forward to working closely with Matt to further developing these prosperous collaborations.
Professor Hector Tsang (Head of Department) and Dr Amy Fu (Associate Head of Department) from Hong Kong Polytechnic University's Department of Rehabilitation Sciences will be visiting City East Campus on Monday, 8th April. The Department are interested in developing research partnerships and collaborations with the Division and visiting our teaching labs and clinical facilities. This is a great opportunity to showcase our facilities and to explore further offshore teaching partnerships and student opportunities in Hong Kong!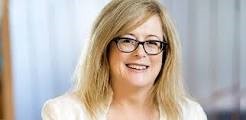 I am delighted to announce that Professor Caroline McMillen, Chief Scientist of South Australia, will be our distinguished guest at City East Campus on Tuesday, 16th July. We have invited Professor McMillen to provide an open Q&A forum to our early and mid-career researchers, followed by a lunch with the Professoriate cohort.
QS World University Rankings by Subject
Quacquarelli Symonds (QS) released its 2019 QS World University Rankings by Subject on 26th February 2019. The Division now boasts the following successes:
WORLD TOP 100 FOR NURSING
WORLD TOP 100 FOR EXERCISE AND SPORT SCIENCE
WORLD TOP 150 FOR PHARMACY AND PHARMACOLOGY
TOP 10 NATIONALLY FOR PHARMACY AND PHARMACOLOGY
NUMBER 1 IN SA FOR PHARMACY AND PHARMACOLOGY
These results are very pleasing indeed. Nursing has retained its Top 100 ranking for the fourth consecutive year, and Exercise and Sport Science enters the QS Top 100 charts for the first time. UniSA has the only QS Top 100 Exercise and Sports Science program in South Australia.
Excellence in Research for Australia 2018
The Excellence in Research for Australia (ERA) 2018 results are a great outcome for UniSA and the Division, and attest to the quality of UniSA's research in Health. ERA 2018 assessed UniSA across 39 detailed (four-digit) fields of research (FoR; two more than ERA 2015) and rated all 39 at world standard or above. Overall, based upon the ERA 2018 four-digit FoR, 100% of UniSA's research is rated as world‐class or above! This 100% rating tops the University's previous achievement of 97% in 2015.
FoRs in the Division of Health Sciences – Nursing; Pharmacology and Pharmaceutical Sciences; Human Movement and Sports Science; Nutrition and Dietetics; Biochemistry and Cell Biology; and Medical Physiology – were each again rated at ERA 5 ('well above world standard'), with Clinical Sciences rated at ERA 4 ('above world standard') and Public Health and Health Services rated as ERA 3 ('at world standard').
Increases in ERA ratings since 2010 attest to a significant rise in research quality, aligned with significant growth in UniSA's top undergraduate programs. An outstanding performance of which we should all be very proud! We can also announce that we are 'number one' in SA for Human Movement and Sports Science, and Biochemistry and Cell Biology.
The ERA topic on the University's Business Intelligence Hub has more details and will be updated as results are published by the Australian Research Council.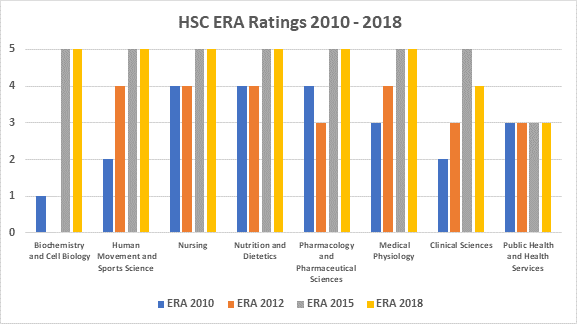 Lastly, I hope you are all endeavouring to make the most of the forthcoming Easter break- a great opportunity to rest and relax with family and friends.
For more updates from colleagues across the Division, please enjoy the rest of our newsletter.
Roger
Professor Roger Eston
Pro Vice Chancellor: Division of Health Sciences