Teaching and Learning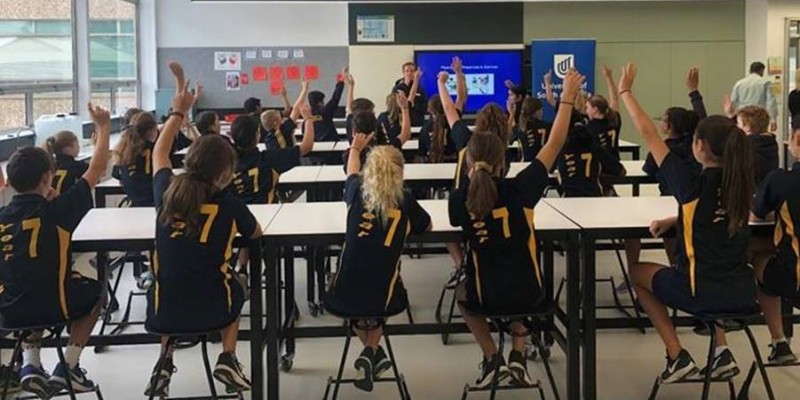 Division of Health Sciences Engages with Next Generation of Students
On the 28th February, Plympton International College officially opened its $3.5M STEM Learning Centre. Joining Professor Rachel Gibson in the opening celebrations were representatives from the Division of Health Sciences and all three Schools, including Associate Professor Rachael Vernon, Head of School: Nursing and Midwifery.
As part of the day's activities, staff from the Schools of Health Sciences and Pharmacy and Medical Sciences had the opportunity to share their expertise and enthusiasm with a younger demographic of students. Dr Matt Sykes ran a workshop with the School's Year 12 Chemistry class, whilst Mr Brett Tarca and Dr Alyson Crozier worked with two groups of Year 7 students from Glenelg and Plympton Primary Schools, showing them how activity and exercise changes their physiology. The feedback received was extremely positive, and the workshops topped off a successful morning for the school and its community. It's another excellent example of the Division showcasing its strengths and supporting capacity building in the local community.
Master of Health Services Management Commences (IMHM)
Professor Mark Mackay (School of Nursing and Midwifery) recently commenced at the University as the Program Director for the new Master of Health Services Management (IMHM) program.
The first intake of students for the program occurred in SP2, with 41 students commencing. Most students are studying on a full-time basis. The students have a diverse professional background and include a dentist, physiotherapists, nurses, midwives, a biomedical engineer and students with a diagnostic service-related background. The program has also attracted a mix of domestic and international students. The cultural background of the students includes representation from 12 countries, including Australia, Canada, Nepal, India, Zimbabwe and Vietnam.
IMHM students have commenced their journey into health service management with studies that include courses from the Business School and Division of Health Sciences. Additionally, students will be given the opportunity to hear from speakers from the health sector to complement their studies.
More students are expected to join the program in the mid-year intake.
For more information about the IMHM Program, please contact Professor Mark Mackay.
2018 UniSA Teaching Awards
Congratulations to Professor Sandra Orgeig, Dr Emma Parkinson-Lawrence, Dr Sarah List, Dr Gabrielle Todd, Dr Bronwen Mayo and Dr Andrea Stringer on receiving a 2018 UniSA Teaching Award in the UniSA Citations for Outstanding Contributions to Digital Learning category, awarded for the creation and implementation of innovative resources to deliver a digitally-enriched health science curriculum to improve student engagement, outcomes and learning experience.
The successful group were acknowledged and presented with certificates at the February Pro Vice Chancellor's Forum.

2019 UniSA Teaching and Learning Development Grants
We have also enjoyed success in the UniSA Teaching and Learning Development Grants, with three grants being awarded:
Dr Katherine Baldock: Preparing first year students studying on-campus for online learning: a pilot project;
Dr Micah Peters: An interactive web-based resource for best-practice evidence synthesis projects for students and researchers;
Dr Vijay Suppiah and Dr Matt Sykes: Development of digital resources to advance the design and delivery of practical teaching across chemistry and pharmacy laboratories.