Highlights and Achievements
University of South Australia Cancer Research Institute (UniSA CRI)
We are pleased to advise that the UniSA Cancer Research Institute was formalised at the inaugural Institute Board meeting on 20th July 2018. The Cancer Research Institute webpage has now been launched, together with a Cancer Research Institute Facebook page, in addition to the existing @UniSACRI Twitter profile.
National Health and Medical Research Council 2017 Research Excellence Award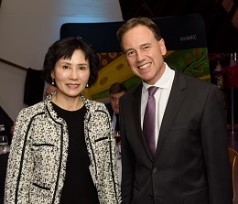 Professor Shudong Wang from the Centre for Drug Discovery and Development was recognised with the 2017 Top Development Grant award at the NHMRC Research Excellence Awards. Shudong's Development Grant is titled, Development of highly selective CDK4/6 inhibitors for treating cancer.
Shudong was invited to celebrate this significant achievement at the NHMRC Research Excellence Awards Dinner on 27th June in Canberra.
See the UniSA News story and the full list of winners.
Higher Education Academy (HEA) Fellowships
The University of South Australia is running an initiative this year to provide a sponsored and supported (guided) opportunity for up to 30 academic staff to develop and submit applications for the United Kingdom's Higher Education Academy (HEA) Fellowships. The great news is that we now have our first Senior Fellows of the HEA:
Mr Scott Polley SFHEA, Program Director: Human Movement, School of Health Sciences;
Dr Julie Reis SFHEA, Program Director: Bachelor of Community Health, School of Nursing and Midwifery
The HEA Fellowships require candidates to demonstrate a personal and institutional commitment to professionalism in learning and teaching in higher education. This recognition is a great credit to Scott and Julie and reflects their high quality work and leadership.
Candidates for a Fellowship are nominated through the University's Teaching Innovation Unit (TIU) in collaboration with the Provost and Chief Academic Officer, Professor Allan Evans.
For further information about the academy, visit https://www.heacademy.ac.uk/.
Primary Health Care Research & Information Service Research Conference
Congratulations to Dr Jasmine Micklem, Research Fellow: Rosemary Bryant AO Research Centre on being awarded the best paper at the Primary Health Care Research & Information Service (PHCRIS) Research Conference.