Research and Research Education
Recent PhD Completions within the Division
| Student Name | School | Principal Supervisor | Thesis title |
| --- | --- | --- | --- |
| Braithwaite, Felicity | HLS | Dr Maureen McEvoy | Blinding in physical intervention research: a sham development process incorporating the art of deception. |
| Chan, Russell | HLS | Dr Maarten Immink | From stillness to action: meditation-based enhancement of cognitive control processes underlying motor sequence learning. |
| Debenedictis, Thomas | HLS | Dr Dominic Thewlis | The impact of the mechanical whole-body vibration experienced during motorised military land transit on the physical attributes that underpin dismounted combatant physical performance. |
| Deuter, Kate | NRC | Professor Nicholas Procter | Attempted suicide in older people: within and between the meaning of protection. |
| Ebrahimi Zanjani, Maya | NRC | Dr Taherah Ziaian | Overseas qualified nurses' adjustment into the Australian healthcare system. |
| Hunt, Toby | HLS | Professor Tim Olds | Use of time in people with chronic obstructive pulmonary disease. |
| Ireland, Colin | NRC | Professor Adrian Esterman | The development and validation of a risk prediction model for Barrett's oesophagus. |
| Li, Jiayi | PMB | Professor Xin-Fu Zhou | Roles of precursor of brain-derived neurotrophic factor in neuronal development and neurodegeneration. |
| Long, Yi | PMB | Professor Shudong Wang | Protein kinase inhibitors as potential anti-cancer agents: design, synthesis and evaluation. |
| Lwin, Ei | PMB | Professor Sanjay Garg | Evaluation of drug transfer in human breast milk. |
| Romana, Bilquis | PMB | Professor Clive Prestidge | Liposome-micelle hybrid systems for oral delivery of poorly water-soluble cardiovascular drug lovastatin and anticancer drugs paclitaxel and 5-fluorouracil. |
National Health and Medical Research Council Early Career Fellowship Success
The Division of Health Sciences received four Early Career Fellowships, with a total value of $1.4 million:
Dorothea Dumuid (School of Health Sciences) to work on Optimisation of compositional data to inform lifestyle behaviour interventions;
Renly Lim (School of Pharmacy and Medical Sciences) to work on Misdiagnosed as ageing: medicine-induced deterioration in older people;
Liping Wang (School of Pharmacy and Medical Sciences) for Development of an innovative 3D bio-printing platform for auricular reconstruction;
Jacqueline Bowden (SAHMRI) for Investigating ways to reduce parental supply of alcohol to teenagers in Australia.
The University of South Australia success rate was 33.3% compared to the national success rate of 24.3%.
National Health and Medical Research Council Research Fellowships outcomes
Professor Lorimer Moseley has received a sixth year fellowship extension to continue his work on Reducing the prevalence and impact of persistent pain.
International Pharmaceutical Federation Award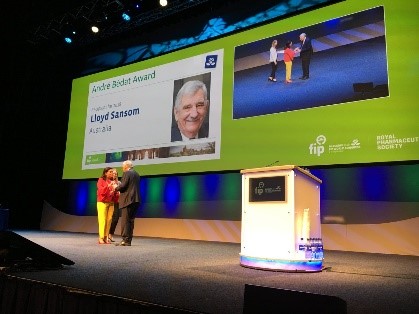 Emeritus Professor Lloyd Sansom was awarded the André Bédat Award at the 2018 International Pharmaceutical Federation (FIP) World Congress of Pharmacy and Pharmaceutical Sciences in Glasgow. The award is FIP's highest pharmaceutical practice award, and is awarded every two years.
Adelaide BioMed City Collaboration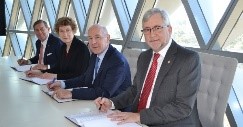 The University of South Australia, South Australian Health and Medical Research Institute, the University of Adelaide and the Central Adelaide Local Health Network have formalised their partnership with the signing of the Adelaide BioMed City Collaboration Agreement. Formalisation of the partnership means that the precinct will be overseen by a General Manager, a constituted Adelaide BioMed City Board, associated advisory and development committees and an agreement which enshrines a vision, mission and goal for Adelaide BioMed City.
Department of Health Pharmacy Trial Program
Professor Libby Roughead from the Quality Use of Medicines and Pharmacy Research Centre is leading the Reducing Medicine Induced Deterioration and Adverse Reactions Trial (ReMInDAR) program from 2018-2020, worth nearly $3 million. The program was announced by The Honorable Greg Hunt MP, Minister for Health at the recent Australian Pharmacy Professional Conference. Associate Professor Nicole Pratt, Dr Lisa Kalisch and Dr Renly Lim are Chief Investigators on the trial, and will be collaborating with Professor Debra Rowett, Associate Professor Gaynor Parfitt, Professor Tim Olds, the University of Tasmania and Helping Hand. Funded by the Department of Health Pharmacy Trial Program Tranche 2, the study is for aged care residents who are at risk of deterioration from prolonged use of certain medicines.
Early Career Pharmacist Award
Congratulations to Dr Jacinta Johnson from the School of Pharmacy and Medical Sciences, who was awarded the 2018 Pharmaceutical Society of Australia Early Career Pharmacist of the Year. The award nomination singled Dr Johnson out for her extensive support and mentoring of students, her volunteer work within the industry and her research. Read the UniSA story here.
The Hospital Research Foundation fellowship success
Dr Nicky Thomas has been successful in The Hospital Research Foundation 2018 Grant Round Mid-Career Fellowships. Nicky's fellowship is titled A Trojan Horse strategy for antimicrobial biologicals.
Research Degree Excellence Grants
PhD candidates Hayley Schultz and Sharayah Carter have been awarded University of South Australia Research Degree Excellence Grants. Hayley is in the third year of her PhD, supervised by Professor Clive Prestidge, and her research focus is on developing innovative lipid-based formulations for improving the oral delivery of poorly water soluble drugs, including those for prostate cancer. Sharayah, also in her third year, is supervised by Associate Professor Jennifer Keogh, and her research is focused on the comparison of intermittent energy restriction versus continuous energy restriction in type 2 Diabetes.

Sharayah Carter also recently published in the Journal of the American Medical Association with a world-first study which found that diabetes sufferers can achieve weight loss and maintain blood glucose levels by following the 5:2 diet.
Twelfth Year of Continuous Funding from SA Health
Professor Nicholas Procter from the Mental Health and Suicide Prevention Research Group, School of Nursing and Midwifery has received an additional $459,000 funding from SA Health. The additional funding will be used to further develop trauma-informed practice and suicide prevention research.
Brain Foundation Prize
Congratulations go to Dr Brenton Hordacre, who recently won the Brain Foundation's 2018 Elizabeth Penfold Simpson Prize for the best research paper. The award was based on being the author of the best piece of original research in any of the neurosciences, published in the last two years. Brenton was awarded his prize on Friday, 7th September by Gerald Edmunds (Secretary General, Brain Foundation).
Workforce Model to Deliver Community Mental Health Care
Professor Leonie Segal from the Australian Centre for Precision Health and collaborators have published an article in The Lancet, titled A needs-based workforce model to deliver tertiary-level community mental health care for distressed infants, children, and adolescents in South Australia: a mixed-methods study. Read the article here.
Best Poster Award in ECR/PhD Student Category
Second year PhD Candidate Emily Blackman recently won best poster (ECR/PhD Student Category) at the Suicide Prevention Australia National Conference. Emily is a member of the Mental Health and Suicide Prevention Research group, located in the School of Nursing and Midwifery.
Renal Society of Australasia Conference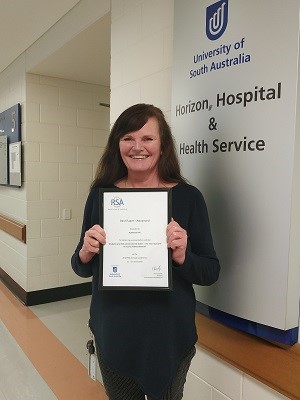 The 2018 annual Renal Society of Australasia Conference was held in Adelaide from 21st – 23rd June, with 400 delegates attending from all states across Australia. The University of South Australia was the proud sponsor of the awards Best Paper: Research and Best Paper: Advanced. There were over 90 presentations from renal nursing and allied health staff and Dr Kathy Hill was awarded Best Paper: Advanced for her presentation, Diabetes and low socioeconomic status – the next 'tsunami' of chronic kidney disease?
This presentation evolved from Kathy's PhD research and is a wonderful acknowledgement of the bridge between academia and the clinical health care environment.
Australian Government Innovation Manufacturing CRC
Associate Professor Paul Anderson from the Musculoskeletal Biology Research Laboratory is an investigator on a $6m Australian Government Innovation Manufacturing CRC grant, led by Professor Krasimir Vasilev (School of Engineering). The grant, titled An antimicrobial nanosurface for orthopaedic implants, will run over four years.
Cancer Council NSW Pathways to a Cancer-Free Future
Dr Stephanie Reuter Lange is an investigator on a grant titled Pathway of Research to Evaluation of Dose-Individualised Cancer Therapy: Development of a national individualised cancer dosing program to both generate evidence and implement existing evidence on algorithms for dosing targeted and non-targeted chemotherapy, which is funded by the Cancer Council NSW Pathways to a Cancer-Free Future. The grant is led by Professor Jennifer Martin (University of Newcastle).
New Gold-Standard Reporting Guidelines for Scoping Reviews: The PRISMA-ScR
Scoping reviews are growing in popularity across healthcare research and in other disciplines. Since Arksey and O'Malley's initial framework in 2004, this approach to evidence synthesis, which answers different, broader questions about a body of literature than traditional systematic reviews, has undergone several evolutions and is now more rigorous and robust than ever.
Now based in the School of Nursing and Midwifery's Rosemary Bryant AO Research Centre, the Australian Nursing and Midwifery Federation's National Policy Research Adviser, Dr Micah Peters,previously led the development of the Joanna Briggs Institute (JBI) methodology for systematic scoping reviews in 2015 and 2017. Working with a team of international experts, an extension of the ubiquitous Preferred Reporting Guidelines for Systematic Reviews and Meta-Analyses (PRISMA) checklist for Scoping Reviews (the PRISMA-ScR) has recently been published in the Annals of Internal Medicine. The free, open access article can be accessed here.
Micah will be leading a series of brief workshops on best practice in undertaking and reporting scoping reviews for higher-degree students and staff in the coming weeks and has also collaborated with the UniSA Library team to develop the first library guide for scoping reviews, which will be launched online shortly.
Centre for Pharmaceutical Innovation and Development Visitors
Professor Sanjay Garg and the team within the Centre for Pharmaceutical Innovation and Development have been hosting three visiting exchange students, who will be with the Centre for a period of six weeks to six months for international research collaborations. We are pleased to welcome:
Tong Zhao, Shandong University, China;
Thabata Mayumi Muta, Sao Paulo University, Brazil;
Reema Narayana, Manipal Academy of Higher Education, India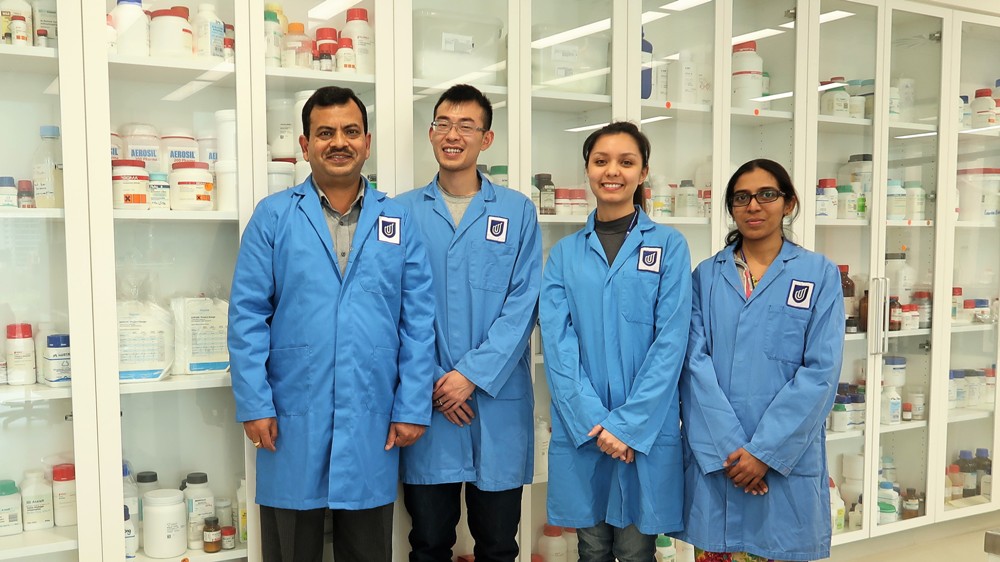 3MT Division Final Results
PhD candidate Tahnee Dening (School of Pharmacy and Medical Sciences) has won the Division of Health Sciences' 3 Minute Thesis (3MT) final with a talk entitled Our great big "dirty" problem. Tahnee's research uncovered the potential role of bentonite, found in dirt and clay, in assisting weight loss. Tahnee was also awarded the People's Choice Award.
The First Runner-up Prize was awarded to Nina Wilson (School of Pharmacy and Medical Sciences), with a talk entitled Fishy fats are friends in pregnancy where she discussed the advantages of consuming fish oils in order to prevent pre-term pregnancy.
Sarah Edney (School of Health Sciences) and Ludivine Delon (School of Pharmacy and Medical Sciences) received Highly Commended awards for their talks entitled Online contagion of health behaviours and A living chip for better treatments respectively.