Teaching and Learning
Utilisation of an IPL Resource - Reporting on Learning Outcomes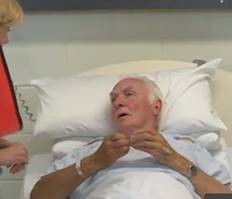 A subgroup of the Quality in Interprofessional Learning Committee has commenced a project to investigate and report on the use of the Division's Thomas Hurtle IPL resource. As some staff may be aware, the video-based resource was written, acted and filmed in the Division's simulation labs and teaching spaces in 2016. The video used to promote the resource can be accessed here.
The Thomas Hurtle resource is an interprofessional learning resource in video format, created for schools in the Division of Health Sciences, which follows the journey of Mr Hurtle through treatment and in interacting with many health care disciplines.
As it is two years post-implementation, data is being sought from academic teaching staff, as well as students, as to how the video has been used in teaching across the Division. It is assumed that many staff may not be aware of the resource, and so this project- developed to gather information and report on teaching activity- may also serve to advertise, promote and inform staff of the resource's future value to their practice.
A short survey was conducted in 2016, following the release of the Thomas Hurtle IPL resource video, with initial feedback gained from first-year Foundations of Health (FoH) students. In the year to date, a survey has been distributed to 2018 FoH students, as well as to Laboratory Medicine students. It is intended that a separate survey to academic staff will be circulated, and follow-up interviews undertaken with staff who have experience with using the resource in their teaching.
Look out for survey invitations in the next couple of weeks. The QUIL team are looking forward to reporting some positive outcomes!