Clinical Education and Equity
Hearing Voices that are Distressing - Simulation Training in Rural SA
The Department of Rural Health have provided Hearing Voices that are Distressing (HVD) simulation sessions across rural South Australia to 154 participants over the 2017/2018 financial year, 87 of those being students on a rural placement. Having a mix of workforce and students attend the sessions enables discussion between theory and practice and provides an opportunity for networking.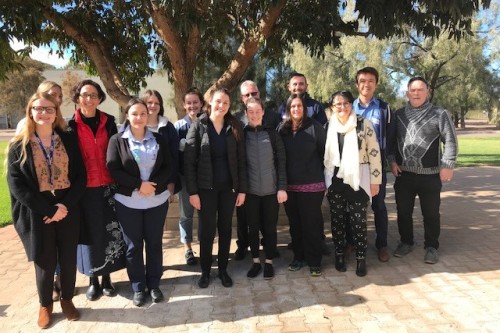 July 2018 HVD Whyalla Workshop Cohort
Participants value co-facilitation of the sessions by a person with lived experience of voice hearing (auditory hallucinations), and the opportunity to experience voice hearing themselves through a MP3 player while carrying out a range of tasks.
When the training is evaluated, participants are asked to indicate the two most important things learnt from the training, as well as to indicate one thing that they will do differently in the workplace with consumers who are voice hearers. Great feedback has been received via the workshop evaluation process, which runs separate to a more in-depth research project which is currently underway.
The below graph indicates from which disciplines the students are coming to be involved in these sessions, all from various year levels: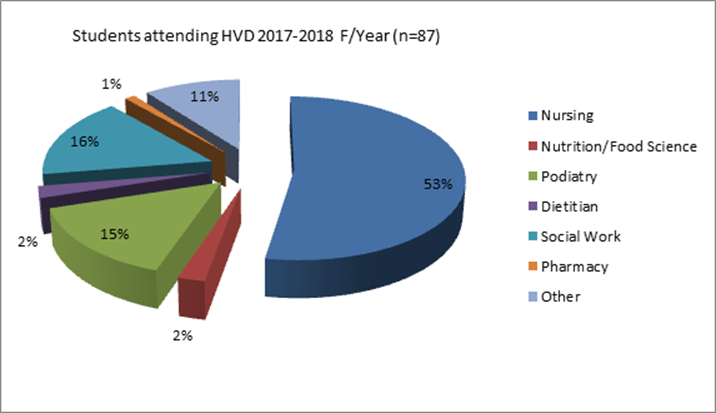 Ms Lee Martinez (Lecturer: Mental Health) initiated the training in 2015 when Arana Pearson, Director: Keepwell Australia, conducted 'Train the Trainer' workshops in Whyalla. Lee is leading the research team that is investigating the impact of the 'Hearing Voices that are Distressing' simulation training on participants' awareness and perceptions around effective interaction with health consumers, with a particular interest in whether participation increases awareness in clinical practice.
Whyalla Rural Clinical Training Facility
We are pleased to announce that the new Whyalla Rural Clinical Training Facility is now open- the newest addition to the suite of UniSA Health clinics. The Whyalla Clinic will provide students from various disciplines with a high-quality rural clinical training experience. The facility will also enable the delivery of an affordable and high-quality health service to the Whyalla community and surrounding areas.
In 2017, the UniSA Health clinics were the sixthbiggest placement provider out of 400 placement agencies for students in the Division of Health Sciences. In the year to date, the clinics have hosted over 200student placements and delivered over 9,000 Occasions of Service, with 93% being student-led.
The clinics offer a unique platform for clinicians and students to work together to deliver a range of high quality, affordable health services which include Physiotherapy, Podiatry, Exercise Physiology, Midwifery, Occupational Therapy and Dietetics.
Appointments are available to all staff and students. Should you require a high-quality health service, please contact the City West clinic on 8302 0986, or visit our website for more information.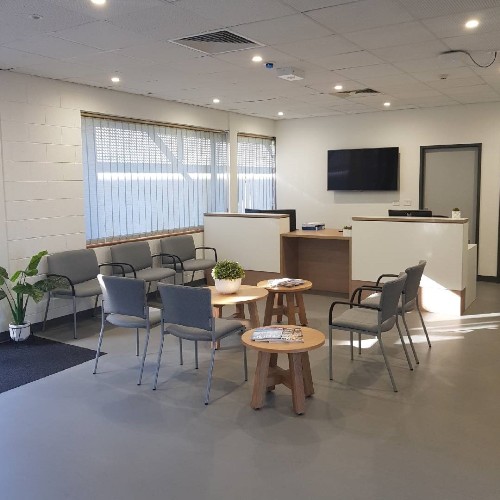 Whyalla Health Clinic reception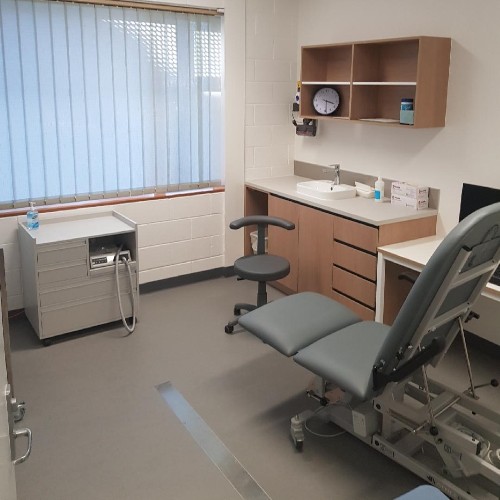 Multidisciplinary Consult Room
Arun Thomas ATSI Leadership Scholarship
This scholarship was established by Arun Thomas, a former University of South Australia alumnus, as a way of giving back to his alma mater to encourage, support and unlock the leadership potential and calibre of Aboriginal and Torres Strait Islander students at UniSA.
As the former President of UniSA Student Association, Arun identified the need for further inclusion and representation of Aboriginal and Torres Strait Islander students. Through consultation with students, board members and the University, Arun initiated, oversaw and led the implementation and creation of an Aboriginal and Torres Strait Islander Student representative on the board- a new position to bring the voice of Indigenous students to the organisation. This scholarship is to support Aboriginal and Torres Strait Islander students who demonstrate motivational leadership and social responsibility impacting academia, work, or community, while balancing studies.
Four applications for the scholarship were received, with interviews being held on Tuesday, 7th August. The three individuals who were interviewed showed such a high calibre of community leadership qualities and dedication to their study that it was decided to fund all three with a scholarship of $1,000. Professor Esther May (Dean: Clinical Education and Equity) and Arun provided an equal funding contribution and it was decided to amend the scholarship guidelines to note that the number of recipients of the scholarship would be determined by the donor and panel of each application cycle.
An excellent outcome and congratulations to:
Laurie Haynes (Bachelor of Physiotherapy)
Shane D'Angelo (Graduate Certificate in Population Health Practice)
Sonja Tilbrook (Graduate Diploma in Mental Health)