International
Clinical Exercise Physiology Student Wins Merdeka Award
UniSA student Suliana Shahrin has been recognised by the Australia Malaysia Business Council of South Australia.
Suliana, a Bachelor of Clinical Exercise Physiology (Honours) student, was announced as one of the winners of the prestigious student awards at the Merdeka Gala Dinner last month, an event which offers a number of scholarships and prizes to outstanding final-year Malaysian students living and studying in Adelaide.
The event, attended by representatives from both corporate and government organisations across Malaysia and Australia, also celebrates Malaysian Independence Day while raising funds for charity. This year's proceeds went to supporting The Epilepsy Centre.
As part of the awards, the Australia-Malaysia Business Council of South Australia aims to place winners into internships with key South Australian businesses to offer graduates the chance for professional development whilst fostering network opportunities between Australia and Malaysia.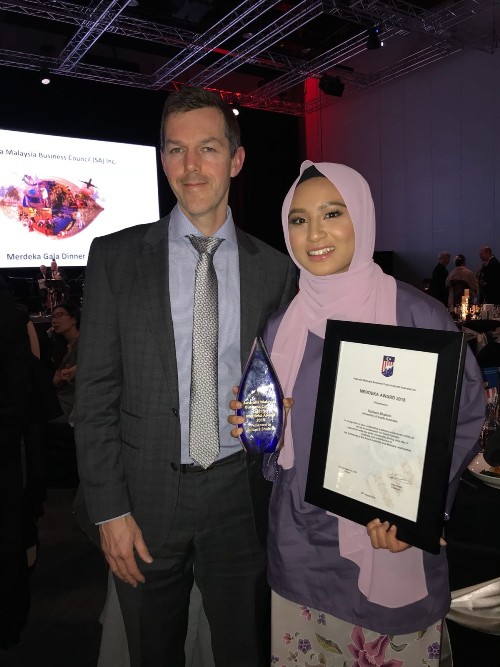 Dr Kade Davison (Program Director: Clinical Exercise Physiology) and award winner Suliana Shahrin
Announcement: 2019 New Colombo Plan Mobility Outcomes
The Division of Health Sciences has had amazing success with the outcomes of the 2019 Round of New Colombo Plan (NCP) mobility funding. The Division has received funding for eight projects with a combined value of $307,560 to support 94 students.
Overall, UniSA was successful in securing a total of $703,560 in the 2019 Round, which will support 214 students across 16 projects (out of 42 applications that were submitted); of these 16 projects, four were submitted by ITEE, four submitted by EASS, and eight by HSC.
The successful projects in the Division are noted below, with the deadline for implementation of these projects being June 2020:
| Country | Institution/Provider | School | Supported by | Activity |
| --- | --- | --- | --- | --- |
| Brunei | Ministry of Health/University of Brunei | HLS | Saravana Kumar | Study Tour - 2 weeks |
| Myanmar | University of Medical Technology Yangon and Mandalay/Innovative Diagnostics | PMB | Brian Dale | Study Tour - 3 weeks |
| Cook Islands | Cook Islands Ministry of Health | NRC | Terri Gibson / Terry Friebe | Study Tour - 3 weeks |
| Kiribati | Motivation Australia | HLS | Sara Jones | Clinical Placements - 2.5 weeks |
| Vietnam | Vinh Long Hospital | NRC | Terri Gibson / Terry Friebe | Nursing Study Tour - 2 weeks |
| China | Shandong University | PMB | Sanjay Garg | Study Tour - 2 weeks |
| Philippines | Manila Tala Football Club | HLS | Michael Hartland/Kevin Norton | Practicums - 3 weeks |
| Philippines | University Santo Tomas | PMB | Matt Sykes | Study Tour - 2 weeks |