Higher Degree by Research Students
Awards and Achievements
Emily Blackman was recipient of the Best Poster Prize (ECR/PhD Student Category) at the National Suicide Prevention Conference for her poster Suicide Prevention Education and Training for Health Workers: A systematic review. Emily accepted the award before 600 delegates at the Conference Dinner in Adelaide on 24 July.
Dr Kate Deuter recently had her PhD thesis passed forthwith and graduated in the UniSA September graduation round. Dr Deuter's thesis was entitled Attempted suicide in older people: Within and between the meaning of protection. Her supervisors were Professor Nicholas Procter and Dr David Evans.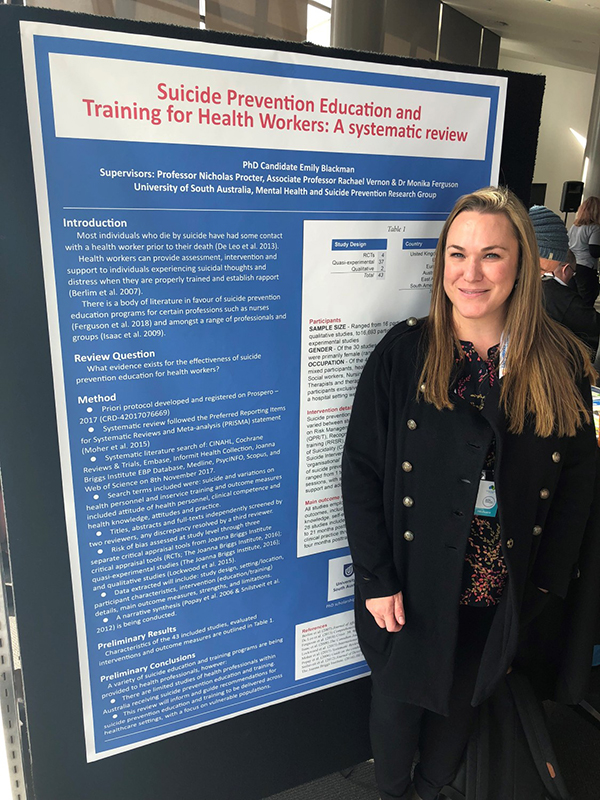 Emily Blackman with her winning poster at the National Suicide Prevention Conference in Adelaide, July 2018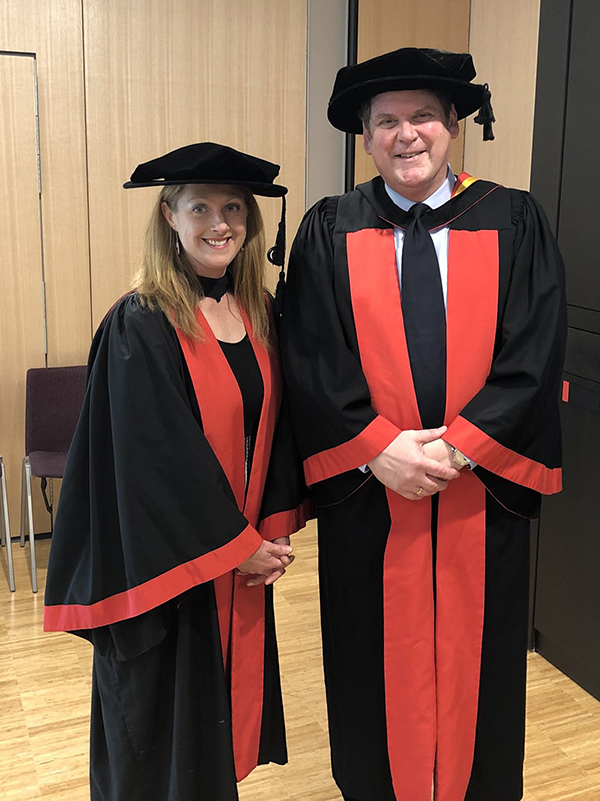 Dr Kate Deuter and Professor Nicholas Procter at the University of South Australia Graduation Ceremony, September 2018
Current Research Projects
Mental Health and Suicide Prevention Research Group higher degree students are currently working on a range of research projects as part of their Honours, Masters or PhD studies:
A qualitative study of family carers of people diagnosed with borderline personality disorder: What are carer's views and experiences of preferred nursing practices in the Emergency Department setting?
Effectiveness of an educational intervention for health workers in the assessment and management of people at risk of suicide
How is teaching and learning through lived experience and mental health recovery explained via educational theory? A scoping review of the qualitative and quantitative evidence.
Barriers and enablers experienced by police officers when responding to individuals in suicidal crisis: An exploratory study based on Australian coronial findings
The Mental Health Consequences of the Fast Track Assessment of Protection Claims: The perspectives of legal professionals and asylum seekers
Psychological autopsy and the public sector mental health response to men who die by suicide in South Australia
The use of situation awareness by mental health nurses to inform the involuntary admission decision: An ethnographic study