Rosemary Bryant AO Research Centre
The Rosemary Bryant AO Research Centre is a partnership between the Australian Nursing and Midwifery Federation (SA Branch) and the University of South Australia's School of Nursing and Midwifery. The Centre aims to strengthen the role of the nursing and midwifery profession across the health system through the development of a research-driven, evidence-based platform of healthcare.
The Centre comprises research concentrations in Cancer Care; Education in Nursing, Midwifery and Health Science Research; Mothers, Babies and Families Health; and Safety in Quality in Health. The Centre's research program in 2018 has included the following major projects:
Rosemary Bryant AO Research Centre
Nurse-led care coordination service: engaging stakeholders for continuity of care
Kate Davis, RN, BNsg, MsClSc. is a second year PhD candidate (Rosemary Bryant AO Research Centre, School of Nursing and Midwifery, University of South Australia). Kate's research focusses on the feasibility of implementing a nurse-led care coordination service for people living with multimorbidity, and provision of continuity of care across the tertiary and primary health care sectors.
Multimorbidity is defined as two or more co-existing chronic diseases and currently this affects one in five Australians (Britt et al. 2008; Caughey et al. 2013). The most common combinations include arthritis/back pain and vascular disease (66%), followed by a mental health issue and vascular disease and arthritis/back pain (Britt et al. 2008). Due to the complexity of healthcare required for people living with MM, continuity of CoC is increasingly recognised as a necessary component of healthcare delivery to improve care outcomes and mitigate care fragmentation for this group of people (Hirschman et al. 2015; Dreiher J et al. 2012).
A stakeholder forum was organised to engage parties from both the primary and tertiary healthcare sectors with an interest in the management and care of people living with multimorbidity (MM). Forum participants included nurse practitioners, clinical practice consultants, nurse unit managers, general practitioners, practice nurses, researchers and health management executives from across health.
The overall aim of the stakeholder forum was to contribute to the planning of a nurse-led model of care coordination service and transition pathway, to improve continuity of care (CoC) across the healthcare sector for people living with MM.
The forum revealed agreement that there is a willingness to develop and support nurse-led models of care, tackle potential barriers to care fragmentation, and progress the proposed model. Further research will include a workshop and integration of systematic review findings (in progress) into the exemplar MoC, then testing of feasibility of the MoC in another action research cycle within the PhD project.
Cancer Care Research Group
Patient-Reported Experience Measures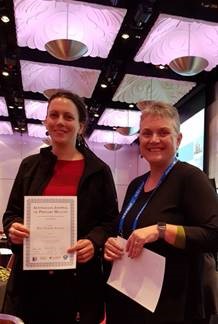 A growing body of evidence links person-centred care to subsequent gains in health, safety, economics, productivity, culture and society. Understanding what matters most to patients is key to improving person-centred care, and increasingly, routine integration of Patient-Reported Experience Measures (PREM) data collection and analytical reporting is recommended in healthcare policy and practice.
The RBRC team have been working with key stakeholders in cancer control in South Australia, to help facilitate sustainable systems integration of PREM data for monitoring and improving the safety and quality of services across the continuum of cancer care. With the focus on person-centred care, careful consideration is being given to how best to include relevant data from populations experiencing inequities in cancer care experiences and outcomes.
In the first instance, RBRC has been working with Sonder (formerly Northern Health Network) and their Integrated Team Care (Closing the Gap) program to trial and further develop an electronic platform for the collection and analytical reporting of PREM data, using the Aboriginal Cancer Measure of Experience (ACME) tool. To record barriers and enablers to safe, accessible and effective services for Aboriginal people across the continuum of cancer care in SA, this narrative-based tool was co-developed with key stakeholders (including Aboriginal people with lived experience of cancer and their carers/family members) during the Cancer Data and Aboriginal Disparities NHMRC Partnership Project (CanDAD).
In recognition of the importance of this work, the Australian Journal of Primary Health's prize for best paper relevant to the interests of the journal was recently awarded for Dr Jasmine Micklem's presentation on 'ACME - Aboriginal Cancer Measure of Experience: A patient-reported healthcare quality indicator' at the 2018 Primary Health Care Research & Information Service (PHCRIS) Research Conference.
Mothers, Babies and Families Health Research Group
An antenatal package of complementary medicine techniques for labour and birth to reduce the rates of epidural use in primiparous women. A prospective meta-analysis study design.
Successful applicants of the Sansom Institute seeding grant – Dr Julie Fleet, Professor Mary Steen, Dr Lois McKellar and Ms Pam Alderson from the Mothers, Babies and Families Health Research Group – have commenced recruitment for the My Birth Course, with the first classes held this month at the UniSA City West Health and Medical Centre. The My Birth Course is an innovative antenatal education program that includes education about normal physiological birth, and demonstrates five evidence-based complementary medicine techniques for the management of pain in labour and birth. This program, originally trialled in two Sydney hospitals as a randomised controlled trial (RCT) for low risk first time mothers, demonstrated significant reductions in birth costs associated with decreased rates of intervention, including caesarean section from an average of 32% in the control group, which is consistent with current national and state averages, to an average of 18% in the study group, which is in alignment with the recommended WHO target.
The My Birth Course study is being conducted as a RCT. Randomisation occurs between 24-36 weeks' gestation. Women are either enrolled into the My Birth Course in addition to standard care, or receive standard care alone. This RCT will contribute to a prospective meta-analysis design to assess clinical effectiveness and translation into practice, extending the generalisability of the original findings by recruiting a more diverse group of women from a different hospital and area. At study completion results will contribute to one of five sites contributing to a pooled data prospective meta-analysis study design.
Safety and Quality in Health Research Group
A Virtual Reality App for Teaching
Mrs Kim Gibson and Head of School Professor Carol Grech attended the 2018 Australian College of Critical Care Nurses' Institute of Continuing Education meeting The Future is Critical in Sydney during June 2018. They provided a presentation titled 'A Virtual Reality App for Teaching'. A newly developed intensive care unit was showcased which is located in the hospital of 'Horizon', an online virtual city where health professionals can interact with members of the community. Using virtual reality technology, critical care nursing students can care for an obstetric patient requiring mechanical ventilation, arterial monitoring and central venous medications. During the presentation a member of the audience applied the virtual reality headset and checked the syringe of magnesium sulphate against the medication order on the patient's chart. This demonstrated how the technology can encourage users to explore their surroundings and interact with clients and equipment, which overall enhances their learning experiences.
Does focused paediatric nursing education improve the confidence of Registered Nurses working in regional areas in South Australia to care for children?
Investigators: Ms Catherine Miller, Mrs Kim Gibson
Registered Nurses (RNs) who work in areas that are classified as rural and remote can be exposed to certain barriers to facilitate continual professional development due to the physical isolation of their workplace. Distance from educational programs and conferences, difficulties with travelling to such opportunities and an overall lack of continuing education (CE) resources are confounding factors for this (Curran, Fleet & Kirby 2006; Fragar & Depczynski 2011; Australian College of Rural & Remote Medicine 2002). A pilot program by the University of South Australia providing paediatric education to a group of Country Health SA Nurses at the Mount Barker site was conducted in March and April of 2018. Research was conducted (with a pre and post survey) to assess whether the provision of this education had an influence on their knowledge and confidence when managing paediatric clients within regional South Australia, with results of this research pending. This may have implications for how CE is provided to them in terms of organisational funding and determining if this method of education delivery is an effective strategy to assist with the further development of their professional competency.