PMB Bulletin - September 2018
Head of School Update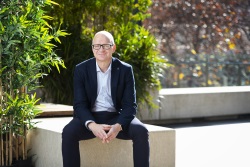 My first 8 weeks as Head of School have been a real pleasure, in terms of the quality of the interactions with all the people I've met, and with the support I have received from the professional and academic staff of the School. I would like to repeat my appreciation for the good work that Jason and Tony have done in leading the School to such a strong position. Tony and Craig as Associate Heads should also take great credit for the excellent collegial culture and the quality of the teaching and research activities. I hope Tony enjoys his retirement as much as Jason appears to.
I know that this is a time of some uncertainty regarding the future of the University. I have encouraged input from our external partner organisations, either professional, academic or commercial, to ensure that the priorities of the School are flagged up in the discussions. Please let me know if there are any key players that I might not be aware of.
While I have enjoyed the honeymoon period, where everyone brought me good news (mostly), I also want to get to grips with any challenges and issues around the School. I'm very keen to develop the profile of the School within and beyond the University and to make the most of the fantastic opportunities in research and in teaching at UniSA. For those of you I have met, thanks for the welcome, and I am looking forward to meeting the rest of the School as soon as I can.
The activities and achievements listed below are a small snapshot of the impressive array of notable work going on in the School. It wouldn't be fair of me to highlight any particular aspect, and it is in the nature of these bulletins that the information gathered may be surpassed before it is published. Nevertheless, I would like to note that the success of our early and mid-career researchers is particularly impressive. Also, while it is not a highlight that fits into the structure of the bulletin, I would like to acknowledge the fantastic work that Bec, Richard, Nathan and Karen do in terms of running the School across our different sites, including the relocation to the UniSA CRI building.
In short, I'm still excited to be here and anticipating further positive experiences for the future.
Alan
Professor Alan Boddy
Head of School, Pharmacy and Medical Sciences
New appointments
| Employee Name | Position Title | Supervisor |
| --- | --- | --- |
| Mrs Liliana Ciobanu | Research Associate: Biostatistics and Epidemiology | Libby Roughead |
| Dr Steven Polyak | Research Associate | Rietie Venter |
| Miss Candice Smith | Finance and Stores Officer | Richard Bennett |
| Ms Georgia Stoll | Project Officer | Richard Bennett |
| Mr Jon Whittall | Research Assistant | Rietie Venter |