Operational
WHS
A reminder that if you are travelling abroad there are various policies and guidelines that need to be followed. These can be found at https://i.unisa.edu.au/staff/finance/services-we-provide/travel/travel-policies-and-guidelines/
In addition, the University has partnered with International SOS to provide emergency assistance to staff and student when travelling. Details of this can be found at http://i.unisa.edu.au/siteassets/staff/finance/quick-guides/international-sos-traveller-welcome-handout.pdf
Wellbeing Group - Yoga
Yoga sessions have re-started with a new instructor, Deanne Kong, at the City East Campus. These will continue every Monday from 12.30pm-1.30pm in B4-20B until Monday 22nd October. Classes are free and all staff are welcome to attend. Staff should take along a mat or towel.
In addition to these sessions, a new class is taking place at City West. Further information can be found below: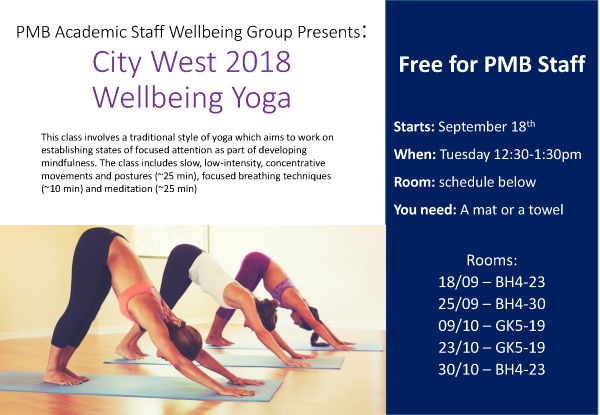 General
Clarification on UniSA CRI Building Name
There has been a lot of confusion about the new building name, what acronym to use for the University of South Australia Cancer Research Institute, how to address and direct people to the building and how to reference it in email signatures. Please note the following clarifications:
Official Building Name:
University of South Australia Cancer Research Institute. Please do not add building to the end of this as this causes confusion with building denominator.
Acronym:
VC has confirmed that the official acronym is UniSA CRI. Please use this acronym only. (Please do not use CRI, Uni SACRI or UniSACRI or any other version)
Building Denominator/Code:
All UniSA buildings are assigned a building code denominator for all asset and space referencing. The Building Denominator for the University of South Australia Cancer Research Institute is HB. All room numbers are prefixed with this denominator. The Building Denominator HB is noted on all campus maps and is referenced to assist in wayfinding.
Building Address:
There is NO street number. The official location address is-
University of South Australia Cancer Research Institute OR UniSA CRI
Building HB
North Terrace, Adelaide, SA
Please use the information above for all location references to visitors and events in the building.
Courier Deliveries:
As per the Welcome Note, for Courier Deliveries:
University of South Australia Cancer Research Institute OR UniSA CRI
Building HB
North Terrace, Adelaide, SA
On the corner of North Terrace and Morphett Street Bridge
UniSA Loading Dock – Enter via Northern Access Road (if applicable for general deliveries)
Note for small courier deliveries please direct courier to short term parks on Northern Access Road located adjacent the NW entry to Building HB.
Postal Address:
As per the Welcome Notes, the postal address does not actually reference the building – refer below:
Name of Recipient
University of South Australia
GPO Box 2471,
Adelaide, 5001, SA
IPC XXX
Email Signature:
The following is an example of how the building should be referenced in an email signature:
Christina Coleiro | senior project manager| facilities management | unisa
University of South Australia Cancer Research Institute | Building HB
North Terrace | City West Campus | Adelaide SA 5000 | IPC: CWE 101-01
t +61 8 8302 3686 | e christina.coleiro@unisa.edu.au
www.unisa.edu.au | www.unisa.edu/au/fmu | CRICOS Provider No. 00121B
From the library
Children's Dosing Companion
As a result of discussions with key staff in all Schools regarding essential drug resources The Library has recently subscribed to the 'Australian Medicines Handbook – Children's Dosing Companion'.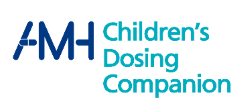 The AMH Children's Dosing Companion (CDC) provides dose information for the most commonly used medicines in children in both community and hospital practice in neonates born at term (>38 weeks) up to children aged 18 years and is intended to complement the Australian Medicines Handbook.
Anatomy TV - Resistance Training module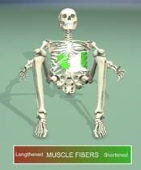 After recent trials of 3D Anatomy TV the Library has subscribed to a new module focusing on Resistance Training. This module includes rotating 3D models, text articles, views for all structures, as well as a wealth of animations and movies. The search function allows you to locate contents for any anatomical views, structures, and movies. To arrange a demonstration please contact the Health Academic Library Team.

How visible is your research?

Check the Open Access Research Guide for the 30 second test to see how visible your research outputs are via your staff homepage.
NVivo
NVivo is a qualitative and mixed-methods data analysis software tool for academics and professional researchers. It is a useful tool for complex research projects, whether you're working solo or in a team.
UniSA has negotiated a 3 year Enterprise License Agreement with QSR International for the use of NVivo. This software is now available to all staff and students free of charge, including installation on personal and home devices.
To download Nvivo and for more information visit the NVivo AskIT page.

Database Trial: Thieme Teaching Assistant 2.0

A state of the-art presentation tool featuring thousands of illustrations and clinical images from Gilroy et al.'s Atlas of Anatomy, 3rd Edition, as well as other premier Thieme titles.
It enables instructors to enhance students' learning experiences by incorporating dynamic visuals into lectures and course materials, to present complex concepts.
This trial provides access to the following collections:
Thieme Teaching Assistant: Biochemistry
Thieme Teaching Assistant: Pharmacology
Thieme Teaching Assistant: Physiology

Reading List Management and Copyright system
A new Reading List Management and Copyright system (eReserve) will replace the existing Digital Reading Service in 2019. Academic staff will be able to easily create, edit, clone and maintain their lists and share them with students while compliance checking is run in the background vastly improving the quality and compliance of our shared resources.
The benefits of eReserve are:
integration seamlessly with courses in Learn Online
converts and adapts existing reading lists into a new, more embedded and usable teaching and learning environment
students will have more timely access to their readings
available 24 hours a day
accessible from anywhere and on any device
shows the impact of readings through analytics
allows for automatic copyright checks of up to 70% of resources, with the remainder to be checked by library and copyright staff
Staff will have access to a wealth of online resources through the university library and can import citations through EndNote, Zotero, Mendeley and other citation management tools as well as create their own citation through web forms. Training and support materials will be available.
UpToDate Australian Guidelines
S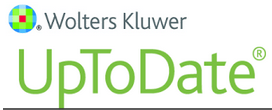 ociety Guideline Links are now available in UpToDate across specialties.
Guidelines are easily accessed via your current UpToDate subscription; they are convenient sets of links to clinical practice guidelines on a given subject from Australian and New Zealand specialty societies and government-sponsored agencies (worldwide regional guidelines are also included).
They can be accessed in the following ways:
Society guideline links index topics searchable by condition and organized by region; and searchable via "society guideline links Australia"
Society guideline links" subsection in select UpToDate clinical topics
search on keywords "Australian guidelines"
Society Guideline new content does not require an additional contract and there is no extra cost. It's all part of UpToDate's service to you.