Highlights and achievements
Grants and funding
Associate Professor Paul Anderson received a public donation of $75,000 to conduct research on the molecular basis for osteoarthritis disease initiation and progression.
Professor Clive Prestidge and Mrs Kellie La Fontaine have received a significant research grant from their industrial partner ReformPharm Pty Ltd to undertake a Phase 1 human clinical trial of a reformulated cardiovascular drug using the LipoceramicTM technology developed in Prof Prestidge's lab. This is a great opportunity to establish new in house capabilities in human pharmacokinetic studies, with significant future potential for research and development.
Congratulations to Dr Nicky Thomas who has been awarded a 3 year Mid-Career Fellowship from The Hospital Research Foundation for his project 'A Trojan Horse strategy for antimicrobial biologicals'. Click here for further details.
2019 New Colombo Plan Funding
Congratulations to Professor Sanjay Garg, Dr Brian Dale and Dr Matt Sykes who have been awarded funding for their projects.
Brian will be taking 10 students on a study tour to Myanmar, Sanjay will be travelling to China with 10 students and Matt will be taking his party of 16 students to the Philippines.
Each study tour received single-year funding and will receive student subsidies at $3,000 each and a staff subsidy of $3,500 to support the administration of the project or staff travel.
In addition, eligible students will also be able to receive a $1,000 travel grant from the University.
Awards and achievements
Dr Mahipal Sinnollareddy a former Pharmacy Registrar graduate has earned a very prestigious post as a pharmacokineticist at the Therapeutic Goods Administration. Mahipal was supervised by Prof Jason Roberts and Prof Michael Roberts during his PhD research project titled 'Improving Antifungal use in the Critically Ill-A pharmacokinetic/Pharmacodynamic Approach'.
Dr Jyothi Thalluri was invited to deliver a keynote at the '16th International Conference on Education and Information Systems, Technologies and Applications' on July 11th 2018 in Orlando, USA. She was awarded a plaque in appreciation for delivering an engaging keynote speech at a plenary session, on the topic titled 'Technology-based learning: High-tech and high-engagement'.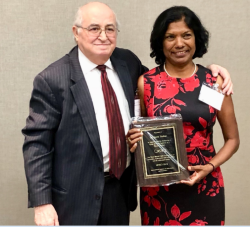 The National Australian Pharmacy Students' Association (NAPSA) has elected Jessica Hsiao as the organisation's 2018/2019 president.
Jessica is a fourth year pharmacy student at the University of South Australia, and will be joined on the NAPSA board by seven newly elected directors: Eliza Herd from the University of Newcastle as Secretary; Tina Blefari, University of South Australia as Treasurer; Teana Didsbury of QUT; Lily Pham from the University of Sydney; Stephanie Salvatore, RMIT; Joshua Hogben from the University of South Australia; and Alicia Martin from the University of Canberra.
The NAPSA Best Branch award went to the South Australian Pharmacy Students' Association.
Congratulations to Dr Jacinta Johnson who has been awarded Early Career Pharmacist of the Year by the Pharmaceutical Society of Australia. Information from the Media Team including a video interview with Jacinta can be found here.
Ms Lauren Corre, Adjunct Senior Lecture Libby Hotham and Dr Vijay Suppiah were among the research team that were awarded the best poster prize at PSA18 in Sydney in July. Their poster was titled 'Assessment of patient understanding of their medicines: interviews with community dwelling older Australians' and was featured in the Australian Pharmacist. Further details can be found here
Associate Professor Michael Ward has been appointed the Co-chair (Science) of the Programme Committee of the International Pharmaceutical Federation (FIP) on behalf of the Board of Pharmaceutical Science. In addition to this Michael has also been appointed to the Editorial Board of the 25th Edition of the Australian Pharmaceutical Formulary and Handbook and the Deputy Chair at Bellberry Human Research Ethics Committees. Well done on these appointments Michael.
Dr Tuan Nguyen has been appointed the Chair of the Scientific Committee for the first Vietnam National Dementia Conference which was held in September 2018 in Hanoi, Vietnam. He was also a member of the Scientific Committee of the International Social Pharmacy Workshop - ISPW 2018 in July 2018 which was held in Leuven, Belgium. Tuan was a member of the Organizing Committee of the NNIDR Australian Dementia Forum 2018 held in June 2018 in Sydney, Australia and was also a convening panel member for the Special Interest Group on Safe and effective use of medicines in people living with dementia at the Forum.
International connections
Dr Tuan Nguyen is collaborating on a number of projects in Vietnam. These include coordinating the development and signing of a MoU between UniSA and Hanoi University of Pharmacy in Hanoi and collaborating with the NHMRC Cognitive Decline Partnership Centre to provide a Masterclass in Dementia for 50 geriatricians at National Geriatric Hospital of Vietnam.
Tuan has also collaborated with University of California to provide a training workshop on Geriatric Competencies for Family Medicine from 10th-11th September 2018 for 150 physicians and nurses from the National Geriatric Hospital, Department of Geriatrics and Department of Family Medicine of Hanoi Medical University and from provincial hospitals in Vietnam.
Chelsea and Hayley's USA/Canada Tour
PhD students Chelsea Thorn and Hayley Schultz had an amazing business trip around the USA and Canada in July. The trip was primarily funded by Hayley's UniSA Research Degree Excellence Grant and Chelsea's Young Pharmacist Professional Innovation Grant, amongst many other travel awards.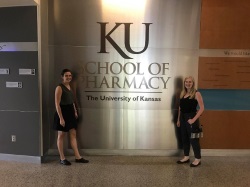 Chelsea and Hayley visited two research groups (Prof Hageman at Kansas University in Lawrence and Prof Howell at Sick Kids Research Institute in Toronto) and three pharmaceutical industry sites (Pfizer in Groton, and Bristol Myers-Squibb in New Brunswick and Princeton), as well as attending the four day Controlled Release Society conference in New York. They had the opportunity to present their 30 minute talks to the research groups and industries (a total of five talks) and a poster presentation at the conference. They received lots of helpful advice and words of encouragement on their research projects and praise on their initiative to tour the USA and Canada.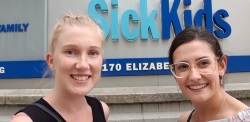 Chelsea says, 'The trip to North America was a fantastic opportunity to increase our research exposure and foster relationships with collaborators. For me it was a pleasure to meet Prof Howell face to face and further plan my project with SickKids. The added bonus of interacting with the pharmaceutical industry has also given me a sound insight into potential career prospects'.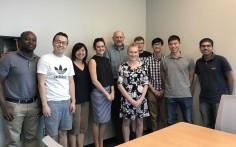 Hayley says, 'We've come back to Australia with a greater understanding of how research is conducted in North America in both an academic and industry setting. We now realise that our skills are actually very applicable to industry and that it is a very possible career pathway for us to consider. It has been an eye opening experience and I hope to maintain the connections I've built with all the amazing researchers we've the pleasure of meeting.'
Chelsea headed overseas again in September to Scotland for the International Pharmaceutical Federation (FIP) meeting and will meet Hayley in Singapore in late September to attend the Globalised Pharmaceutics Education Network (GPEN) and Controlled Release Asia conferences.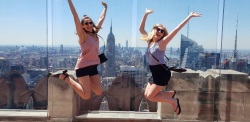 Media highlights
The Age report on a new method that can tell whether you're at risk of becoming overweight with comments from Dr Karen Murphy. Read the article here - The article was republished on 11 other websites including the Sydney Morning Herald and WA Today​. Karen was also interviewed by Proportion Foods on the topic of menue planning in aged care. Read the article here
The Australian mentions the prostate cancer study by Dr Agnes Vitry which reveals the side effects of the hormone ADT which increase the risk of men developing a range of chronic health conditions. Read the article here. Agnes was also interviewed by Radio 5AA, and the story was also broadcast on 2GB, 3AW and 11 other stations (June 3rd).
Associate Professor Craig William's Mozzie Monitor citizen science crowdfunding project features on the Channel 11 program Scope. View the episode here (story starts 5:12 into program). Craig was also interviewed by ABC South East (June 13th), and by ABC Riverland (June 15th), reminding us that mosquitoes are still prevalent across SA during the winter months. This was also covered by ABC Radio EP and West Coast SA (June 18th).
Dr Chris Daniels speaks with ABC Radio Adelaide for a biology segment about black swans. (June 20th)
Professor Shudong Wang was recognised with the Top Ranked Development Grant award at the NHMRC Research Excellence Awards, which was covered by the Advertiser. Read the article here Campus Morning Mail also reports on this. Read the article here
The Australian Journal of Pharmacy names two UniSA pharmacy students – Larissa Kahl and Lauren Irvine – who have been awarded rural scholarships to help finance their studies. Read the article here
Scimex, Medical Health News, EurekAlert!, News-Medical, Infection Control Today, The Lead, Medical Xpress report on research from UniSA and Adelaide University revealing the bacteria-busting qualities of the dragonfly could revolutionise orthopaedic surgery globally. Associate Professor Krasimir Vasilev and Associate Professor Paul Anderson are featured. Read the article here
Dr Rietie Venter is quoted in an article about Adelaide's recent Salmonella outbreak linked to alfalfa sprouts, reported by www.freshplaza.com. Read the article here
Research conducted by Lauren Corre, Adjunct Senior Lecture Libby Hotham and Dr Vijay Suppiah and other collaborators on patients' understanding of their medication was reported by ajp.com.au and the Australian Pharmacist. Read the article from aps.com.au here and Australian Pharmacist here
Adjunct Professor Chris Daniels speaks to ABC Radio Adelaide about his best days involve being in the wild, and the most special day had been in 1989 in Rwanda to see the gorillas in the Parc Des Volcans. (July18th). ABC News online speaks to Chris about a rare white leucistic magpie found in the Adelaide Parklands. Read the article here
A study by Adjunct Professor Peter Clifton showing a twice-weekly calorie restriction diet for patients with type 2 diabetes is comparable to a diet with every day calorie restriction, reports Eureka Alert, News-Mediacl.Net and MedIndia. Read the article here
Dr Evangeline Mantzioris is featured in reportson why cheese isn't bad for you according to five nutrition experts by Nine.com.au ​and The Conversation. Read the article here. This was also covered by ABC Radio Adelaide on July 24th and the Ballarat Courier Read the article here. Further coverage was provided by SBS. Read the article here and in a story published by New Zealand website The Hits. Read the article here
Doctoral Student Sharayah Carter and Adjunct Professor Peter Clifton are featured in Body and Soul and Women's Health for their study of how the 5:2 diet is as effective at controlling diabetes as monitoring daily caloric intake. Read the article here. medicalhealthnews.net and medpagetoday.com also report on this along with ajp.com.au, AustralianDoctor, medicalxpress.com,upi.com andbreitbart.com.
As reported by Border Watch, Dr Gabrielle Todd and Dr Verity Pearson-Dennett call for focus group participants in Mount Gambier to provide feedback on their newly-developed television advertisement, which encourages people to stop using the drug ice. Read the article here. Gaby also had coverage on ABC South East raising awareness of the long-lasting effects of methamphetamine (August 6th). She was also interviewed on ABC Riverland SA about her research into the similarities between Parkinson's disease and methamphetamine use, in terms of how they both damage neurons. Her research found a third of survey participants were unaware of long-term affects of drug abuse. (August 7th). This was also covered in an interview on theABC North and West SA ​radio station (August 8th)
Dr Gillian Caughey's research showing that taking statins can increase the risk of developing a rare disorder of the muscles known as idiopathic inflammatory myositis (IIM) has been published in the JAMA International Medicine Journal and reported by startsat60.com. Read the article here
The Advertiser, Herald Sun, Daily Telegraph Australia and Courier Mail ​report on the upcoming National Science Week, where the UniSA Cancer Research Institute will host 'Super Drugs and Mini Guts'. The three-hour interactive event for Year 11 students will include virtual reality to enter and explore a single cell, and the hydrophobic nano-T-shirt. Researchers Tahlia Meola and Marnie Winter are featured and quoted. Read the article here.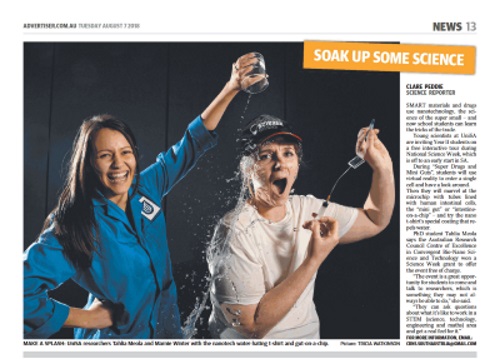 Seniorau.com.au reports on a research collaboration between UniSA and China's Third Military Medical University, investigating the similarities of nerve cell damage in Alzheimer's, Parkinson's and Motor Neuron Disease. Professor Xin-Fu Zhou is quoted. Read the article here. Xin-Fu's reseach which provides new hope for the treatment of Alzheimer's and other neurological diseases is reported by Science Daily here, Scicasts here, Research & Development and Mirage News
Various media have reported former UniSA DVC of Research, Visiting Professor Caroline McMillen, is the next South Australia chief scientist. Read the article here
Mirage News reports on UniSA researchers awarded funding for research including cancer, ageing and alcohol abuse, and 3D bioprinting for medical use. The report features winners Professor Stuart Pitson, Professor Benjamin Thierry, Dr Liping Wang, Dr Renly Lim, Jacqueline Bowden and Dr Dorothea Dumuid. Read the article here
Adjunct Professor Chris Daniels features on ABC Radio Adelaide in the regular segment: Biology Talk with Adjunct Professor Chris Daniels. (Aug 15th)
ajp.com.au reports Dr Renly Lim has received the NHMRC grant 'Early Career Fellowship', to explore medicine-induced deterioration in older people. Read the article here. Renly discusses the need to expand the roles of pharmacists in the palliative care setting to meet current and future demands, reports MIM Pharmacy. Read the article here
ABC online features Adjunct Professor Chris Daniels revealing why dogs love poking their heads out of car windows. Read the article here
AJP reports Dr Jacinta Johnson has joined The Society of Hospital Pharmacists of Australia Board of Directors. Read the article here and from Pharmacy Daily here