PMB Bulletin - December 2018
Head of School Update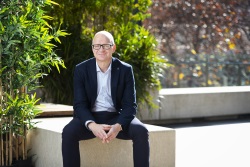 The last 5 months seem to have flown by. I'd like to thank you all for making me welcome in the School, and for helping me to adapt to the role of Head of School. I couldn't have done this without support from the professional staff in the School office and from the Associate Heads of School.
It has certainly been an eventful time, and there will be further changes next year. Although we don't yet know what these will be, I'm confident that the high level of performance shown by the school in the key areas of teaching and research will be recognised in the future shape of the University.
The final Bulletin for the year is appearing at almost the very last moment before the break, in part because so many things that we want to celebrate seem to occur in December.
As we approach the year's end I would like to recognise a number of staff achievements (some I have already written to you about).
Funding success
ARC outcomes: Janna Morrison successful with an ARC discovery project Cat 1
Mid-Careeer Fellowship, Cat 3 – Nicky Thomas
NHMRC Early Career Research Fellowship Cat 1 – Liping Wang; Renly Lim
NHMRC Project Grants - Nicole Pratt; Paul Anderson
NHMRC NAFOSTED Grant - Tuan Nguyen
Mike Roberts has been awarded two FDA grants and will contribute to a 3rd successful grant, to the value of $2.5 million.
Doug Brooks has secured further significant commercial funding to continue his research.
Academic staff promotions
Congratulations to the following staff who have recently been promoted:
Associate Professor Sally Plush
Associate Professor Larisa Bobrovskaya
Associate Professor Rietie Venter
Associate Professor Gabrielle Todd
Senior Research Fellow Dr Tuan Nguyen
Staff Recognition Awards
This year was the third in which the Division recognised the efforts of individual staff members through Staff Recognition Awards. Nominations are by peers on the basis of contributions to local culture, effort, attitude and achievement, with one award for professional staff and one for academic staff. This year there were 9 nominees from our School:
Hattie Li
Bree Wescombe
Sanjay Garg
Stefan Kowalski
Sarah List
Evangeline Mantzioris
Jyothi Thalluri
Shudong Wang
Cory Xian
Receiving a nomination is itself great recognition, congratulations to each of those staff members.
Teaching awards
Congratulations to the following staff on being awarded a 2018 UniSA Citation for Outstanding Contributions to Student Learning (Digital Learning).
Team Lt UniSA: Sandra Orgeig, Professor in Pulmonary Biology; Emma Parkinson-Lawrence, Program Director: Medical Sciences; Sarah List, Lecturer in Biosciences; Gabrielle Todd, A/Prof in Neuroscience; Bronwen Mayo, Lecturer; Andrea Stringer, Senior Lecturer/Research Fellow (all from the School of Pharmacy & Medical Sciences): For the creation and implementation of innovative resources to deliver a digitally-enriched health science curriculum to improve student engagement, outcomes and learning experience.
10 Years of Service
The following staff have received their 10 year Staff Service Award in 2018. Thank you all for your contribution to the School during this time.
Catherine King
Sally Plush
Giordana Cross
Chris Della Vedova
Hattie Li
Evangeline Manzioris
Matt Sykes
Jane Walford
Michael Wiese
Cory Xian
I would like to take this opportunity to thank everyone for their efforts in helping to make this year a successful one. After the break, I'm really looking forward to working with you all in the New Year.
Alan Boddy
Head of School, Pharmacy and Medical Sciences
New appointments
| Employee Name | Position Title | Supervisor |
| --- | --- | --- |
| Mrs Megan Quinn | Laboratory Assistant | Prof Janna Morrison |
| Mrs Lynn Ferber | Academic Services Officer (Timetabling) | Mr Nathan Brookes / Ms Bec Sewell |
| Assoc Prof Craig Williams | Associate Head of School: Academic | Prof Alan Boddy |
| Dr Lan Kelly | Statistician QUMPRC | Prof Libby Roughead |