Operational
WHS
Online UniSA safety training moves to learnonline
Online safety training for staff and students in UniSA is moving to learnonline from January 2019.
Since the introduction of online safety training over 10 years ago the main external provider has been e3Learning (now called Kineo). The quality of their online courses has improved over the years. However, as the provider serves many organisations we have been locked into generic courses which do not necessarily reflect our own safety arrangements. In addition, registration of our students in their courses has proved to be a problem.
By moving to learnonline we can:
make use of our own University online learning platform
tailor the training to our own safety systems and work environments
ensure easy enrolment by both staff and students
allow easier ongoing improvement of training content
achieve better reporting of training completions by staff and students
ensure no registration or enrolment cost to local areas for student access.
After Christmas you will not be able to access the UniSA 'Online Training Portal' which takes you to the e3Learning (Kineo) courses. In the New Year please visit the People, Talent & Culture website for instructions on how to access the replacement training modules in learnonline.
Your history of completing e3Learning (Kineo) courses will be retained in University training records. You will not need to redo the equivalent new module in learnonline.
If you are presently undertaking an e3Learning (Kineo) training course please make sure you complete the course and download your certificate before the Christmas break.
More information will be circulated in January 2019 on the learnonline modules developed by the Safety & Wellbeing Team and the transition to the new online safety training platform.
Mr Ian Furness, Senior Consultant WHS
WHS Updates
A reminder to all supervisors, that all relevant paperwork must be submitted prior to booking WHS inductions.
The use of international adaptors on campus is being looked into and will be addressed in early 2019.
For any WHS related matters, please don't hesitate to contact the Health and Safety Rep, Melissa Peake on 830 21689.
Finance
Petty cash no longer available in FM Assist from January 2019
Due to the inherent risk associated with managing cash and the administration involved, from January 2019, the petty cash floats that exist in the FM Assist areas will be removed.
Instead of being reimbursed through petty cash, staff may use the following options:
Purchasing on credit cards
Reimbursement through the Staff Reimbursement facility in ProMaster
Instructions on the Staff Reimbursement Claim in ProMaster can be found here.
General
Travel- Online Booking Tool
As advised previously by the UniSA travel team, eligible travellers classified as paid staff members on continuing or fixed term contracts will be eligible to book domestic air travel, hotels and car hire via the Online Booking Tool (OBT). This responds to requests to "cut red tape" by enabling the direct booking of domestic travel without the need to complete a Business Travel Request (BTR) form.
The OBT is primarily intended to be used as a self-booking tool by the travelling staff member; however, the OBT provides the option for travellers to appoint up to three 'Travel Coordinators' to book travel on their behalf. Please note that the School will not be allocating travel coordinators for this process, so if you will be utilising the booking tool, please leave these options blank. If you require assistance to book your travel, please continue to complete a BTR (as per usual process) and the UniSA travel team will assist you.
If staff do wish to utilise the OBT, please ensure you seek pre-approval from the School Manager each time you travel. This just needs to be an email with the following:
purpose for travel
location
dates and
cost centre number you will be using to fund the travel
From the library

The Library is improving the way it delivers Reading Lists in LearnOnline. The new system called eReserve is now available in Beta and will go live on January 3rd.
To get the full benefit of its features and functionality, it is highly recommended that you register for a brief training session being delivered by the library. The 20-30 minute sessions will be delivered face-to-face across campuses during February 2019.
During the session you will discover how to:
Take full control over the quality, content and timely distribution of your readings in Learn Online
See how well students are engaging with your readings through Learning Analytics
Get complete assurance about the copyright compliance of your readings
Utilise your preferred citation styles for readings
Reuse reading content from a vast University-wide collection
Streamline access for students
Register here for scheduled training sessions and select the 'register for training' tab.
New Research Data Storage solution
UniSA offers a Research Data Storage solution which enables researchers to manage, collaborate and share data with others. Hosted on both Mawson Lakes and City West data centres, the UniSA Research Data Storage solution provides high capacity storage, with data protected through daily backups and via data replication technologies.
Researchers using the UniSA Research Data Storage solution are initially provided with 50GB of storage space. Storage can also be allocated to research groups (including external partners). Access to a group storage allocation is managed by the requesting researcher and the total storage space available for individuals and groups is open to negotiation.
Researchers can easily access their files remotely and work with members of their research group and external collaborators through a web interface or from an app on a mobile device.
New and improved Library catalogue coming soon!
On December 3 the Library catalogue will be changing. The new catalogue brings with it a fresh and intuitive design with seamless functionality making it even easier to use on any device and the ability to create booklists, save your searches and keep your search history. It will provide you with more ways to explore and learn through automated recommendations, topic exploration and virtual browse.
Contacting your Academic Library Team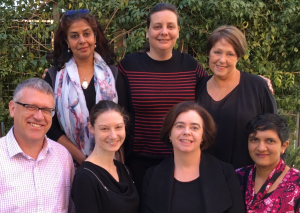 Library staff from the Health Sciences Academic Library Services team are available to assist with your teaching and research needs.
To make an appointment with a Librarian contact us via Ask the Library
Ask the Library contact details:
Telephone:
26231 (internal calls)
1300 137 659 (local call within Australia)
+61 8 8302 6231 (international)
Email: asklibrary@unisa.edu.au