Teaching and learning
International teaching
In February Craig Williams and Rachel Gibson (Dean: Academic) visited Hong Kong Baptist University (HKBU), where a number of our staff teach the Food Science specialisation of the Bachelor of Nutrition and Food Sciences (in a partnership coordinated at UniSA by Permal Deo). During the visit to the Shek Mun campus, Craig was able to sit in on Karma Pearce's class (where she was using cookie baking to demonstrate how the same ingredients can give vastly different results), speak with students, and work with the HKBU team to review the program. Craig and Rachel also visited other Hong Kong institutions providing students to our programs, namely Hong Kong University SPACE, and the Hong Kong Institute of Vocational Education (IVE). Rachel reviewed articulation agreements with these providers, and gave a talk to students.
Craig and Rachel also visited Singapore to speak with the National Healthcare Group (where the Masters of Clinical Pharmacy is taught by Stefan Kowalski). They also took the opportunity to give a seminar at Singapore General Hospital to more than 50 Allied Health staff (including Pharmacists, Dietitians, Physiotherapists, Podiatrists, Radiographers etc) to speak about the challenges of balancing academic life with clinical practice. Pharmacy Lecturer Jacinta Johnson was used as one 'case study' for the talk. Thanks also to Deb Rowett for contributions.
The road trip was rounded out with a trip to Kuala Lumpur to visit Taylors University to speak about possible future offshore teaching possibilities.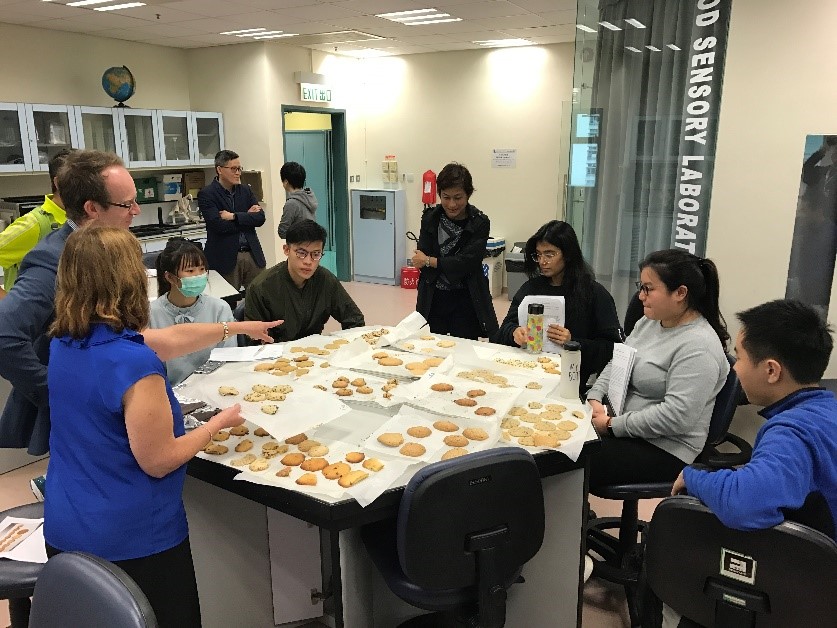 Karma Pearce teaches food science in Hong Kong, with cookies.
O-Week
The Academic Services team did a fantastic job with organising O-Week. The lunch, afternoon networking mixer, and schedule of introductory talks went off without a hitch (despite the unkind 40C+ temperatures). A big shout-out to Karen, Michelle, Lynn and Nathan and all of the other professional staff for doing such a great job of welcoming the students. Program Directors Kirsten, Emma, Evangeline, Chris, Matt and Brian all did their best to help new students settle in.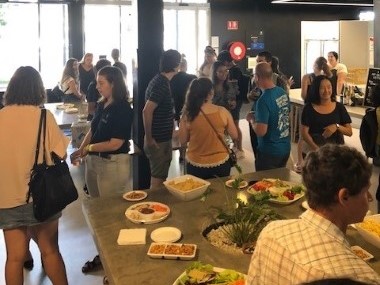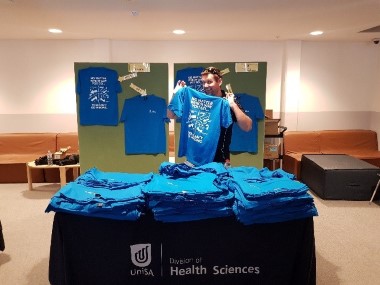 Who wore it better?
Kirsten Staff and Craig Williams both graced the Orientation social mixer on Friday March 1st in classic smart-casual academic wear. Both Kirsten and Craig are teaming the navy-on-white check shirt with bone pant and leather low-rise boot. Kirsten opted for the woven-texture belt, whereas Craig went for a classic leather finish. But who wore it better? You be the judge.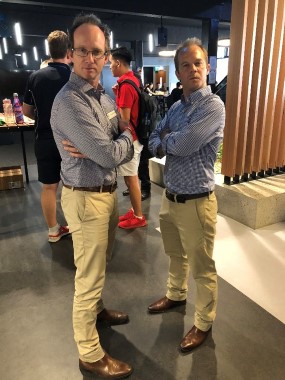 Craig and Kirsten give their best 'Blue Steel' at the O-Week mixer. But who wore it better?
Teaching Experience Placement Program
From March to July 2019, Program Director: Biosciences, Chris Della Vedova, will be based at the Teaching Innovation Unit at City West. During this time, Chris will explore new teaching methodologies, technologies and research possibilities to support both his personal teaching and Program Directorship. Chris will be working with TIU Director Shane Dawson and Associate Director Sheridan Gentili.
This temporary 'placement' is a trial only. If considered successful by the School, the program could continue, and would involve calls for Expressions of Interest from people looking to extend their teaching experience, practice and educational scholarship/research in other parts of the University.
During Chris's placement, Sarah List will take on Program Director duties for Biosciences, with the title Associate Program Director. We welcome Sarah to this role and development opportunity.
NAPSA Congress 2019
The South Australian Pharmacy Students' Association (SAPSA) recently hosted the NAPSA Congress 2019 at UniSA's City West campus for just over 300 pharmacy students from every state and territory. The event was a great success, click here to read more.