UniSA's 2017 Culture Survey
Have Your Say! – Open May 22 to June 2 2017

An invitation
UniSA is committed to developing the performance and potential of all its staff and creating an enterprising culture in which everyone can thrive, giving of their best so we deliver on our promise to study with the best.
We need to harness not just the talents of all our people, but the ideas, insights and creativity that will continue to shape our University of Enterprise now and into the future. That's why we're so grateful for your support of Unijam, the ideas you contributed to Crossing the Horizon and why, as we look ahead to our new strategic plan in 2018, we're looking forward to hearing from you this year as we open up our 2017 Culture Survey.
On 22 May 2017, each member of staff will receive an e-mail inviting you to contribute to this year's survey. We encourage everyone to get involved and share their views honestly. Your feedback will make a difference as it did in 2014.
Our last survey showed us where our culture was robust – in the level of understanding of our mission and vision - and where we needed to grow and improve; including working as 'one team', in our accountability for acting on our shared values and in how well we understood and responded to the needs and interests of our students and partners.
The University responded by establishing our staff core attributes, designed to strengthen our understanding of the values and qualities of a positive workplace and enterprising workforce. We have integrated key services to enhance co-operation and break down siloes, launched a new leadership development program with a three year commitment to strengthening leadership capability through the University, and we've placed the creation of robust and positive workplace cultures at the centre of our strategic plans and our external reviews of individual work areas.

This year, for the first time, everyone has the chance to get involved, whether continuing, fixed term or sessional or casual contract status, we want to hear from you.

So when you get the invitation, please get involved and tell us honestly what you think. It's open from 22 May to 2 June 2017 – so make sure you make your voice count.
Rest assured your feedback will be anonymous. The University and Denison, the agency we're working with, have a number of mechanisms in place to ensure the confidentiality of your responses. No raw data is shared with anyone who would be able to identify you.


Key points
The organisational culture survey will be open from 22 May until 2 June 2017.


All UniSA staff, including sessional and casual staff, will be invited to contribute.


The survey is managed by Denison Consulting on behalf of UniSA to ensure the confidentiality of your responses. No raw data is shared with anyone who would be able to identify you.


An initial e-mail containing the survey hyperlink will be sent from Denison Consulting. If you don't receive a copy – let us know or check your junk mail just in case.


The survey will have just under 80 questions, including some free text options, and takes around 20 minutes to complete.


The survey is designed to measure staff opinions and perceptions – so we encourage you to participate and to share your views courageously and honestly.


Survey results will be analysed and then shared with everyone.
Why a new survey?
We are coming the end of our current strategy plan, Crossing the Horizon, and are ready to develop a new strategic vision that will take us forward to 2025. We need your ideas and insights to inform this process including understanding how we've progressed so far in the development of our workplace culture and what else needs to change for us to build a dynamic, diverse and enterprising culture with and for our people.
Our 2017 survey
To assist this task, we will once more be using the Denison Organisational Culture Survey.
The Denison survey is well established internationally and has been used by more than 5000 organisations over the past 20 years. The survey is contains 70 core questions designed to measure specific aspects of the University's culture in each of 4 traits and 12 management practices identified as critical factors that shape and organisation's performance.
These are shown in the diagram below: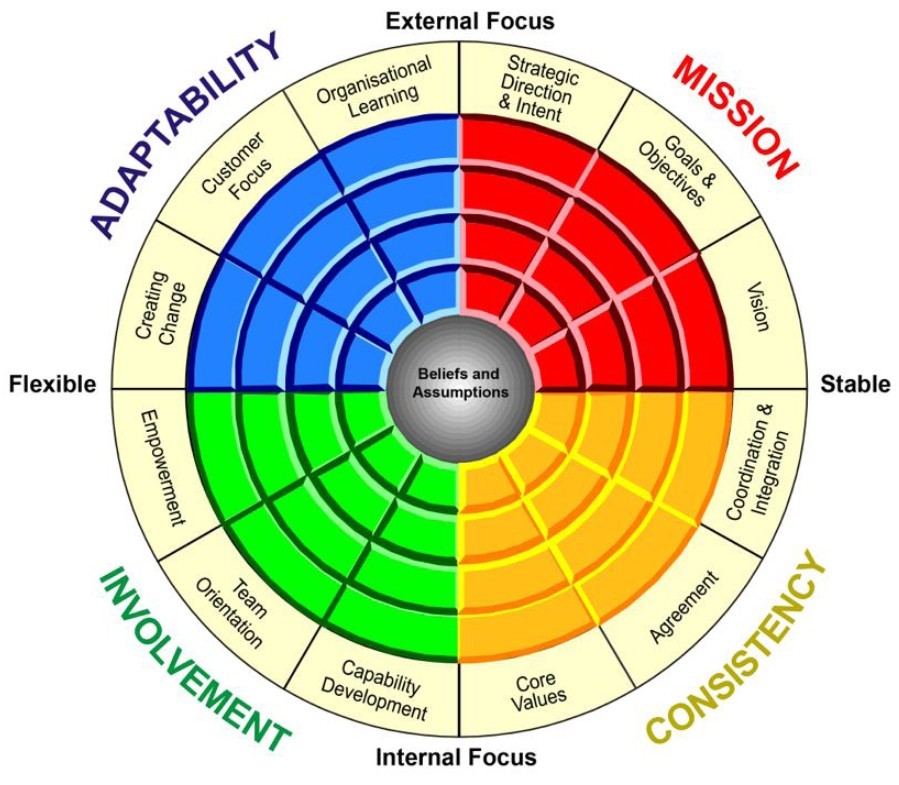 We have added four qualitative questions that provide an opportunity for participants to comment on the nature of leadership and to identify shared values among our people and have added a small number of questions that will help us contribute information for our major Science in Australia Gender Equity (SAGE) project.