Your super fund - UniSuper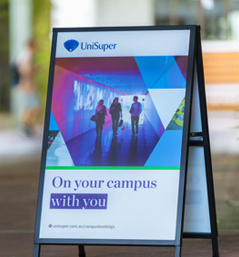 UniSuper is the super fund for the tertiary education sector in Australia. All Australian universities and many associated bodies use UniSuper as the super fund for their employees. This allows employees to carry one membership across their employment.
UniSuper have three divisions that UniSA employees can receive; Accumulation 1, Defined Benefit Division, and Accumulation 2.
You can find out which division of UniSuper you are in by checking the superannuation clause in your Offer of Employment, checking myUniSA, or contacting your Super Team.
Your division of membership can change if your contract changes, so it's important to check the clause in your contract and make sure that you understand what you have.
UniSuper Management
Level 1, 385 Bourke Street
Melbourne Vic 3000
UniSuper Accumulation 1
Accumulation 1 is an accumulation style fund. It is called an 'accumulation fund' because benefits grow through the accumulation of contributions, investment returns and fees.
Members of Accumulation 1 will receive 9.5% employer contributions in accordance with Super Guarantee requirements.
Find out more about UniSuper's Accumulation 1.
Defined Benefit Division
Defined Benefit Division members have two components in their benefits; a formula-based component and an accumulation-based component. The formula-based component forgoes investment-based returns, for a formula based on factors such as:
Salary
Service fraction
Period of membership
Contribution rate
Age
The accumulation component grows based on factors including voluntary contributions, roll-ins and investment returns.
The employer contribution to the Defined Benefit Division is 17%, and there is a standard member contribution of 7%.
Employees in the Defined Benefit Division may be eligible to switch to UniSuper's Accumulation 2. Find out more about choosing a style of super that suits you.
Find out more about UniSuper's Defined Benefit Division.
UniSuper Accumulation 2
Eligible Defined Benefit Division members can elect to transfer their membership from the primarily formula-based Defined Benefit Division to an accumulation-based option called Accumulation 2.
Should you choose to switch, the existing formula-based benefit is converted to a dollar value and your future benefits will grow based on the 'accumulation' of contributions and investment returns.
To confirm your eligibility to switch to Accumulation 2, please contact UniSuper.
Find out more about UniSuper's Accumulation 2.