Panopto (Personal AV Capture)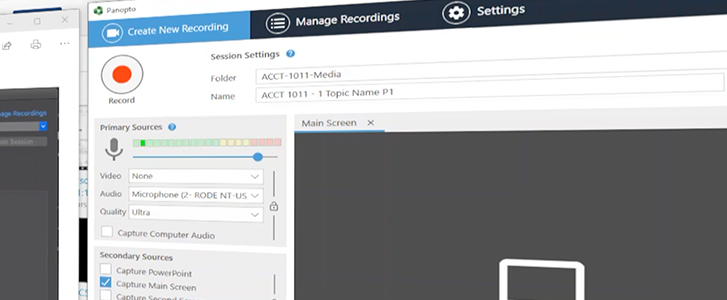 Panopto video platform user interface
Panopto is a multi-stream video recorder, video editor, and video hosting/sharing service accessible by all UniSA staff.
What is the best way to create online lectures?
Panopto! It is purpose built to create videos with useful features you can use to make your lecture engaging. We do not recommend using Zoom to record a lecture. The best practice is for students to watch your Panopto lecture before coming to a zoom session where you can use this time like a tutorial.
Panopto also has the following advantages:
More efficient cloud storage
Copyright notice automatically applied
Simple embedding into course site
Uni-wide availability of any video if warranted
Captioning functionality
Students can choose the view that suits them better, add their own notes and bookmarks
Staff can easily edit the recording
In short, Panopto is for presenting content such as lectures, Zoom is best for two way collaborative activities.
What types of videos can you make with Panopto?
Podcasts
The Panopto Recorder can record just audio. To do this, set up your audio settings and then deselect/uncheck all video recording options. Panopto can only handle a single microphone input meaning you may have to use external hardware/software to record an interview/conversation style podcast. Please contact the media team (via Charlotte Rose) if you'd like to discuss options for setting up a conversational podcast recording.
If you'd like to host your Podcast so that it can be accessed via services such as Apple Podcasts or Google Podcasts, this will need to be done externally to Panopto. There are many services that offer this type of hosting, each with their own pricing and features. Free services will most likely not suffice in this case as these podcasts cannot contain advertisements if they're representing UniSA. Other considerations when hosting podcasts externally.
Panopto consults
All UniSA staff can book consultations with a Media Developer for any questions they have regarding Panopto or recording lecturers.
Please make sure that you have watched any Panopto Help Videos (below) relevant to you before booking a session.
To book a session, please email Declan, including all relevant information. The below issues will not require a session and can be handled via email:
You need to be given access to Panopto folders or videos

You need videos to be moved between Panopto folders
Panopto help videos
The TIU have produced a set of Panopto tutorial videos that cover a wide range of topics in the creation, editing, and sharing of Panopto content. These videos have been split into small videos that cover a single topic each, but were also designed to be watched one after the other if you're new to Panopto or would like a full refresher.