Learning Analytics
Understanding then optimising learning
Learning analytics includes: educational theory and practice, SNA, data mining, machine learning, semantic, data visualisations, sense-making, psychology (social, cognitive, organisational) and learning science. By collecting data from multiple points we can ask, what patterns exist and what do they indicate? Then, if changes are applied, what happens?
In our case we want to target at-risk students, prevent attrition and understand what affects learning and teaching. Yes it's complex; but we are working to distil the information we obtain into a dashboard, and so turn information in to knowledge.

'Developing insights into learning – What can learning analytics offer?'
Inaugural Lecture by Professor Shane Dawson (Director: Teaching Innovation Unit)
The high growth in adoption of education technologies such as learning management systems (LMS) across the education sector has resulted in alternate and more accessible data on learning and teaching practice. As with most online systems, student interactions via the LMS are routinely captured and stored. These digital footprints can be 'mined' and analysed to reveal insights into the student learning process. As teachers and students engage more with digital resources and tools we are seeing a parallel rise in research associated with learning analytics, data mining, and learning sciences more broadly. Learning analytics in particular has had strong resonance across the education sector. This presentation introduces the field of learning analytics and discuss a set of case studies to illustrate the diversity of research ranging from the provision of early alert systems towards more flexible and personalized learning opportunities.
Learnonline Dashboard for Learning Analytics
When you logon to myUniSA Teaching you'll see the learnonline dashboard, designed to give you an immediate "picture" of how students are performing in your course. A lot of the data is self-evident; but, if you want to know how to really drill down in to the information we have an excellent help resource to guide you.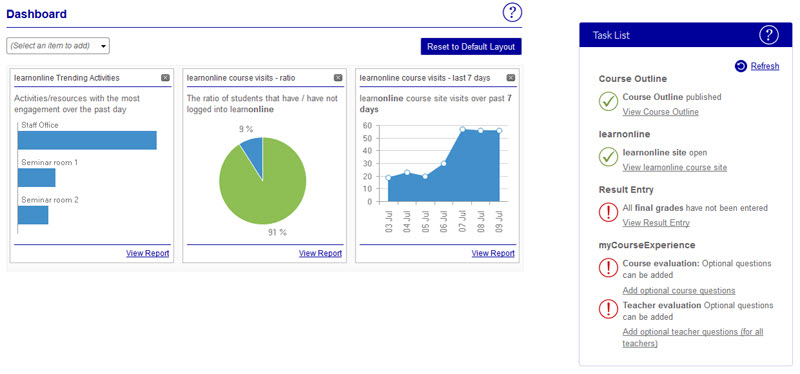 Resources
Websites