Our Executive in Residence initiative offers postgraduate students with a network of senior business executives, who are physically present in the Business School on Fridays from the end of August through to October 2018, to provide strategic guidance on your career development and support you in advancing your career. You will have exclusive access to a prominent industry leader for a 30 minute one-on-one appointment. These industry leaders can help you with:
· general career advice
· developing your career plan
· ideas on how to expand your professional network
· identifying areas that need further development
· enhancing your personal brand, via effective CVs and well prepared interviews or presentations
· management and leadership skills or strategies
· providing a sounding board for your business pitch or proposal
· gaining workplace wisdom and industry insight
· feedback on research impact
Make an appointment
We strongly recommend you email us - executivepartnerprogramme@unisa.edu.au, nominating your preferred date and time
OR
drop in during the listed times below to meet with our on-duty Executive in Residence located in Y1-61, the Careers and Engagement office on level 1 of the Yungondi Building, UniSA Business School.
August 31st - appointments available from 2.00pm - 4.30pm
Michael Dilettoso - Director: Meridien Investment Pty Ltd

Areas of specialisation:
Governance
Finance and investment
Strategy
Start-ups and entrepreneurship
Hospitality management
Michael's background has primarily been in the Tourism and Hospitality industry, working in private enterprise as a hotelier for over 20 years. During this time, he worked closely with the South Australian Tourism Commission assisting to promote South Australia internationally. In later years focusing on industry development through his chairmanship of the South Australian Tourism Accreditation Board, and directorship of the national body, Tourism Accreditation Australia Limited.
In 2006 he changed career direction to private investment, working predominantly in equities, property development and business investment.
With ongoing directorships in private companies and the not-for-profit sector he is outgoing chairman of SA Angels Incorporated and is an active Angel Investor assisting developing companies to find expansion and commercialisation funding.
September 7th - appointments available from 2.00pm - 4.30pm
Stuart Snyder -
C
o-founder and CFO - YourAmigo

Areas of specialisation:
Technology developer
Export business and marketing
Strategy and governance
Stuart was co-founder, Director, and CFO of YourAmigo Ltd which was South Australia's exporter of the year in 2008. YourAmigo was incorporated in 1999 and successfully commercialised novel search technology acquired from the Flinders University.
YourAmigo's is a technology leader in the search marketing space with installations on web sites in over 30 different countries including many of the world's top 100 e-commerce companies. Headquarters are currently in Adelaide although virtually all sales are now export.
Stuart grew up in Silicon Valley, starting his career as a CPA with KPMG in San Jose, California and migrated to Adelaide in 1993. He is now an investor in three South Australian's start-ups; Happy Inspector, Portalalink Solutions and Frontier microscopy and currently a limited partner in Blackbird Ventures. Stuart spends time mentoring entrepreneurs and volunteering.
September 14th - appointments available from 11.00am - 4.30pm
Jeff McCulloch -
Former RAAF Officer and Aviation Executive
Available for appointments from 11am - 1.30pm on this day

Areas of specialisation:
Strategic planning
Concept and policy development
Business development and sales
Leadership
Aerospace technology and capability
Jeff McCulloch has extensive experience in a wide range of pursuits, both from his time as a senior officer in the Royal Australian Air Force and as an Executive in the Aviation and Defence industries. As well as operational, staff and intelligence appointments, his Air Force career included postings to Canada, the UK and Indonesia. Jeff also had three flying command appointments on P3 Orion aircraft.
Jeff transferred to the RAAF Reserve in 1998 and provided consultancy services to the Department of Defence and the Defence and Aerospace industry in aerospace systems, strategic planning and operational and organisational concepts. He joined Cobham Aviation Services in 2007 and, as the Senior Vice President Sales and Business Development, had business development, sales and strategy development responsibilities across all Australian and British business units. During this time, he was also seconded to the UK to oversee the integration into Cobham of a recently acquired helicopter company.
Jeff retired from his full-time position in 2015, and continues to work with the aviation industry on a contract consultancy basis.
Peter Robinson
Available for appointments from 2.00pm to 4.30pm on this day

Peter has a wide ranging, international/multi-cultural business background, having lived and worked in 6 different countries and travelled on business to 27.
Areas of specialisation:
Sustainability/environmental issues
Governance
Mentoring small (micro) businesses
Pricing strategy
International marketing
In his career in the corporate world of machinery manufacturing (plastics processing, printing and materials handling), Peter held roles in marketing, sales and channel management. His geographic focus was primarily Asia, but also Southern/Eastern Africa/Middle East. During this time, he worked from bases in UK, Germany, Switzerland and Hong Kong. In Germany, he learnt a lot about why German companies operate so efficiently.
Peter emigrated to NZ in 2001 and set up his own company supplying language translation services to NZ, Australian and Asian exporting companies. This ISO9001 registered company was two times in the NZ wide Deloite Fast 50 listing. The business was eventually sold in 2011 which provided a great insight into the factors which add value to a company.
Since 2011, he has been leading a more relaxed life and was on the Board of several NFP organisations, experimented with a small online retail business and undertook mentoring of small (micro) businesses.
After a year of travelling the world, he relocated to Adelaide with his wife Michaela in December 2017.
He is currently providing mentoring to the owner/manager of a local construction company.
October 5th - appointments available from 8.00am - 10.30am
Fraser Ainsworth AM - Chairman: Tarac Australia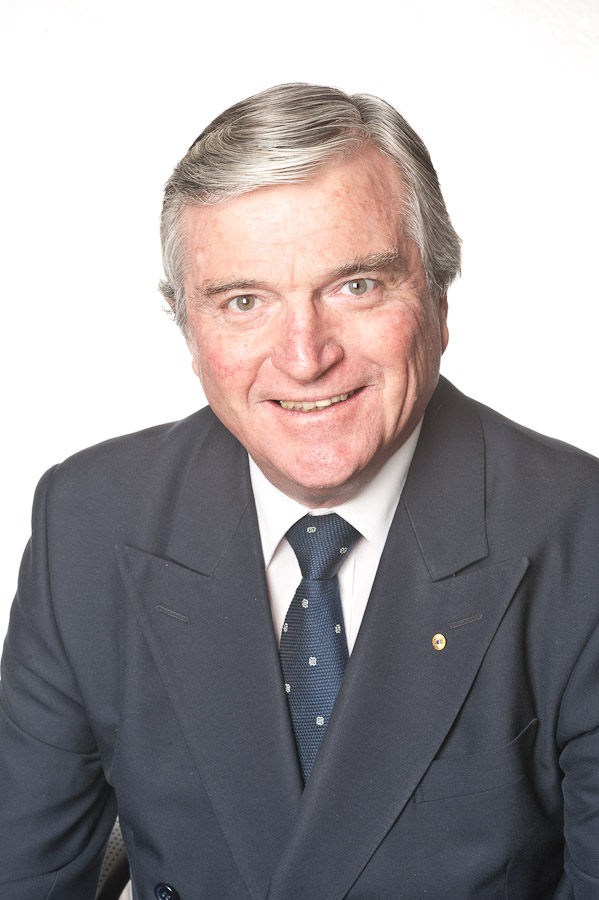 Areas of Specialisation:
SME owner/developer
Resources sector
Advisory Boards
Fraser is currently the Chairman of Tarac Australia (a South Australian grape marc processor) and a non executive director of Envestra and several other companies in the resources sector. Fraser's business experience spans the resources, electricity, biotechnology, oil and gas and wine industries, but the bulk of his experience was with CSR Limited (including a stint as Chairman and CEO of Delhi Petroleum), and as the CEO of SAGASCO oil and gas company.
Fraser's busy business life has been augmented by various community activities including seven years as President of the SPARC Disability Foundation, Dep Chair of the Flinders Medical Research Foundation etc, and as a member of SA's Economic Development Board's Energy Advisory Group.
Fraser's particular knowledge, experience and network within the burgeoning energy and resources sector will prove exceptionally beneficial to our Executive Partners' students as they seek career guidance and employment prospects.
October 12th - appointments available from 2.00pm - 4.30pm
Trudy Minett - Chief Executive, Motor Accident Commission

Areas of specialisation:
Governance
Risk Management
Strategic Planning
Work Injury Insurance
Trudy Minett worked in commercial construction until 1988 where she undertook industrial market research to broaden market penetration across Australia. Trudy then travelled to the United Kingdom to undertake a Master of Business Administration in London. Whilst in the UK, Trudy worked with a number of organisations in industrial market research, analytics and corporate planning.

Trudy returned to Adelaide and worked in work injury insurance across a variety of functions including governance, risk management, scheme compliance, strategic and business planning, performance reporting, communications, stakeholder engagement, claims management and provider management.

Trudy also has considerable expertise in leading corporate wide transformational projects and initiatives, engaging stakeholders and staff in change programs as well as communicating at Board and stakeholder levels.

Trudy currently is the Chief Executive Officer at the Motor Accident Commission, focused on influencing road safety behaviour to save lives and reduce road trauma.
Trudy has a Bachelor of Business (Marketing), a Graduate Diploma in Systems Analysis, an Australian Institute of Company Director's Diploma and a Master of Business Administration.
October 19th - appointments available from 11.00am - 1.30pm
Chris Schutze - Management Consultant: Chris Shutze Consulting Services

Areas of specialisation:
General Management, leadership and staff development
Strategy development
Technology developer
Manufacturing
Sales operations
Advice on international markets
Construction
Training
Chris is currently providing consulting services to start up companies entering international markets as well as training services to the building industry.
Chris has over 30 years experience as a technical, operations and general manager. Originally starting life as a Manufacturing Engineer for General Motors and Philips he then spent fifteen years establishing and running manufacturing and sales operations throughout Southern and Eastern Asia.
For the last 12 years Chris has been working back in Adelaide in both manufacturing and construction, most recently as General Manager for Scott Salisbury Homes. For four of those years he was a council member of the Master Builders Association of South Australia, and more recently Chair of the Housing Committee.
October 26th - appointments available from 11.00am - 1.30pm
Madge McGuire -
Former Chief Executive: Victim Support Services, SA

Areas of specialisation:
Strategic planning
Soft skills
Madge has strong executive management experience in three quite different and very complex not- for-profit organisations. She is well-versed in seeing the big picture and in generating innovative ideas and solutions to help deal with particularly intricate and seemingly intractable problems. Her varied career has included: managing major strategic reform processes; working with corporate systems to identify and resolve difficult structural and people management issues; actively building sustainable relationships and partnerships with government leaders and their departments, the corporate sector, small business, higher education providers and multiple community groups.
From 2001-2015, Madge was the CEO of Catherine House Inc. in Adelaide. During her tenure the organisation received various awards and accolades for its successful range of innovative program and services. The organisation was also recognised for its use of business frameworks, disciplines and accountabilities to help drive its success.

Madge is worked in Phnom Penh, Cambodia with a major NGO assisting the leadership team to develop, and conduct, a culturally appropriate strategic planning process. She is also an experienced personal and workplace counsellor and executive coach, and brings a positive approach to helping people find personal enjoyment and fulfilment at work and in life.

In 2013, she was named as one of the 50 Most Influential People in SA (one of 9 women); in 2014 she was the EY Central Region Entrepreneur of the Year, she also received the David Clarke Scholarship for 'Outstanding Leadership in Social Change' to attend the Harvard University Business School Executive Education Program that year too.