College of William and Mary student exchange
UniSA Business is proud of its partnership with the College of William & Mary. Located in Williamsburg, Virginia, William & Mary is the second oldest college established in the USA (after Harvard) and its business School, the Mason School of Business, is highly ranked globally.
Our Executive Partners Program is modelled on the innovative program offered by the Mason School of Business, and each year since 2013, the College has hosted two UniSA Business postgraduate students. Over the course of three weeks (usually in October/November), our students are engaged in student and academic life on campus, and have the option to undertake a Career Acceleration Module (CAM), undertaking a real-world business project as part of a multidisciplinary team. They are also matched with a senior business executive who is part of the Mason School of Business's Executive Partners network, who provide invaluable industry perspectives and advice. There is also ample time to learn about American history and culture, and to visit historic sites in Virginia and nearby Washington DC.
Established in 2017, the Peter McInnes Memorial Travel Grant is awarded to those UniSA Business postgraduate students who are successful in their application to join the College of William & Mary intensive global exchange experience. This grant honours Mr Peter McInnes, who led our Executive Partners Program until he sadly passed away in November 2017 from cancer – a disease that touches us all. It recognises his commitment to helping students realise their full potential, to gain international perspectives and experiences, and to build lifelong professional relationships and friendships with industry leaders.
Click here to learn more about this life-changing opportunity, including eligibility, the application process, and funding to support your participation.
Testimonials from returned students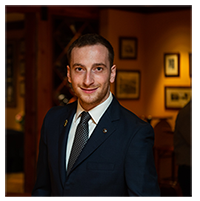 This exchange to William & Mary is truly a life-changing experience. You will learn from and network with world-class Academics, Industry Leaders, CEOs, C-Suite managers and fellow students. Founded in 1693, William & Mary is among the most historic and prestige Colleges of the nation, located in beautiful Williamsburg, Virginia. The contrast between the long-standing traditions of excellence at William & Mary with the contemporary modern approach to student development at UniSA, makes this partnership so special, as your professional capabilities will be fast-tracked by combing these outstanding quality, yet differing approaches, to learning. The long-term value of this experience cannot be underestimated, as I continue to work with and learn from colleagues met during my time at William & Mary as I pursue my dreams of an international career at a leading global organisation. To any potential candidates, this experience will add tremendous value to your personal and professional development – while challenging, the rewards of this experience will last a life-time. ~ (2018 recipient, Michael Cirillo)