Testimonials

Hear from student volunteers on their experience engaging with the community and how it has helped them learn new skills.
By Ayesha Fernando
"I joined Community Connect in the final year of my Master of Management degree. I had a stressful daily routine, and I needed to make a change for the better. I chose Community Connect for its student-led projects, campaigns, and events, which meant I would be able to meet like-minded students and share my new experiences with new friends.

I became the project manager of the Blood Drive team, working on UniSA Red25 in 2016. I got to unite, motivate, engage, and communicate with all my committee members, helping us work towards our target: increasing the number of blood donations from the UniSA community through awareness of the cause.

Of course, this was an incredible career pathway, giving me the opportunity to apply my project management skills in a real-life situation. It extended my comfort zone, built my confidence in intercultural and cross-industry communications, and developed my teamwork skills dramatically.

But, it also changed my wellbeing. I learnt a lot about time management and work-life balance just by coordinating my volunteer work alongside my social life and studies, and I got the chance to talk, laugh, and create change with great people, and make life-long friendships.

Volunteering with Community Connect exceeded my expectations. Working on the Blood Drive meant I was literally saving lives, and, what is more, I still have students approaching me, asking how to find volunteer work, saying they want to build the same confidence I now have. I'm proud of just making that smaller change in the community, helping other to help themselves, and I'm excited for the future of volunteering."

Ayesha and her hard-working team increased the total donors in the UniSA Red25 group by approximately 189%, compared to the previous year. They were the second highest community blood donation group in Australia, and the highest in South Australia for that year, recognized accordingly at the Australian Red Cross Blood Services' annual Red25 awards.

By Seleena Crowe
"I took on UniSA's Sport Connect program as part of my Bachelor of Health Science's final-semester placement.

I volunteered with St Francis of Assisi's Health in Sports Program, Modbury Special School's Multi Sports Program, and The Big Issue's Street Soccer Program, for a total of 14.5 hours a week over the 5 months of my placement. Since graduating in June 2016, I still do volunteer work with the latter two.

All the team games I played, the student activities I instructed, and the sports sessions I ran not only enhanced my employability, but also my wellbeing. I felt a sense of accomplishment; it was very rewarding to see the development of others. I got to see increased health awareness, education, and outcomes in those communities, children increase their motor function, and those with intellectual disabilities improve their social skills.

As for career benefits, the list includes further developing my social perception, communication, time management, and leadership skills, to name a few.

What started out as a requirement of my studies, ended up exceeding all of my expectations. Volunteering helped me put my life in perspective, and, most importantly, I had fun. I can't wait to see where this experience with Sport Connect will take me next."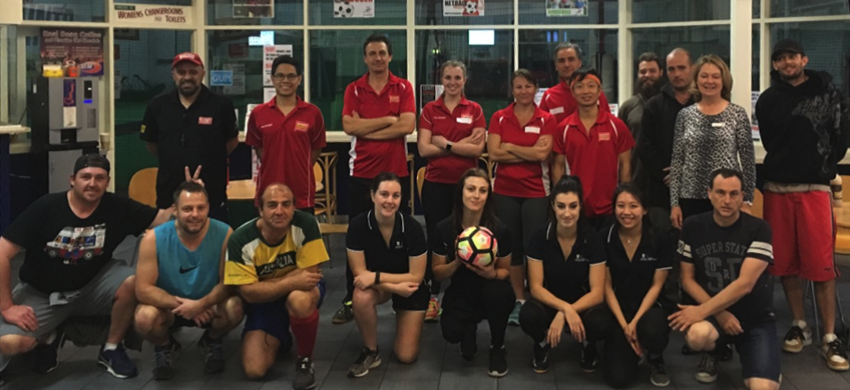 By Daiki Kasai
"I volunteered with Sport Connect as part of my placement for my Bachelor of Health Science degree, after completing my Bachelor of Applied Science (Human Movement & Health Studies).

Over the 5 months of the required placement, I worked with numerous schools, including The Heights School, Underdale High School, and Modbury Special School, and even did some work with Netball SA. I worked in office roles, assistance roles, teaching roles, and eventually a head coaching role. It was flexible around my studies, work, and personal sporting commitments, yet still gave me all those opportunities.

Having come from Human Movement, I was keen to take my studies into Honours and Exercise Science, working with athletes. After volunteering, I realised this was limiting my potential, and now I'm looking into working more with the public population.

The relationships we built in the schools saw more students choosing to participate in the sessions each week, and I'd like to think we helped them set up good habits for their future. Sport Connect allowed me to interact and engage with such a diverse group of people, and improved my sociability. I improved my public speaking skills, which I know will be important if I do pursue Honours or even a PhD, I made new friends, and I created career networks.

Volunteering was a much more enjoyable experience than I initially expected, all the stresses I had about taking on a volunteering commitment dissolved as soon as I started, and I ended up learning so much."
---
Connect with us

UniSA Volunteering email


UniSA Volunteering Facebook



#unisavolunteering
Need further assistance?
Your one-stop-shop for student services. UniSA general enquiries: 1300 301 703.