In this issue:
National Student Volunteer Week
Three-Week Mindfulness Challenge
G'Day Mates events and workshops
Wirringka News and Events website
International Day of the World's Indigenous Peoples
$5 lunch at the Healthy Food Market

USASA & UniSA Sport Clubs Fest
SPICED at City West
Textbook buyback at The Co-op

NATIONAL STUDENT VOLUNTEER WEEK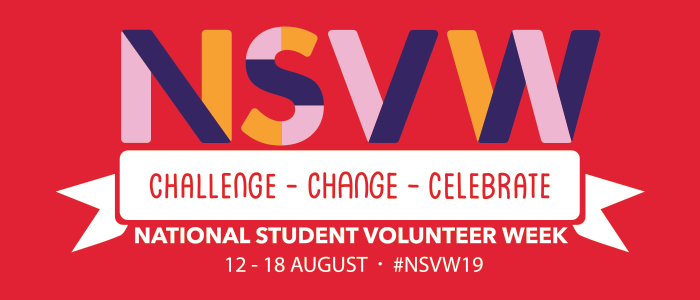 Now in its seventh year,
National Student Volunteer Week
(NSVW) aspires to challenge and celebrate the contribution of student volunteers around the country. In particular, it aims to encourage more meaningful and innovative student engagement.
The University of South Australia Student Volunteer of the Year Award
To mark NSVW, we are excited to announce that we are establishing the University of South Australia Student Volunteer of the Year Award to acknowledge and celebrate outstanding volunteerism amongst our students.
If you or someone you know is making an incredible contribution to the community or campus life through volunteering, then follow the
UniSA Volunteering and Community Engagement Facebook
– you'll be the first to know when more information about the award and nomination process is announced.
UniSA Community Sleepout 2019
Join the fight against homelessness! On the night of Friday 30 August, UniSA will be hosting a Community Sleepout on the Amy Wheaton Lawns at UniSA Magill campus to raise funds to support
Vinnies SA
's homeless services. If you're not able to sleep out, please consider donating to the cause instead at
unisaso19.gofundraise.com.au
.
WHAT'S HAPPENING
Three-Week Mindfulness Challenge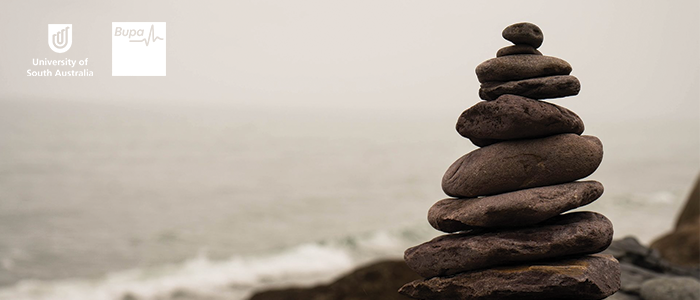 Calm your thoughts, clear your head, and improve your wellbeing.
Facilitated by UniSA Counselling Service in partnership with Bupa, the Three-Week Mindfulness Challenge is a three-part workshop series that will cover the principles and practice of mindfulness.
Learn how to:
reduce your study stress and the pressures of daily life,
improve your focus and concentration, and
feel happier and more in control.
We will focus on skills that will help you: improve your academic performance, cope with assignments/exams, and make study life more enjoyable. Each session explores simple exercises and techniques you can practise immediately to strengthen your sense of wellbeing.
WHEN: 13, 20 & 27 August | 12.00 pm – 1.15 pm
WHERE: City West campus | Room BH4-22
Attending all three sessions is required in order to progressively build your skills and practice of mindfulness. Make a commitment to yourself!
For any more information, contact Theresa at
theresa.heim@unisa.edu.au
. Stay tuned for more details on the Three-Week Mindfulness Challenge coming to Magill campus later in Study Period 5.
G'Day Mates: Events and Workshops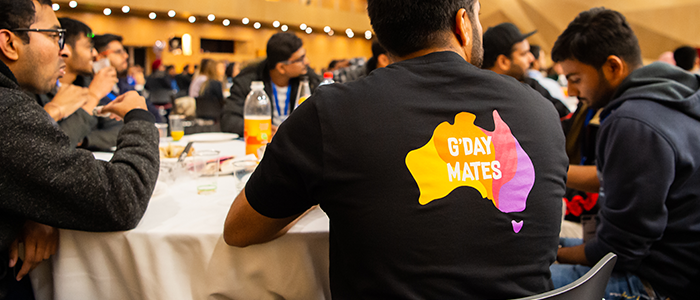 G'Day Mates are a diverse team of both domestic and international current UniSA students that are here to assist new international students with settling into and enjoying life in Adelaide.
They host a range of workshops, community activities and events, cross-cultural exchanges, and networking events throughout the year to give you opportunities to:
practise English
learn about Aussie culture
enjoy making new friends
connect with the Adelaide business community
...and more!
International Day of the World's Indigenous Peoples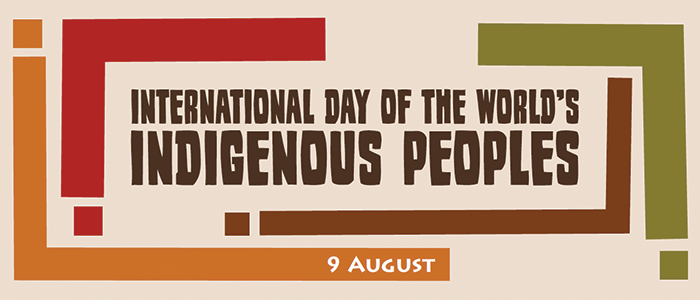 There are an estimated 370 million indigenous people in the world, living across 90 countries. In order to raise awareness of the needs of these population groups, every 9 August commemorates the International Day of the World's Indigenous Peoples, chosen in recognition of the first meeting of the UN Working Group on Indigenous Populations held in Geneva in 1982.
This year's observance is dedicated to Indigenous Peoples' Languages in view of 2019 being marked as the International Year of Indigenous Languages. On this International Day, the goal is to draw attention to the critical loss of indigenous languages and the urgent need to preserve, revitalise and promote them at both national and international levels.
#WeAreIndigenous #IndigenousDay #IndigenousPeoplesDay #IndigenousLanguages #UNDRIP
UPCOMING EVENTS
Healthy Food Market: $5 for 5 items
Come along to the UniSA Healthy Food Market, and, for just $5, select 5 local products from local businesses to create your own platter for lunch on Thursday 22 August, 11.30 am – 2.00 pm at Basil Hetzel Plaza, UniSA City East campus.

Featuring options from:
Let Them Eat
BOB BOWLS Catering Co.
...and more to be announced!
$5 tickets are available to secure via pre-purchase now, so get in early to avoid missing out.
Entry to the food court area is free – everyone is welcome to just hang out and enjoy the event. Check out the Facebook Event to stay up-to-date as more info arrives. We'll see you in The Plaza!
Clubs Fest 2019: Explore Connect Join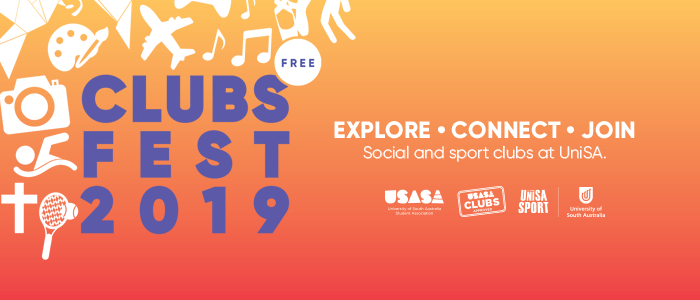 Clubs Fest came to
City East
and
City West
this week – click on the campus names to check out the pictures.
Next we will be heading to Mawson Lakes (Tues 13 Aug) and Magill (Wed 14 Aug)!
Clubs Fest is the perfect opportunity for UniSA students to discover the wide-array of USASA and UniSA Sport Clubs available. Whatever you're a fan of, with tons of clubs attending each campus, there's bound to be something for you. Joining a club is not only a chance to spend time with friends doing what you love but also looks great on a resume.
SPICED at City West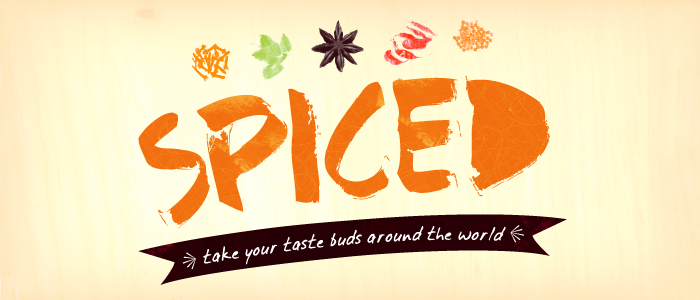 SPICED is the University's celebration of cultural diversity through showcasing music, activities and food from all around the world. We have a special edition of SPICED coming up – Blue Zones: how to live longer and better.
WHEN: Tuesday 20 August, 5.00 pm – 7.00 pm
WHERE: Student Lounge, City West campus
Book in now for either the:
At 6.30pm all the food will be served for everyone to share. Food Lore Kitchen will also be serving wine throughout the event from the Sardinia region, which is high in antioxidants! Both cooking classes facilitated by Scoffed Cooking School.
All of this is free; students, staff, alumni and guests are all welcome. To stay up-to-date on all SPICED events, click going on the
Facebook Event
!
#unisaspiced #zerowaste
FROM THE STUDENT SERVICES
Sell your textbooks... to The Co-op!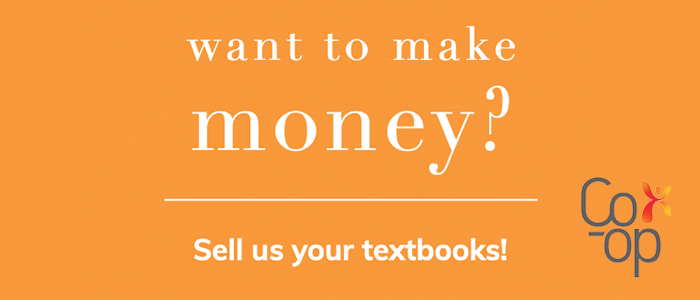 Sell your unwanted textbooks to The Co-op!
As one of their offerings, UniSA's on-campus bookstore The Co-op buys your used textbooks. You can choose to get the money:
paid straight into your bank account, or
put onto a Co-op Gift Card, with 10% extra of the value added!
The buyback scheme is a permanent feature in all Co-op stores. With one study period ending and another beginning, now is a great time for you to get some cash back or pick up a cheaper second hand textbook for your next course.

Download the UniSA smartphone app!