In this issue:
WHAT'S HAPPENING
Show your support on Wear It Purple Day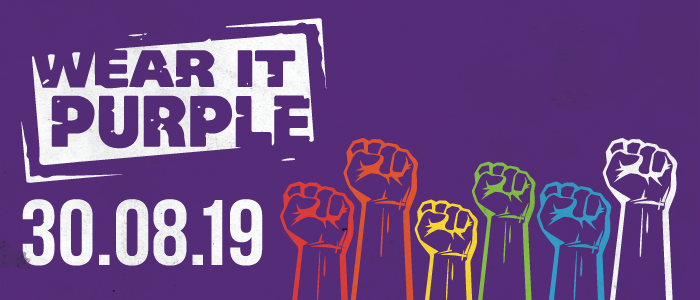 Celebrated on the last Friday of August every year, Wear It Purple Day is coming up next week on Friday 30 August. Wear It Purple Day is about fostering supportive, safe and inclusive environments for rainbow young people and showing them that they can be proud of who they are.
Show your support and wear a purple outfit (or even just some purple accessories) next Friday. Keep an eye out for the special purple pop-ups at every UniSA campus where you'll be able to take your own pledge and also some great purple photos for your socials:
USASA Financial Counselling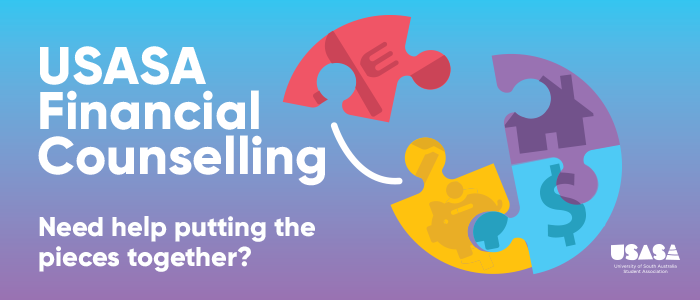 Are you in financial difficulty? Want to manage your money better? Or just want some savings for a rainy day or that special treat?
A USASA Financial Counsellor can provide a non-judgemental, independent, confidential and free service to inform, support and advocate for people in financial difficulty.
Having the support of a financial counsellor can help relieve your money worries. A USASA Financial Counsellor can:
Assist you to develop a budget to better manage your finances
Assess your financial situation and understand which debts are a priority
Advocate and negotiate on your behalf to reduce/defer/waive payments with creditors
Assist you to deal with bad financial standing with the University
Access emergency food support and refer you to other emergency services
Apply for an emergency support grant
Point you in the right direction to access other financial support, grants and assistance.
2019 International Student Awards: Applications Now Open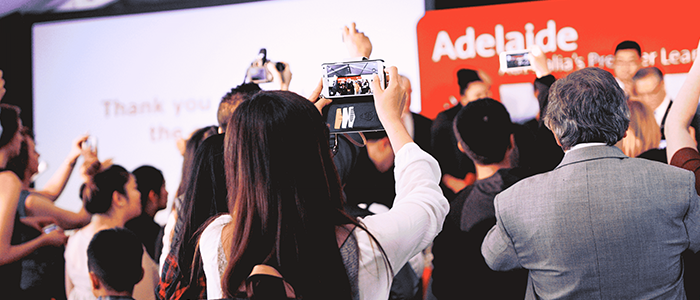 The International Student Awards recognise and celebrate your achievements in Adelaide!
The award program, now in its ninth year, is highly regarded and can be a valuable addition to the winning students' resumes. There are also great prizes for winning students including gift vouchers and travel vouchers. Applications are open to students across all levels of education in Adelaide.
The award categories are:
Academic Excellence

University Undergraduate
Univeristy Postgraduate – Research
University Postgraduate – Coursework
Vocational Education and Training
School
Pathways

Sporting Excellence

Entrepreneurship/Innovation
Community Engagement
Arts and Cultural Achievement
Student Event of the Year
Feedback released on Enterprise25 Discussion Paper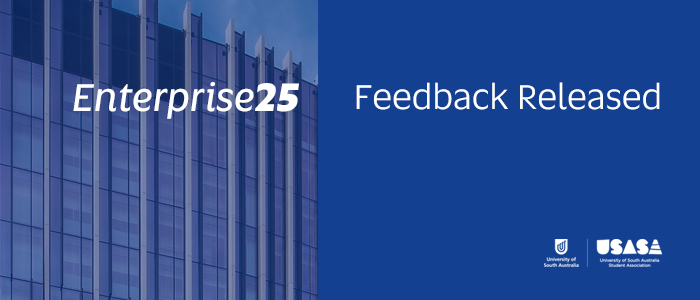 Over the past month the University community has been considering the proposal to build a program-focused university. Thank you to all students who have engaged in this process to date by attending the student forums and submitting feedback on the Discussion Paper.
Over the coming weeks the Enterprise25 Organisational Transformation Sponsoring Group and Senior Management Group will be carefully considering the feedback received as plans for the new Academic Units are refined.
UniSA's free and confidential Counselling Service and resources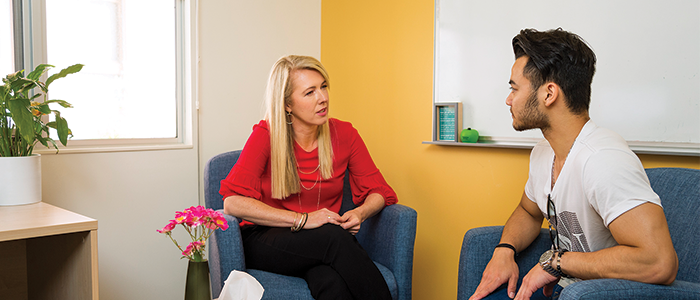 UniSA's Counselling Service offers:
Our Counsellors are highly qualified and have extensive experience working with university students. They will listen to your concerns without judgment and work with you, exploring options and solutions that suit your needs.

Get assistance with a wide range of issues including:
personal issues affecting your studies
adjusting to change (new culture, university, city, academic expectations)
managing stress, anxiety and depression
learning about motivation, time management, and exam stress
support following a crisis or trauma
dealing with sexual harassment or assault
managing a personal or family crisis.
UPCOMING EVENTS
Three-Week Mindfulness Challenge: coming to Magill!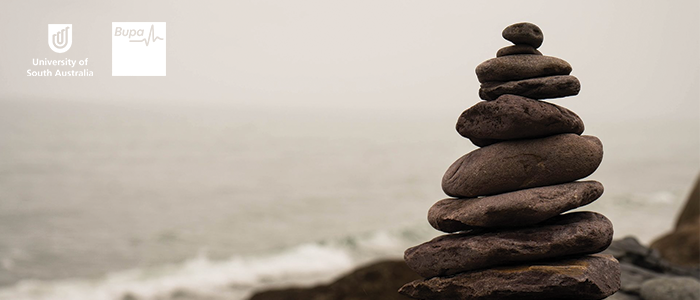 Calm your thoughts, clear your head, and improve your wellbeing.
Facilitated by UniSA Counselling Service in partnership with Bupa, the Three-Week Mindfulness Challenge is a three-part workshop series that will cover the principles and practice of mindfulness.
Learn how to:
reduce your study stress and the pressures of daily life,
improve your focus and concentration, and
feel happier and more in control.
We will focus on skills that will help you: improve your academic performance, cope with assignments/exams, and make study life more enjoyable. Each session explores simple exercises and techniques you can practise immediately to strengthen your sense of wellbeing.
WHEN: 2, 9 & 16 September | 1.00 pm – 2.15 pm
WHERE: Magill campus | Room H2-11
Attending all three sessions is required in order to progressively build your skills and practice of mindfulness. Make a commitment to yourself!
Healthy Food Market: $5 for 5 items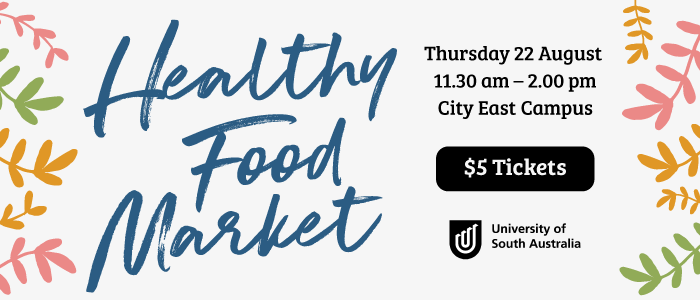 Come along to the UniSA Healthy Food Market, and, for just $5, select 5 local products from local businesses to create your own platter for lunch on Thursday 22 August, 11.30 am – 2.00 pm at Basil Hetzel Plaza, UniSA City East campus.

Featuring options from:
Let Them Eat
BOB BOWLS Catering Co.
...and more to be announced!
$5 tickets are available to secure via pre-purchase now, so get in early to avoid missing out.
Entry to the food court area is free – everyone is welcome to just hang out and enjoy the event. Check out the Facebook Event to stay up-to-date as more info arrives. We'll see you in The Plaza!
Academic Skills Workshops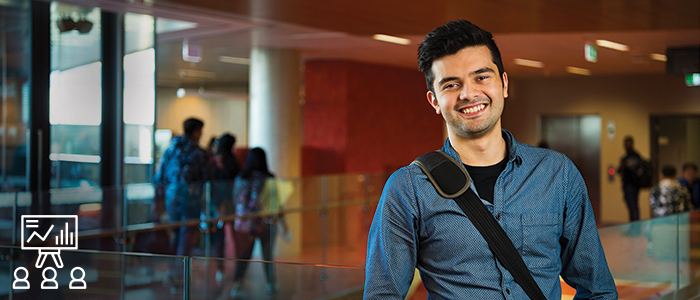 The UniSA Study Support team offers workshops semester-round designed to help you do well in your studies. They are free and available across all metropolitan campuses and online. Here's what's coming up –
click through to book your spot with CareerHub
!
Remember, you can always
visit Study Help
, the online hub packed with resources on assignment writing, referencing, study skills and maths help, and more anytime.
FROM THE STUDENT SERVICES
What does census date mean to you?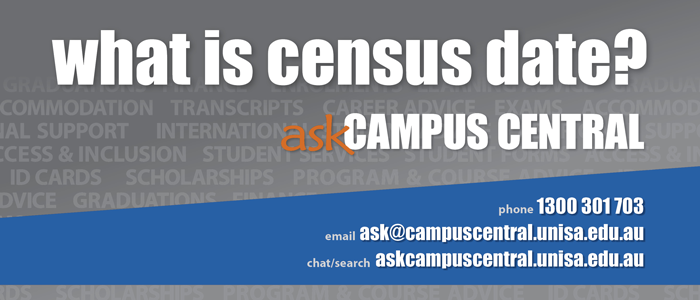 Feeling unsure about continuing your study? Not sure if you're in the right degree? Perhaps you're experiencing personal difficulties, having concerns about money, or would like to reduce your study load.
Census date is the last date you can drop a course without being charged and when the University finalises your enrolment. If you would like to finalise or withdraw from your studies, you must do it before or on census date.
Census date is also the deadline to:
You are responsible for ensuring that enrolment, payment details and tax file number are correct by the
census date
. You can access and manage this via
myEnrolment
.
Download the UniSA smartphone app!