In this issue:
R U OK? Day
UniSA Out-of-Hours Crisis Line
City West Community Garden
UniSA Sport Lunchtime Walking Groups
Magill Procrastination Workshop

UniSA Multicultural Festival
Accommodation Tips and Tricks
'Consent Matters' Training
R U OK? DAY
R U OK? Day at UniSA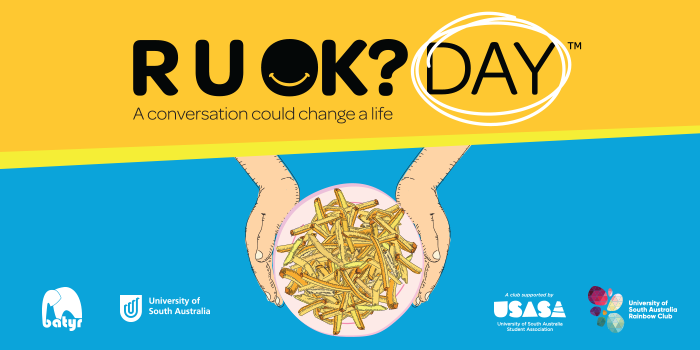 Bring a mate, share some chips and start a conversation – it could change a life!
R U OK? Day is dedicated to reminding everyone that any day is the day to ask, "Are you ok?", and to reach out to, check in on, and support the health of the people around you.
We'll be holding a couple of events on the day where you can come and enjoy some hot chips with a friend and check in with them. We'll provide the chips, the great vibes, the comfy seats and all the smiles; you supply the conversation.
Come along, enjoy yourself and be a part of something. You could be the difference that someone needs.
WHEN: Wed 11 Sep, 12.00 midday–2.00 pm
WHERE: Mawson Lakes, GP Courtyard
or
WHEN: Thurs 12 Sep, 12.00 midday–2.00 pm
WHERE: Magill, Student Lounge
A collaboration by batyr UniSA and University of South Australia. Supported by University of South Australia Rainbow Club & USASA UniSA Student Association.
The UniSA Out-of-Hours Crisis Line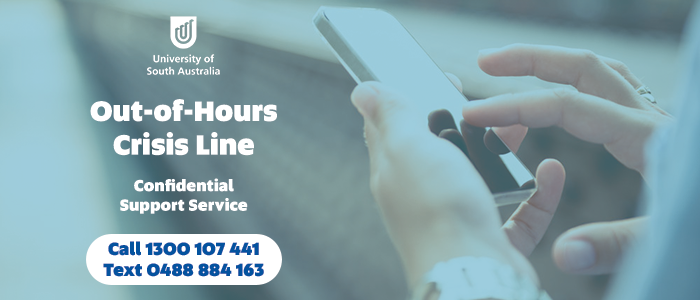 If you do have any concerns, UniSA's Counselling Service offers free and confidential short term counselling to all students to help with managing any personal issues that could affect your studies.
Our Counsellors
are highly qualified and have extensive experience working with university students. They will listen to your concerns without judgement and work with you to explore options and solutions that suit your needs.
If you need urgent assistance between 5.00 pm and 9.00 am weekdays, or on a weekend or public holidays, you can contact the UniSA Out-of-Hours Crisis Line: 1300 107 441 (call) or 0488 884 163 (text).
If you are involved in a serious or distressing incident on campus, contact
Campus Security
for assistance.
WHAT'S HAPPENING
City West's Rooftop Community Garden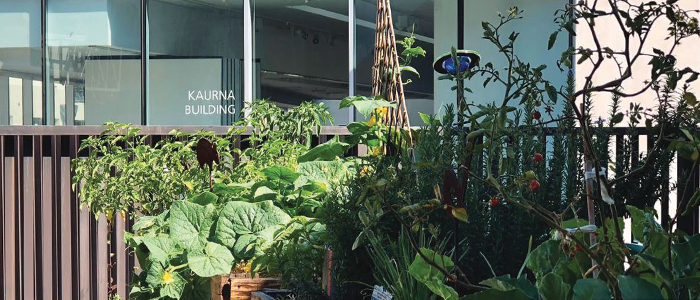 Come to events held in the Rooftop Community Garden and be part of greening City West campus.

WHEN: Every Tuesday 10–11am in Study Period 5 until 29 Oct (except 24 Sep and 1 Oct break).
WHERE: Rooftop between Kaurna and Hawke buildings, Level 5, City West campus.
Coffee cart with a barista serving you free fairtrade coffee, tea and hot chocolate.
Vegan catering, promoting healthy and sustainable eating.
Planting activities to set up the uni garden, and plants for you to take home.
A local harvest share (bring along any extra veges, fruit or herbs growing in your garden).
All UniSA staff, students, alumni and guests welcome
#unisacommunitygarden #zerowaste
UniSA Sport Lunchtime Walking Groups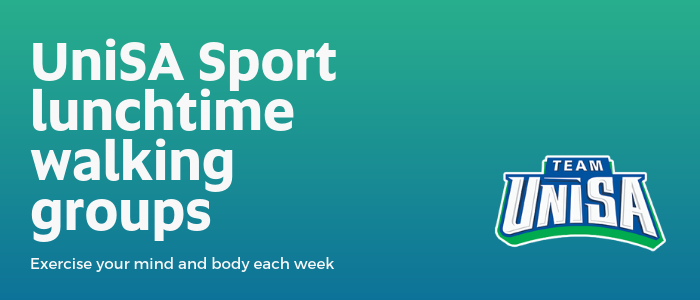 Spring is in the air, warmer days are just around the corner and it's time to move, UniSA.

UniSA Sport invites you to exercise the body and mind, and join our Lunch Time Walking Groups at City West and/or Mawson Lakes campus.
Our awesome student volunteers, the UniSA Sport Activators, will guide you on a 30-40-minute walk, energising you for the remainder of the day! All students and staff are welcome to join. Walks start from:
the foyer of Pridham Hall (City West)
just outside Mawson Lakes Sports Centre (Mawson Lakes)
To let us know you'll be joining in the fun, just head over to the Facebook events and RSVP!

UPCOMING EVENTS
The Road to Success: Managing Procrastination and Building Resilience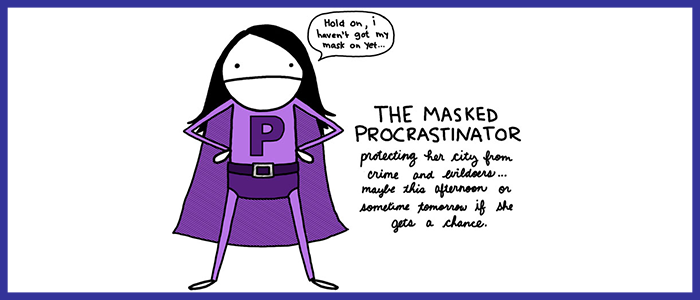 Constantly distracted from achieving your goals? Not motivated to start your assignments?
The Road to Success: Managing Procrastination and Building Resilience workshop examines how our lives are being shaped by common habits of procrastination. It explores practical ways to take control of study habits and build your motivation.
Come along to learn practical strategies for reducing your screen time so that you can produce better quality work.

WHEN: Tuesday 17 Sep 2019, 2.00 pm–3.00 pm
WHERE: Magill Campus
UniSA Multicultural Festival 2019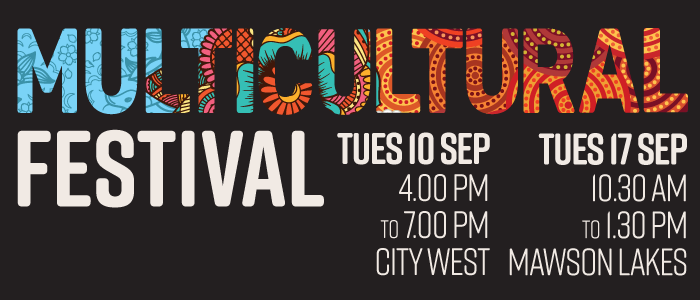 Multicultural Festival is back for another year, so come along to join the festivities and get involved!
This is a fantastic opportunity to share, learn and celebrate diversity and cultures from around the world. There'll be a variety of entertainment and activities (including live music, dance performances, and games), and there will be free food if you show your Student ID!
City West: Tues 10 Sep, 4.00 pm–7.00 pm
Mawson Lakes: Tues 17 Sep, 10.30 am–1.30 pm
FROM THE STUDENT SERVICES
Top 5 Tips for Choosing Accommodation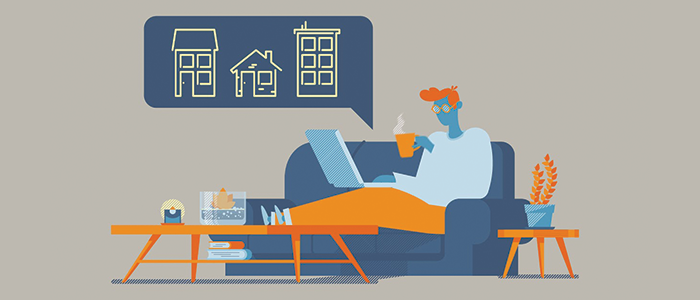 Take your time. Shop around. On the UniSA accommodation website there are lots of student apartments, student hostels, and residential colleges to choose from. It is best to ask them questions by emailing them directly.


If you'd rather live in private rental accommodation, head to the UniSA Rental Database. But don't pay money in advance. Book temporary accommodation, then visit your selected properties when you're in Adelaide, so you can check that they're suitable.


Avoid social media for finding accommodation. People are often not what they seem on the internet and don't always know their renting obligations!


Know your rights. Check out the helpful Housing FAQS on the UniSA accommodation website for tips on each step of your rental experience. Remember … knowledge is power.


Always get a written rental agreement, check that you understand it and get receipts for cash payments. Your bond should be safely lodged with the Consumer and Business Services Bonds office for the length of your agreement
Take the 'Consent Matters' training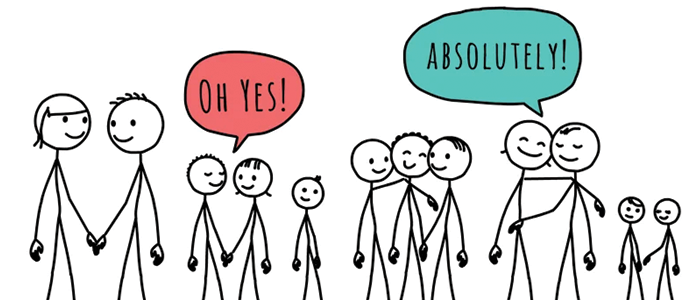 Training is a key part of UniSA's zero tolerance approach to sexual assault and sexual harassment.

Consent Matters: Boundaries, Respect and Positive Intervention was developed by a collaboration of academics based in Australia and the UK. The course is designed to help you understand sexual consent and, through a range of interactive activities and scenarios, strengthen your understanding of:
what consent is, how to identify when it has been given, and situations where it can't be given,
the importance of good communication, identifying boundaries and talking about them, and
how to identify situations where someone may need help and how you can intervene.
Learn more and complete the module here.
Download the UniSA smartphone app!