In this issue:
WHAT'S HAPPENING
Ride2Work (or Uni!) Day with UniSA Sport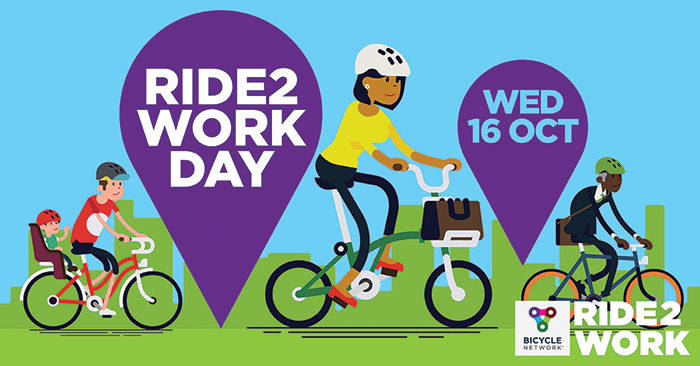 Ride2Work Day encourages you to jump on your bike and get more active on your way to where you need to be.
UniSA Sport is encouraging UniSA students to peddle to campus tomorrow (16 October). We are hosting Ride2Work events at City West Campus and Mawson Lakes Campus. Everyone is welcome to come and join us for a FREE BBQ, fun activities and the opportunity to win some cool prizes* at each campus. We even have SAPOL coming down to City West and providing security engravings on your bikes!
Register now with your UniSA Sport login (free for students to sign up) on the UniSA Sport website.
*Please note, to be eligible for the prizes you need to simply register for the event and attend on the day to get your raffle ticket.
Visit MOD.'s HEDONISM exhibition before it ends on Sunday 3 November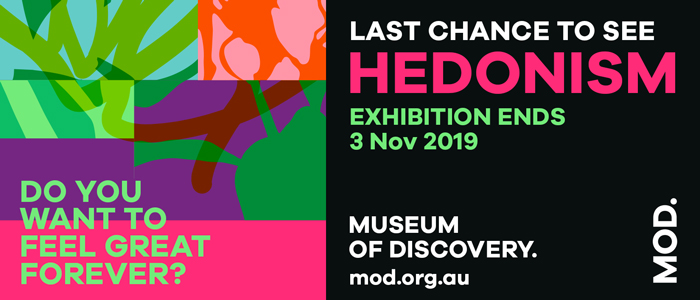 If you haven't checked out
HEDONISM
at MOD. yet, or are keen to experience it again, make sure you visit the exhibition before it closes on Sunday 3 November.
Visit HEDONISM and discover ways to experience pleasure over the course of a lifetime. Explore and immerse yourself in highly interactive and engaging exhibits including:
A huge 'Hedonometer' – which measures happiness and is powered by real-time social media reactions
Symbiosville – an interactive game, where you can learn how to keep a character happy (both inside and out)
Attempting the impossible – making exercise fun in the 'Training Ground'
Visit MOD. adjacent the Morphett St Bridge on North Terrace, Adelaide.
Already seen the exhibition? Share your feedback with others and review on
TripAdvisor
.
Verse Magazine 2020 Recruitment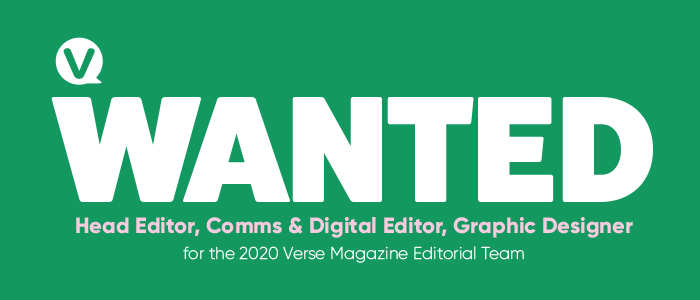 Calling all editors, creative minds and innovative charismatic students.
Verse Magazine is now recruiting the following for the editorial team of 2020:
Does this sound like you?
Head to USASA.sa.edu.au/VerseRecruit to find out more about the roles and apply today!
Applications close 4 November 2019.
Available Now: The UniSA Moves App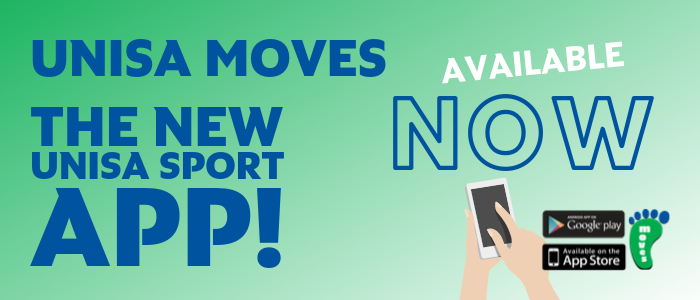 UniSA Sport, with the help of UniSport Australia, have developed the UniSA Moves App – a free Mobile App for students, staff and the wider community... it's for everyone! The app has just launched and is available to download NOW on Apple and Android.

The purpose of UniSA Moves is to encourage you to get moving more than you already are. We want to help you "Find Your 30" – that's 30 minutes of exercise per day. Easy!
With the UniSA Moves App you will be able to:
Track your activity levels
Join challenges and win prizes
Compete with your mates and colleagues to see who moves more
Create and track workouts in the gym and at home
Join on-campus challenges and activities like our walking groups, recreation Fridays and free play
...plus so much more!
At UniSA Sport we believe that to get the most out of University it is important to lead a healthy lifestyle. Improving your physical, mental and social well-being is key to academic and professional success.
To learn more about UniSA Moves head to our website OR just search and download "UniSA Moves" in the App Store or Google Play on your device and join the first challenge TODAY!
UPCOMING EVENTS
The road to success: managing procrastination and building resilience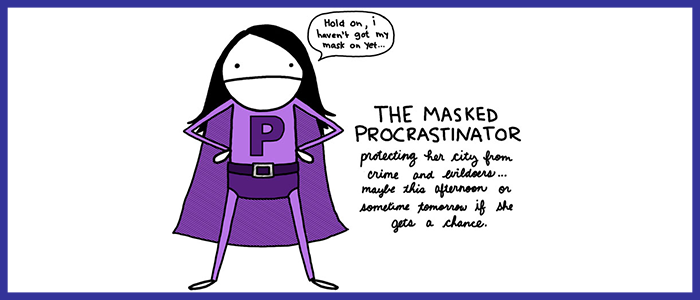 Constantly distracted from achieving your goals? Not motivated to start your assignments?
The Road to Success: Managing Procrastination and Building Resilience workshop examines how our lives are being shaped by common habits of procrastination. It explores practical ways to take control of study habits and build your motivation.
Come along to learn practical strategies for reducing your screen time so that you can produce better quality work.
WHEN: Tuesday 21 Oct 2019, 3.00 pm–4.00 pm
WHERE: City West Campus
Book your free attendance now through CareerHub .
Study Overseas and Exchange Information Sessions – on campus this week!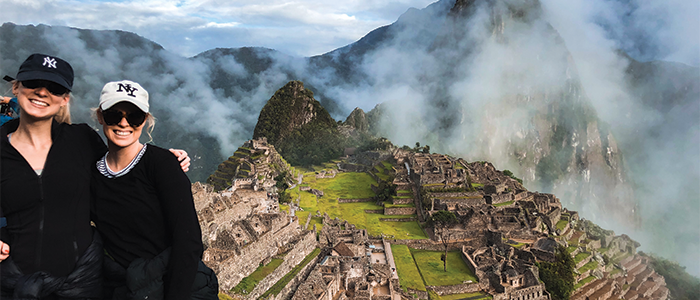 Curious about studying overseas? This is your chance to find out more and talk to the experts!
Studying overseas can mean experiencing a new culture, challenging yourself, boosting your resume and career prospects, developing an international network, gaining credit towards your degree, and just travelling and having fun. So, come to one of our October information sessions to learn more (and enjoy free pizza!)
Wednesday 16 October: 12.10 pm–1.00 pm, G1-85 Magill Campus

Thursday 17 October: 12.30 pm–1.30 pm, MC1-21 Mawson Lakes Campus
Register your attendance now through the Study Overseas website.
FROM THE STUDENT SERVICES
Alcohol and Wellbeing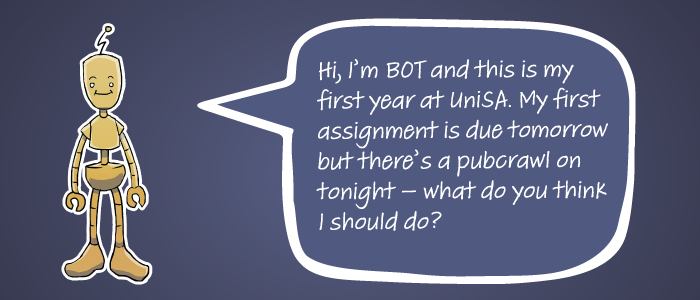 Alcohol is Australia's most widely-used recreational drug. So it's no surprise that many university students also choose to drink alcohol as part of celebrating, socialising, relaxing and having fun.
Just as there are some positive aspects to why people choose to drink alcohol, there is also the flip side when it comes to the effects of alcohol on health and wellbeing.
In our new The Life of BOT choose-your-own-adventure game, help BOT decide whether to go to a pub crawl tonight or stay at home to work on an assignment.
Visit the UniSA Wellbeing website to click START and play the game, and check out the information and resources to help you be better informed about alcohol consumption and its impact on your wellbeing.
National Nutrition Week 2019: Try for 5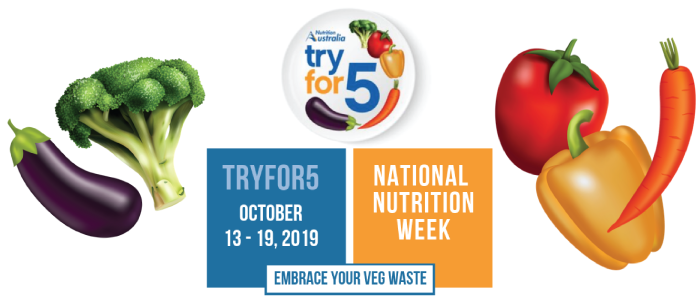 National Nutrition Week 2019
is 13–19 October. The week always coincides with the United Nations' World Food Day, which takes place on 16 October, and this year the theme is all about how to try for five serves of vegetables each day while also reducing your food waste!
We all know veggies are good for us – we've been getting told for years! Eating a healthy and balanced diet can help reduce the risk of many chronic diseases. But did you know that we throw a lot of good food away?
In fact, less than 4% of us eat our recommend five serves of vegetables a day, but wasted food makes up more than 1/3 of the contents of the average household bin, and Australians discard up to 20% of the food they purchase. That's nearly $4000 worth of food per household per year that can end up in landfill, where it breaks down and emits harmful greenhouse gases.
Visit the
UniSA Shopping Hacks website
and check out our information designed to help you save yourself food, time, and money – it's more simple than you think!
Also check out the
Baptist Care SA Community Food Hub
that provides FREE bread, fruit and vegetables, as well as food and essential items at a reduced cost. All you need to do is show your student card.
Have your say in our Alumni Focus Groups and earn $60!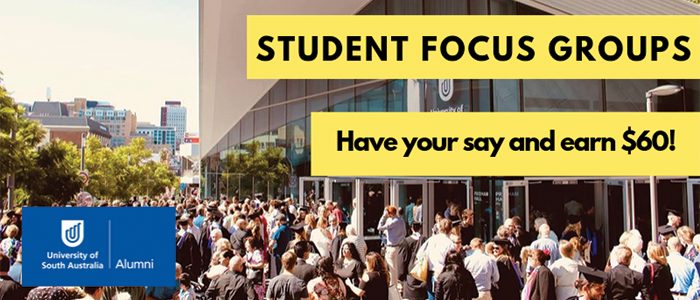 UniSA is embarking upon a major new alumni initiative and we want you to be a part of it.
Between 30th October and 1st November, we will be conducting the first series of focus groups with our students. Located on campus, these groups are designed to be entertaining and fun, and all participating students will receive $60 on the day. They will last approximately 75 minutes and be independently run.
Make your voice heard and improve opportunities and experiences for the University's students and graduates – all while earning a little money!
The Library Online Survey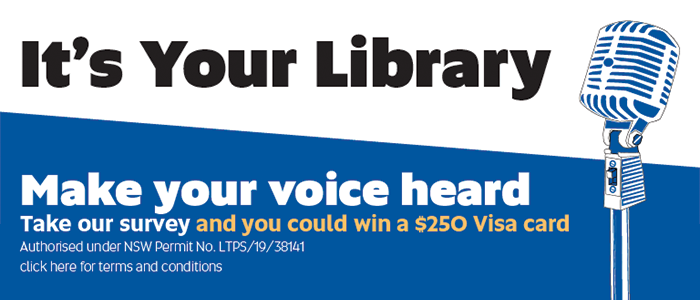 The Library is conducting an online survey from 11 October–3 November 2019.
This is your chance to give us your opinion on library services, including:
What's important to you
What we are doing well
What we can do better
Your opinion counts, and we listen! As a result of the 2017 Library Client Survey, we have:
Increased the number of quiet spaces and group study spaces
Improved access to Library resources and services on mobile devices
Installed more computers, power outlets, laptop benches, mobile phone charging stations
Extended our opening and Ask the Library service hours
The survey will take less than 10 minutes and your responses will remain anonymous. Enter the draw for a chance to win one of four $250 visa cards.
Visit www.library.unisa.edu.au/insync to participate.
Download the UniSA smartphone app!