In this issue:
Student Achievements
SP5 Scholarships – Apply Now
3 Minute Thesis
Good Luck Chelsea!
Open Day
Midyear Orientation
Accommodation for Placement
Respect. Now. Always
Campus Hours
Campus Central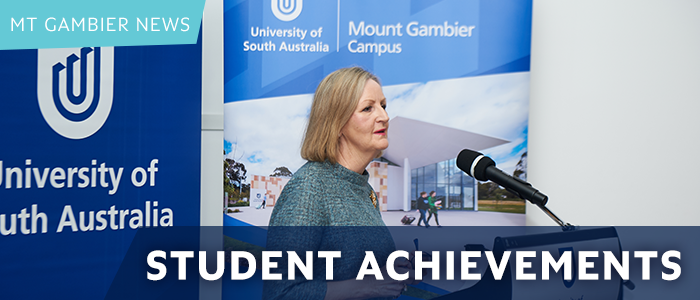 On the 10th July, UniSA Mount Gambier came together with guest speaker Professor Carol Grech, UniSA Pro Vice Chancellor: Student Engagement and Equity, to celebrate the achievements of our local students.
The university also welcomed corporate and private donors including local philanthropists, Bob and Gayle Cowan. The evening was celebrated with over 60 awards, scholarships, and grants presented to local students.
Congratulations to our recipients and we look forward to an even bigger event in 2020.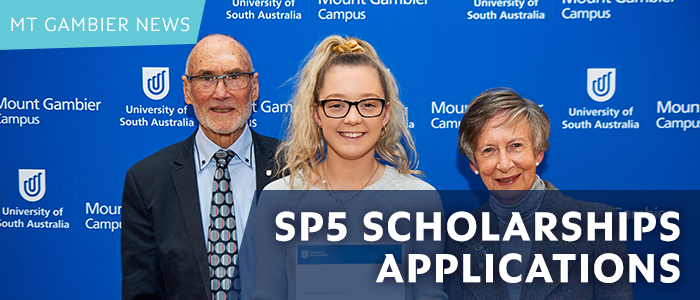 A scholarship might just provide the helping hand you need to make university life a little easier.
Not only do scholarships provide financial assistance, but they often include valuable work experience, mentoring opportunities and sometimes even overseas travel.
We have a range of scholarships and grants to support your success at university, and encourage you to apply.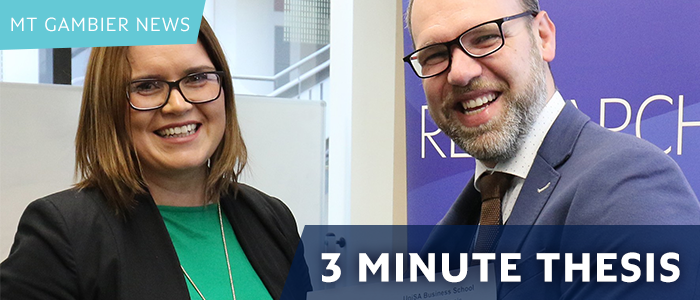 Local PhD Scholar Jessica Porter recently won the 3 Minute thesis competition within the UniSA Business School.
Jessica's research examines how Australian state governments attempt to control the housing market, particularly the supply of affordable housing, through the land use planning system. Her work is a comparative study of regional local government in South Australia and Victoria examining how State-initiated policies are administered by local governments, and exploring through the exploration of how the decisions of local governments can influence affordable housing outcomes.
Congratulations Jessica!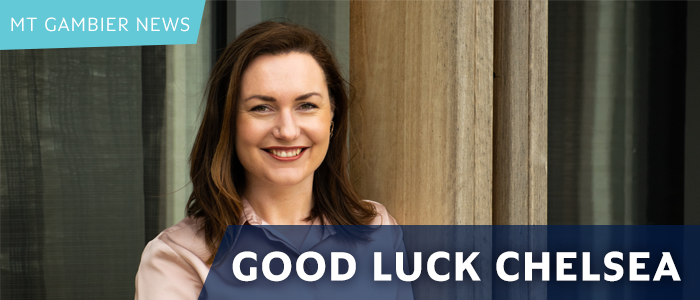 PhD Scholar and Lecturer in Education at Mount Gambier, Chelsea Cutting, is taking off to Italy and Germany to present her research next month.
The project is investigating how preservice teachers can become more aware of their presence (and reflective of their pedagogy), when filmed while implementing a maths professional development teaching episode with their peers, by 360 cameras. This is a collaboration between UniSA academics and the University of Bologna, Italy.
Chelsea is also presenting her PhD work, which is titled 'Re-thinking fraction instruction: The case for an alternative approach for the early years of primary school.' She is also investigating the role spatial reasoning may play in enhancing young children's initial fraction ideas – specifically related to conceptualising the magnitude and density of fractions.
UniSA Mount Gambier is lucky to have such a scholar as part of the staff here on campus.
Open Day is fast approaching. If you know of someone interested in studying at UniSA, get them to come along Sunday 11 August, from 11.00 am – 4.00 pm!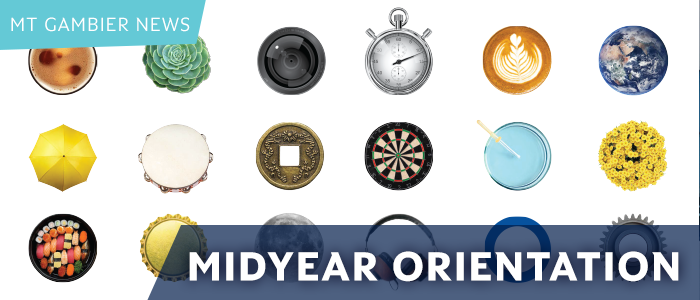 UniSA Mount Gambier is preparing to welcome the mid-year intake of students on 22nd July. If you see some new faces on campus, introduce yourself and say hi!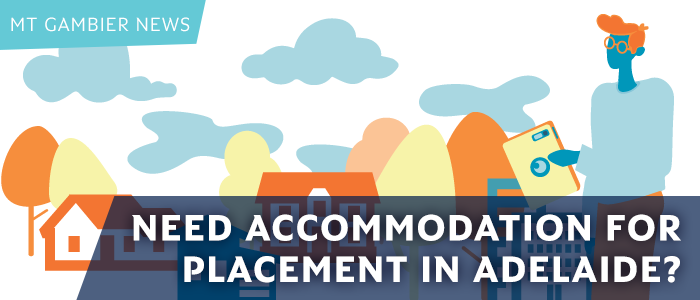 If you're travelling into Adelaide for placement,
UniSA Accommodation Services
can help you find the most suitable accommodation option for you. Check out some of the alternatives available in Adelaide below:
UniSA accommodation by urbanest
Located on Bank Street and across the road from Adelaide train station and tram stop, UniSA's student accommodation by urbanest is within easy reach of our CBD and metro campuses. You can choose to live in a shared apartment or in your own studio room.


Private rental
UniSA's Rental Database have vacancies that are listed specifically for UniSA students, where you can search for shared houses or units near your campus. If you have a vacancy at your accommodation, you can also advertise it on the Rental Database for free.

Other accommodation options
The list of options available to you goes on, including homestay, residential colleges, student hostels and other student apartments.
Learn more about which option might be suitable for you at unisa.edu.au/accommodation.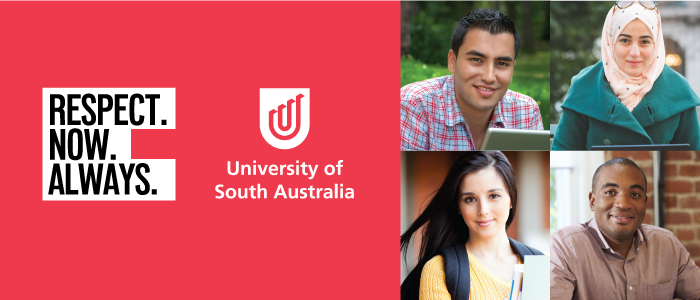 UniSA is committed to a healthy, safe and respectful university culture where all students and staff are valued. This means we have zero tolerance for sexual assault and sexual harassment.
If you know someone who has been affected by an incident of sexual assault or sexual harassment, supporting them can have a big impact on their recovery and willingness to access support services. On our website you can find a
list of steps
to equip you with the skills to respond to disclosures in a compassionate, respectful and helpful manner.
If you have experienced sexual assault or sexual harassment yourself, there is
a range of support options available
to you. Regardless of when or where the incident occurred, support is always available and we encourage you to make use of the free and confidential services at UniSA or, if you prefer, outside of the University.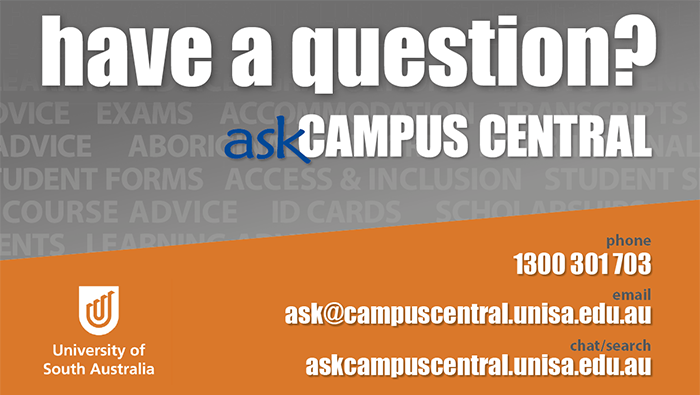 Wondering where to get help?
Campus Central is your one-stop centre for student services and matters of student administration. We work closely with schools and divisions to provide these services, and are here to help you with:
Program/Enrolment Advice
Graduation
Exams
Transcript/Parchments
Finance
and much more.
Download the UniSA smartphone app!