In this issue:
Bonfire Night
Movie Afternoon
Annual Outback Rural Allied Health Camp 2019
PVC: Student Engagement and Equity meets with students
Staff feature: Chelsea Cutting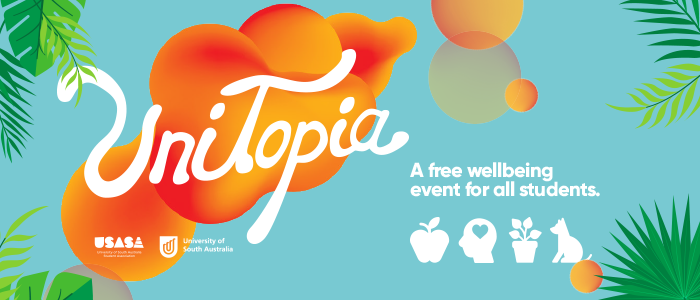 There is plenty planned for Mount Gambier Campus UniTopia on Wednesday 9 October. Run by students for students!

What you can expect at UniTopia?


•
Chalk Drawings with the Art Club
•
Play games with our Gaming Club
•
Amazing little gifts and food for all who attend
Join us at our Bonfire Night!
When: 12 October 6.00 pm-10.00 pm
Where: Caroline Hills Vineyard
Cost: $10 for UniSA students, or $20 for guests
Book today at the front desk!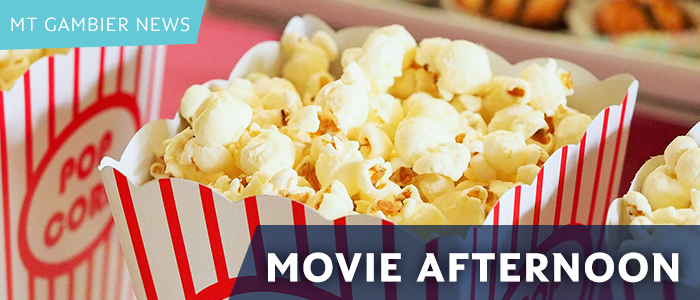 Never seen Crazy Rich Asians? Or maybe you'd like to see it again?
The well-known movie, 'Crazy Rich Asians' will be showing in the Mount Gambier Auditorium on 27 October from 11.30 am.
There will be free drinks, popcorn and pizza! Family and friends are welcome. Make sure to note this event in your calendar today!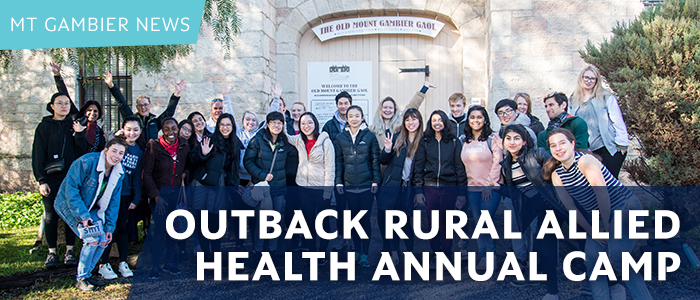 On 23 September, ROUSTAH the Allied Health Club hosted its annual ORAH (Outback Rural Allied Health) Camp at Mount Gambier Campus. 27 students, 2 Department of Rural Health staff and UniSA staff travelled to Mount Gambier to participate in the Clinical Skills Workshops being presented by local professionals from the region.
After touring our local campus and the amazing Horizon, Hospital and Health Service students got stuck into it.
From birthing ping pong balls to mixing medications, practising venipuncture and discussing mental health. The students had a fantastic mix of local professionals including Midwifery, Nursing, Forensic Examination, Phlebotomy, Indigenous Health, Pharmacy and Radiography. With the overall aim to encourage students to rural placements and to accept increase rural workforce, it was overall a great success. Not only did the students take away a lot of practical learning, but they also got a taste of the amazing opportunities on offer and the beautiful area we live in.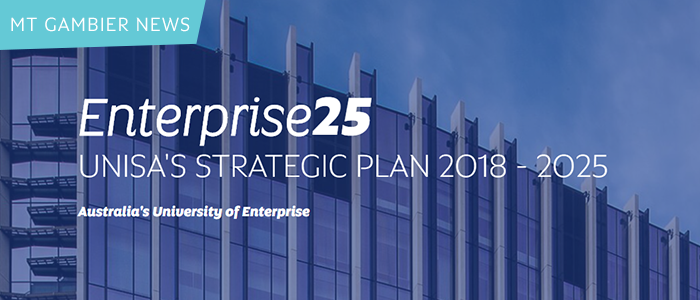 Professor Carol Grech, Pro Vice Chancellor: Student Engagement and Equity recently visited our Mount Gambier Campus and met with USASA Rep, Laurena Byers and other students to discuss the 'Enterprise25 Transforming our academic enterprise Change Proposal' and to answer questions from students.
The students who attended were very pleased to hear from Professor Grech and were reassured about the positive changes anticipated from the transformation.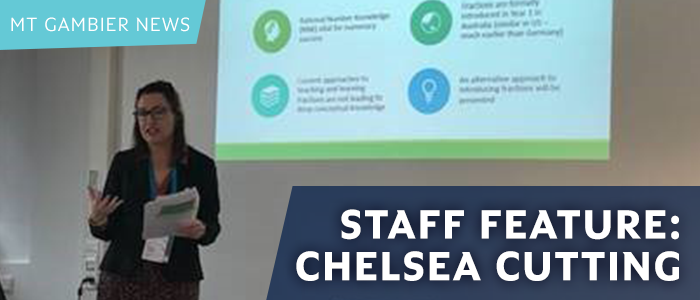 In September this year, I travelled to Bologna and Hamburg to work on a research project between my colleagues in Adelaide and the University of Bologna, and to present my PhD research. The collaborative project was a comparison study of Pre-Service Teachers studying mathematics as their specialisation, and how the use of a 360-video camera can enhance their awareness of their pedagogical presence when teaching. The collaboration extended to a discussion with our partners at UoB for expanding this study more widely to in-service University lecturers.
My time in Hamburg was spent attending the European Educational Research Association's Emerging Researcher Conference, where I presented my PhD study titled, "Exploring the efficacy of an alternative approach to fraction teaching and learning in the early years of primary school". My research has been undertaken in regional South Australian schools, and I have explored the role spatial reasoning may play in enhancing young children's understanding about the size (magnitude) of fractions.
This experience was invaluable as an early career researcher, as I was able to build my networks internationally as researcher, and showcase the possibilities working at a regional university can provide.

Download the UniSA smartphone app!