In this issue:
Library Services
Student Reps
Online Academic Skills Workshops
Studiosity
Open Day
Accommodation in Adelaide
New Innovation & Collaboration Centre
Career Services Visit
Respect. Now. Always.
Campus Central
SP5 Scholarships
Welcome to all new students joining us at UniSA for the first time, and welcome back to all continuing students. Stay updated with the student newsletter for your quarterly dose of Whyalla News and events.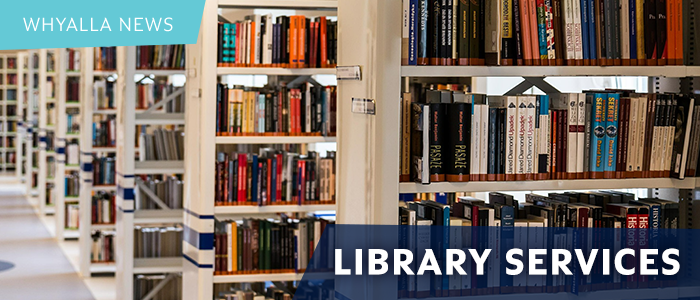 To discover the broad range of guides and videos designed to help you find information for your assignments through the Library, visit the website
here
or go to your mycourse Library in learnonline.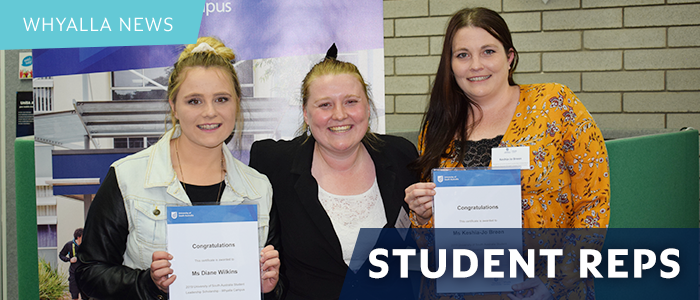 Whyalla Student Rep
Wenona Reddaway-Worth - USASA Whyalla Representative
Your student representatives share your voice on campus & work with the University to improve your student experience. Find out more at
usasa.sa.edu.au/studentboard
Student Experience Leaders
Have an idea for a student event or activity at the Whyalla Campus? Please feel free to contact one of the below students.
Diane Wilkins – First year primary education
Email: wildl012@mymail.unisa.edu.au

#1 study tip is: Plan out your week and don't leave things to the last minute
Fave place to study: Library
Fave food: Cheesecake
Keshia-Jo Breen – Third Year Social Work
Email: breky006@mymail.unisa.edu.au

#1 study tip is: Reference as you go – don't leave this until the end!
Fave place to study: Library
Fave food: Anything with cheese
ASR Reps
An Academic Student Representative (ASR) role is to represent and communicate the views of the student cohort to your Program Director. The main objective is to improve the quality and experience of learning and the teaching at UniSA. Stay tuned to hear from your Whyalla Student Representatives.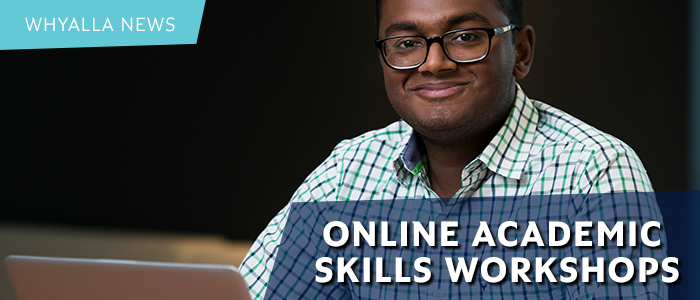 Need some extra help with understanding assignments, academic writing and/or referencing?
Book in to attend an online academic workshop!
You can watch from the comfort of your own home or pop in and watch from a study room or computer pool on campus.
SP5 Dates: 31 July, 6, 13, 20 and 27 August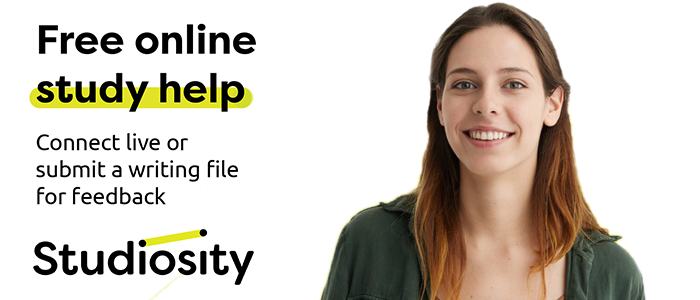 Feeling overwhelmed, stuck on a study question, or not sure where to even start with an assignment?
Whether you have questions about academic writing and grammar, maths, accounting, statistics or referencing, you can get one-to-one help from a Studiosity adviser.
The best part? Studiosity is totally free for UniSA students.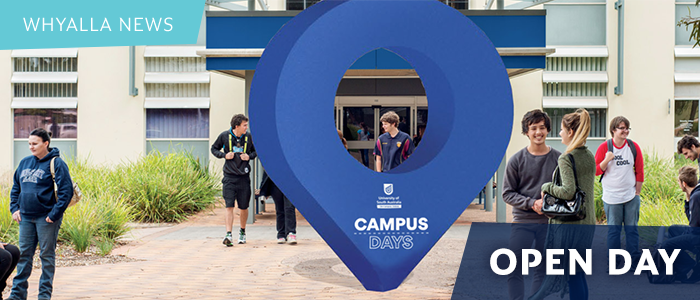 Open Day is fast approaching. If you know of someone interested in studying at UniSA, get them to come along Wednesday 25 August, from 11.00 am – 3.00 pm!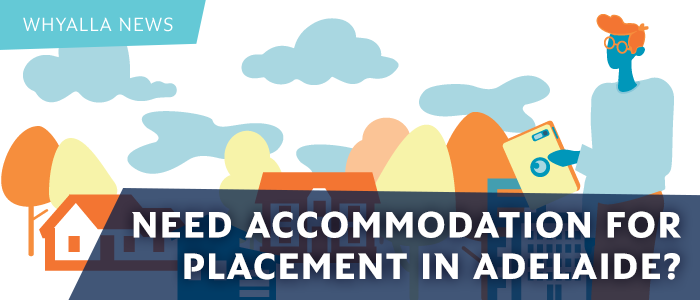 If you're travelling into Adelaide for placement,
UniSA Accommodation Services
can help you find the most suitable accommodation option for you. Check out some of the alternatives available in Adelaide below:
UniSA accommodation by urbanest
Located on Bank Street and across the road from Adelaide train station and tram stop, UniSA's student accommodation by urbanest is within easy reach of our CBD and metro campuses. You can choose to live in a shared apartment or in your own studio room.


Private rental
UniSA's Rental Database have vacancies that are listed specifically for UniSA students, where you can search for shared houses or units near your campus. If you have a vacancy at your accommodation, you can also advertise it on the Rental Database for free.

Other accommodation options
The list of options available to you goes on, including homestay, residential colleges, student hostels and other student apartments.
Learn more about which option might be suitable for you at unisa.edu.au/accommodation.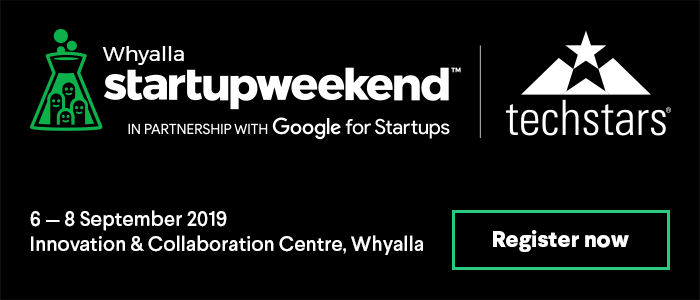 Do you have an idea you'd like to pursue or a problem you'd like to solve but don't know where to start or who to start with?
Calling all students, budding entrepreneurs, ideas people and anyone interested... join us for Startup Weekend at the new
Innovation & Collaboration Centre
(ICC) in Whyalla!
The weekend-long experience is designed to bring ideas and teams together to formulate an early concept and business model. Your ticket includes:
7 meals over the weekend
One-on-one time with global mentors
A new network of developers, designers and entrepreneurs eager to change the world
All the internet and coffee you can consume!
Limited accommodation available.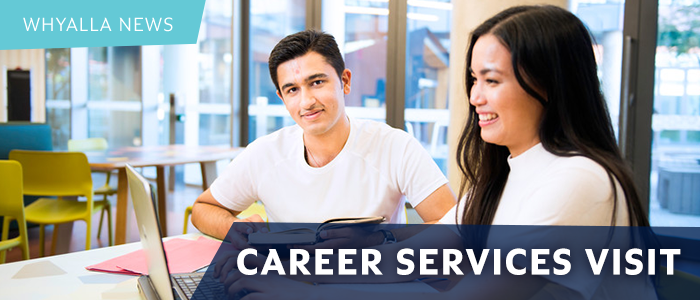 Did you know there's a whole team of people at UniSA dedicated to helping you reach your career goals? And we'll be visiting the Whyalla campus on Wednesday 4th September!
David Maerschel is one of our Career Advisers at UniSA and will be available for 1:1 meetings to talk about how to prepare for your working career. He'll also be running some workshops and would like to know what problems you would like help with.
Do you struggle with networking? Do you need help with your resume? No idea how to find part time work in your field? Are you terrified of attending a job interview? Let David know what career related problems you would most like to solve by emailing
Careers@unisa.edu.au
by Friday 9 August and he will do his best to prepare an information session to help!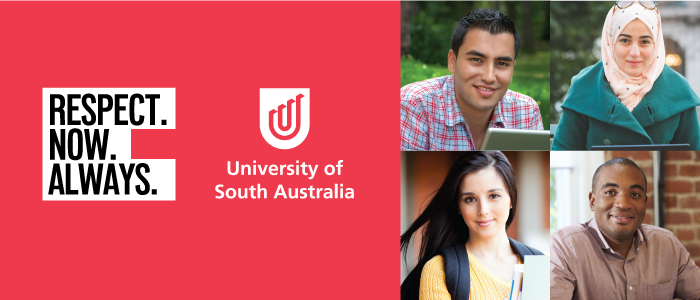 UniSA is committed to a healthy, safe and respectful university culture where all students and staff are valued. This means we have zero tolerance for sexual assault and sexual harassment.
If you know someone who has been affected by an incident of sexual assault or sexual harassment, supporting them can have a big impact on their recovery and willingness to access support services. On our website you can find a
list of steps
to equip you with the skills to respond to disclosures in a compassionate, respectful and helpful manner.
If you have experienced sexual assault or sexual harassment yourself, there is
a range of support options available
to you. Regardless of when or where the incident occurred, support is always available and we encourage you to make use of the free and confidential services at UniSA or, if you prefer, outside of the University.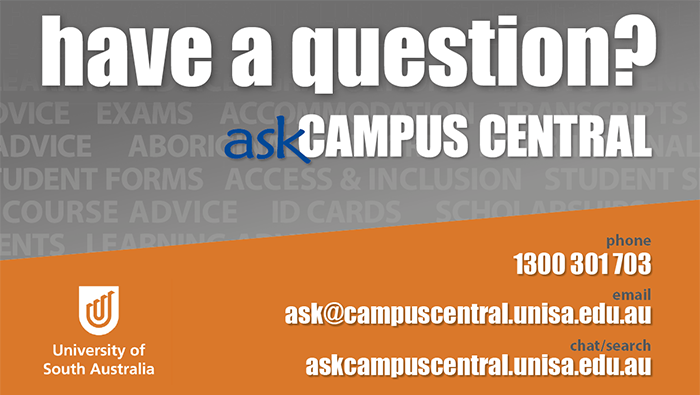 Wondering where to get help?
Campus Central is your one-stop centre for student services and matters of student administration. We work closely with schools and divisions to provide these services, and are here to help you with:
Program/Enrolment Advice
Graduation
Exams
Transcript/Parchments
Finance
and much more.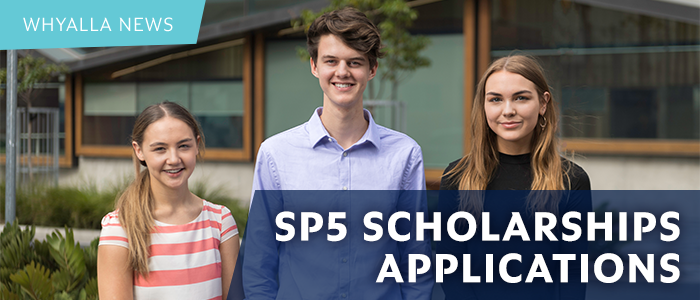 A scholarship might just provide the helping hand you need to make university life a little easier.
Not only do scholarships provide financial assistance but they often include valuable work experience, mentoring opportunities and even overseas travel.
We have a range of scholarships and grants to support your success at university, and encourage you to apply.
Download the UniSA smartphone app!