In this issue:
Mental Health Week – Wellness Festival
UniSA+ Skype Information Session
2020 Continuing Student Enrolments are open this week
NASA International Space Apps Challenge Registrations
Academic Workshops Online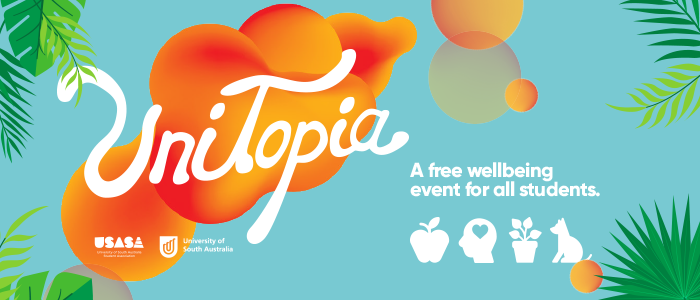 UniTopia is back on campus to help you check-in and chill out. The event will be from 11.00 am-2.00 pm on Wednesday 9 October.
There's a bunch of activities to explore, help you relax, move, create, connect and nourish your body and soul!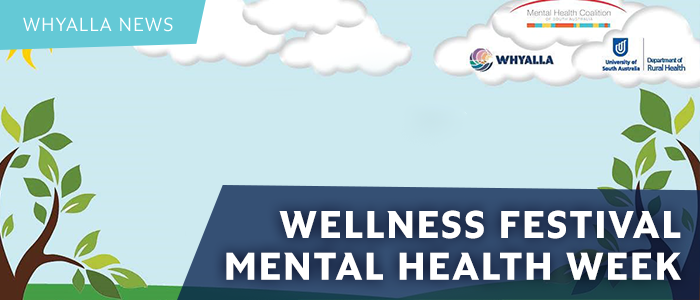 Come join us for this year's mental health week event, "Wellness Festival 2019", a FREE community event.
It will be held Thursday 10 October, 11.00 am-3.00 pm on the front lawns on the UniSA Whyalla Campus, 111 Nicolson Avenue, Whyalla.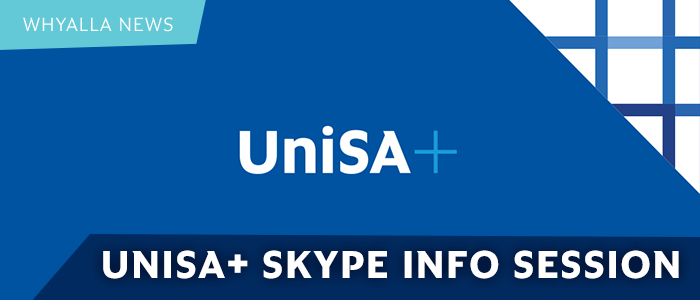 The UniSA+ Award provides you with a transcript of your participation in co-curricular activities during your studies, to help you stand out as an exceptional graduate and prospective employee. The UniSA+ Award represents the University's commitment to ensure employers, in an increasingly competitive global economy, recognise the valuable leadership skills, experience and knowledge you have gained during your time at UniSA. All undergraduate and postgraduate coursework students are eligible to participate in The UniSA+ Award.
There is also an upcoming Information Session on
Monday 14 October at 12.00 pm in MB2-71
. If you would like to attend, please RSVP to Simone Purdie (
Simone.Purdie@unisa.edu.au
) by Friday 11 October.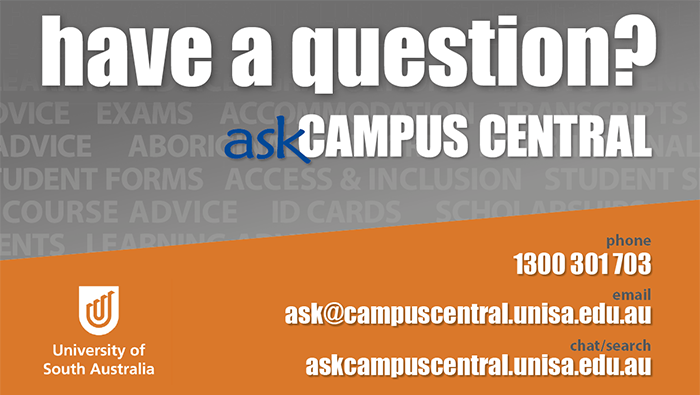 Study Periods 2-7 will open for enrolment, progressively by Division, between Monday 7 October and Thursday 10 October 2019 at 7:45 am. You can enrol in your program on or after your program open date. Your specific enrolment open date and time will be available on your
myEnrolment
homepage.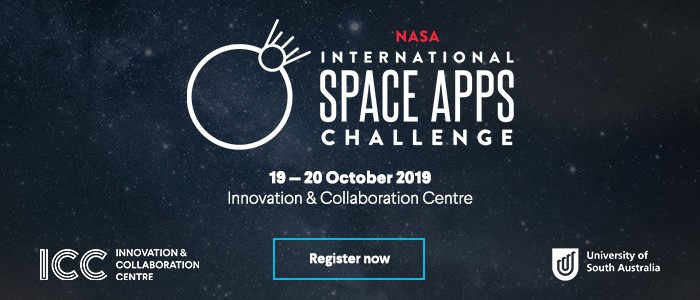 Space Apps is back at the Innovation & Collaboration Centre. Use NASA's data to solve Earth's problems and win some great prizes!
Over 18,000 people from 75 countries and in 200 cities around the world participate in this global competition celebrating collaboration across borders. Space Apps inspires creativity and critical thinking, fosters interest in Earth and space science and exploration and encourages the growth and diversity of the next generation of scientists, technologists, designers and engineers.
From Whyalla we will live stream the Adelaide event to form one big event. A brief overview of Space Apps is:
Largest global hackathon in the world
Held over one weekend October 19-20
All around the world people create teams and use NASA's data to come up with solutions to problems on Earth and/ or in space
Expert mentors assist you along the way
A fun way to spend a weekend and make friends
Prizes from sponsors up for grabs
The chance for winning teams to go on and compete in global finals overseas
Everyone and anyone will be welcome to take part, but under 18s will need to be accompanied by an adult (minimum age 13)
No coding experience necessary
Free to attend.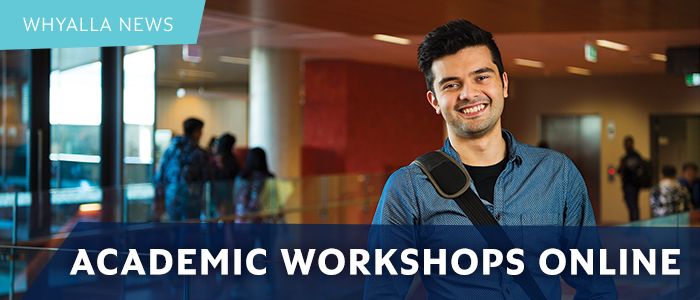 Go to the registration link to access the virtual classroom link.
•
Writing Assignments Workshop: Wednesday 9 October from 5.00 pm-6.00 pm
•
Basics of Harvard Referencing: Wednesday 16 October from 5.00 pm-6.00 pm
•
Paraphrasing and Integrating Sources: Wednesday 23 October from 5.00 pm-6.00 pm
Download the UniSA smartphone app!