Student Experience Vision
University can have an extraordinary impact on our lives. Students and graduates enjoy experiences, gain perspectives and build relationships that stay with them for life and offer opportunities to build a great career. Our vision is to enhance students' life and prepare them for success from the very start of their university journey through to their graduation.
The Student Engagement Framework
The University undertook a major project in 2016 to better understand what is important to students, outcomes they wish to seek, and to capture ideas for enhancing the student experience at UniSA. We engaged with almost 200 students, alumni, staff and industry across 17 focus groups to develop a Student Engagement Framework that enables us to achieve our vision of providing an exceptional and distinctive experience at UniSA.
As part of the project consultation, we sought to understand what ideas students, staff and industry partners have for enhancing student engagement so that we may empower them to make the most out of their time at UniSA. Based on the output from the project, a university-wide framework has been developed to help us achieve our vision of 'Engaged Students, Enterprising Graduates'. The framework lays out the guiding principles for delivering what students value most, with a focus on University Life, Student Transition, Career Development, and Teaching and Learning.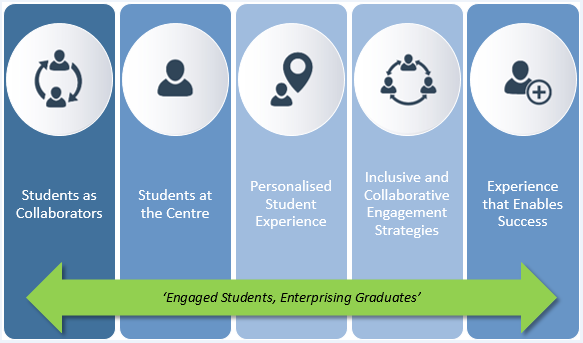 UniSA's Student Engagement Framework
What we are doing
The University offers a wide range of services to students and we continue to build upon our strengths and work closely with our students and staff to develop an understanding of what's working well and identifying areas that need further enhancement. This is accomplished through a number of platforms that have been put in place to facilitate partnerships between students and staff. We have listed some of the initiatives below.