EDGE Spotlight on Imogen Ramsey
PhD Title: 'Addressing gaps in patient-reported outcome data for cancer survivorship monitoring'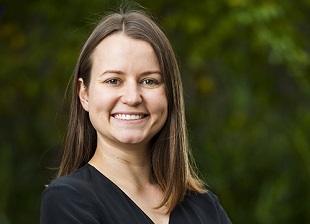 Imogen Ramsey commenced her PhD in the School of Nursing and Midwifery in 2017, under the supervision of Professor Marian Eckert in the Rosemary Bryant AO Research Centre. Prior to commencing her PhD, Imogen worked as a research assistant for several years at Cancer Council SA which fostered her interest in the area of optimising health and well-being outcomes for cancer patients.
We talked to Imogen about the development experiences she has undertaken during her PhD, how these have enhanced her candidature and presented opportunities to shape her PhD and the next stage of her career.
Research Expertise: addressing the needs of your research project
Imogen has taken advantage of a range of workshops offered by UniSA training specialists to deepen her research skills and mature as a communicator.
"Workshops helped a lot with planning and initiating my research and designing my study. Building confidence and communication skills are important and talking to other PhD students in workshops really helps with that," Imogen explains.
Developing communication skills is a key benefit of attending EDGE workshops as well as providing the opportunity to meet candidates from all corners of the university, as Imogen shares:
"I enjoyed being in workshops with other students from different disciplines. You have to explain what you are doing to someone in a different discipline in a way they can understand."
Enterprising Futures: responding to industry needs for specific attributes and competencies
Effective communication and leadership skills are core capabilities sought after across a range of industries. Imogen describes how her research has presented opportunities to build on training she had undertaken to develop these critical transferrable skills:
"This year I am leading a study for the Multinational Association for Supportive Care in Cancer, … I am also a co-investigator with another young researcher on another study, so that has been really good. Certainly, the skills I have developed just in the last couple of years have really equipped me to lead a group of quite experienced researchers."
Understanding the role creativity and innovation play in identifying needs and gaps to identify potential opportunities and commercial outcomes of research was of great benefit to Imogen in developing an entrepreneurial approach to her research.
"I went to a workshop called 'Introduction to Commercialisation'. It was about having a very clear value proposition when you are thinking about commercialising your research. Not necessarily thinking about validation of what you think is a good idea but looking for what the gap is first. Rather than just pitching an idea and waiting for people to say, 'oh that is good', it is about trying to get to what the need is first. I think PhD students are naturally creative and innovative but may not see themselves in that way or may not see opportunities in their research."
Skills in Practice: recognising the value of experiential and work-integrated learning
Imogen has taken advantage of an international internship opportunity which has provided her with valuable and tangible outcomes for her research as well as helping her establish networks for the next stage of her career.
"I did a six month internship abroad at the Netherlands Comprehensive Cancer Centre, which is a leading organisation in my field, where I had the opportunity to lead a collaborative international study. I was really outside of my comfort zone at first but developed my competencies and research skills so much from applying them in a unique work environment," explains Imogen.
Internships are a great way to get practical experience and enable you to demonstrate the range of skills you've developed during your PhD. You can also build a professional network that can set up post PhD collaborations and opportunities as Imogen outlines;
"I became involved in the EORTC (European Organisation for Research Treatment of Cancer) quality of life research group while I was overseas as I had the opportunity to attend both of their biannual meetings. These provided great exposure for my PhD and helped me to build a research network outside of the university. Since not too many Australians attend their meetings, they invited me to write an article for their newsletter about the research we are doing here which was a really nice way to stay involved."
Careers in Focus: helping you to reflect, plan and manage your skills needs in alignment with your career ambitions
While Imogen didn't have a specific goal in mind when she commenced her PhD, attending career-focused workshops during candidature has helped her understand the broad range of career options and how to foster her networks to expand her options for the future.
"I went to an information session for the APR:Intern scheme and looked at doing one in my field. It was a bit late for me but would've been great to gain a different career perspective earlier in my candidature. Being able to use my research to explore a variety of career opportunities in parallel with my PhD has been really rewarding."