EDGE Spotlight on Annabelle Neall
PhD Title: 'The boundaries and constraints of bystander intervention in organisational settings'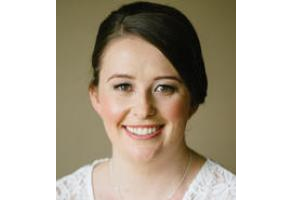 Dr Annabelle Neall commenced her PhD in the Centre for Workplace Excellence in the former School of Psychology and Social Work in 2014, under the supervision of Professional Michelle Tuckey. Her project in the area of workplace bullying came about after identifying a gap in the literature in this area through the work Annabelle did for her Honours project.
We talked to Annabelle about the development experiences she undertook during her PhD, how these have enhanced her candidature and presented opportunities to shape her PhD and the next stage of her career.
Annabelle is now employed as a lecturer of Organisational Psychology in the School of Psychology at the University of Queensland.
Research Expertise: addressing the needs of your research project
Annabelle found value in training that was specific to the needs of her research centre, and the context of her research project, in addition to sessions broadly focused on getting started in research and mandatory ethics and research integrity training.
"We did some development in the Centre which was around writing and grant development, and they were particularly useful."
EDGE offers workshops which address discipline-specific expertise in addition to those skills needed by all research candidates. Annabelle focused on training which would specifically help her develop the skills needed to gain hands-on experience in her discipline.
"Very direct, grant writing workshop and how to tailor proposals for industry, for example, not just for ARC grants...workshops around how to promote ourselves, and that would translate into going to conferences or twitter feeds that get picked up by organisations that result in contracted research."
Enterprising Futures: responding to industry needs for specific attributes and competencies
Annabelle undertook her research project within a centre with strong links to peak health and safety bodies around Australia. This gave her opportunities to develop and maintain stakeholder relationships and she has found many of the skills developed during her research became valuable in working effectively with industry partners.
"So to be able to go to a organisation, identify their needs and use my skill set as a researcher to translate their needs into products or services they need to solve their problem, that is the biggest one. Obviously that comes with learning how to communicate with different audiences, learning how to analyse data, knowing how to ethically how to integrate those sorts of things."
Annabelle was part of a research team developing a bullying risk assessment tool for use by organisations looking to identify hot spots for bullying. While Annabelle's PhD was very theoretical, she developed creative and critical thinking skills through the process of building the evidence base which supported the development of the tool.
"I have been part of a team which has developed an innovative way of tackling workplace bullying… My PhD was much more theoretical and conceptually based, not a lot of crossover but I could definitely apply the skills of writing and how to frame arguments and how to tackle the issues in a creative way."
Skills in Practice: recognising the value of experiential and work-integrated learning
Annabelle worked as a research assistant throughout her PhD, working as part of a team developing a risk assessment tool for workplace bullying. She reflects:
"Probably the biggest learning was the work that our centre leaders were within the centre, so I have done a lot of work with industry for someone just out of their PhD, so I am used to framing information sheets and industry stakeholder relationship and how to work with other organisations, and that all came from on the job experience"
Practical experience throughout candidature is an excellent way to position yourself as career-ready when considering post-PhD opportunities. Annabelle found that the regular practical experience during her PhD was valuable preparation for her current role as a lecturer:
"(it's been a) direct extension, I have just taken on more independent work, more responsibility and more conceptual, theoretical components of projects. I have had more experience now managing budgets whereas before it was about preparing material or analysis"
As well as formal engagement opportunities, Annabelle built external networks to expand her experience:
"I went to a conference three years ago and the woman presenting after me was really the only other scholar I know doing bystander research, so I went and visited her two months ago for a few days and we did some work, and she has invited me back to come and give a talk and then consult to a project in Norway, so that is all from my PhD. So that is the sequential building of meeting someons at a conference, having a three day visit, going back for a five week visiting researcher position."
Careers in Focus: helping you to reflect, plan and manage your skills needs in alignment with your career ambitions
Understanding your career goals and the realities of the job market are important elements in developing an effective career plan. Even before commecing her PhD, Annabelle had a clear ambition of working as an academic and actively planned for this by taking opportunities to build her CV as much as possible.
My planning involved trying to stock my CV as much as possible, so I remember in first year there was this thing called 'Talking Books' where you could hire the professors from in the Division and talk to them about what their research was like. So that was someone from the Sleep Centre at UniSA who invited me to come and be an research assistant, and so I met other researchers there, and then did a summer vacation scholarship with them , and then did honours with someone else, and published two paper from that."
She looked to colleagues and peers for examples of experiences which might support her career goals.
"So it was really watching what my supervisors were doing, and understanding the different aspects of their role so when I go for jobs I have clear evidence of how I would address requirements…"
Annabelle also looked for ways she could create her own experiences to position herself well:
I tried to set up initiatives, I co-lead an initiative in Div EASS for PhD students where once a month we have a different topic…So that I could demonstrate I had leadership capabilities and could provide well rounded mentoring, tried to get myself on committees because I knew school service was part of that sort of role, so it was really unpicking the aspects of the role I wanted to try to make sure I had one pocket of experience for each."