Making the most of EDGEx
Written by Aprille Chua, UniSA Creative PhD Candidate
Hello HDRs,
I am a 4th year HDR student at UniSA Creative. I am thrilled to share my research experience gained through the UniSAEDGE program since 2020. With the activities and workshops listed on the EDGEx portal, I was able to invest my time wisely. Integrating EDGE's activities into my research planning also helped me stay focused.
My favourite part of the EDGEx portal is the self-recorded activities that allow me to track my research progress and identify areas for improvement. External activities I recorded included accredited courses (relevant to my research) and conferences (e.g., IEEE), government webinars (e.g., Wellbeing SA, Comcare), and my research prototype showcase at MOD. I also find the list of completed activities useful every time I prepare a report for the Review of Progress and, more recently, to update my resume. Thus, I am more self-aware of my learning progress as I also use the list for my career coach conversations (I meet with my coach every 3-4 months) and for planning my yearly goals.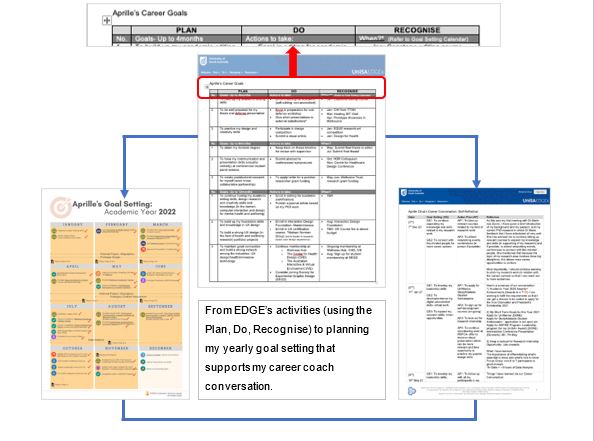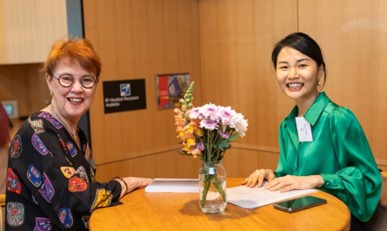 Photo of my career coach, Dr Marie Wood and myself at UniSA+ Awards Ceremony 2022
Photo credit to: UniSA Student Engagement Unit (SEU)
As an HDR myself, I feel appreciated to contribute my experience through this EDGE Bulletin. I can reflect on my learning and share my research strategies with my peers which contributes to creating a space for us to connect and cultivate a culture of co-learning. I believe with the EDGE Bulletin as a platform for co-sharing knowledge, we can make better decisions about selecting useful workshops and tap into one another's knowledge to find better ways to plan, learn, and do things- which ultimately can empower us to craft a more meaningful research experience.