EDGE Spotlight on Sam Rudd
PhD Title: 'Impact of doping on semi-metallic polymers'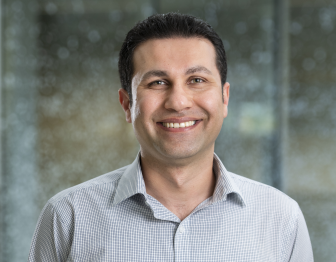 Dr Sam Rudd commenced his PhD in the Future Industries Institute in 2014, under the supervision of Associate Professor Drew Evans. Commencing his PhD after working as a chemical engineer and completing a Masters by Research, Sam's project focused on the interrelationship between the chemistry and physics of conductive polymers.
We talked to Sam about the development experiences he undertook during his PhD, how these have enhanced his candidature and presented opportunities to shape his PhD and the next stage of his career.
Sam was recently awarded the SIEF Ross Metcalfe STEM+ Business Fellowship, jointly funded by SIEF (Science Industry Endowment Fund) and CSIRO. He works in the Thin Films Coating Group in the Future Industries Institute at UniSA.
Research Expertise: addressing the needs of your research project
While Sam entered his PhD with significant technical experience related to his project, he found value in training activities which focused on developing his communication and time management skills. He recalls:
"I have worked in industry, but as a researcher I learned how to improve my industry language because you need to make your research and discoveries clear to someone outside your field of research, especially when you want to work with industry partners. Because you are doing great work and you will have some achievements, but you need to make these achievements clear and attractive for your industry partners as well."
EDGE offers workshops which address discipline-specific expertise in addition to those skills needed by all research candidates. Sam identified that time management would be an area he needed to develop, not only because he wanted to ensure he finished his PhD on time, but to support his interactions with industry partners
"Time management…especially when engaged with industry it is very important to meet deadlines. This applies whether working in the academy or elsewhere".
Sam also saw the value of development as a way to demonstrate his engagement to potential employers:
"to show I am someone who can be part of the team and think out of the box."
Enterprising Futures: responding to industry needs for specific attributes and competencies
Sam's research led him to a unique discovery from the novel materials used in his PhD, which in turn led to filing a patent and an industry collaboration. Through this experience Sam had the opportunity to develop and expand his skills to help him work effectively with his partners. He reflected on the key skills he developed:
"Collaboration – very important for PhD students. I have had several publications based on collabrations I had during my PhD – both national and international."
Sam also felt that creativity and innovation were critical to the success of his project:
"A big proportion of the thesis is what I discovered in my PhD… this material was used to develop a world first sensor, through a collaboration between UniSA and my industry partners."
Having completed his PhD, Sam can reflect on the value of the skills he developed beyond the specific needs of his research project:
"The PhD program is an excellent program which is not just about conducting high quality research or how to conduct the research, it gives the PhD candidate the flexibility to improve the other skills as well, and make sure you don't miss this opportunity"

Skills in Practice: recognising the value of experiential and work-integrated learning
Sam looked for opportunities to expand his networks and engage with people outside the academic research environment, through the IMNIS (Industry Mentoring Network In STEM) program.
"I was fortunate to participate in the IMNIS workshops, and to have an external mentor in state government. (I could) have a very long chat with them, and I am still in contact with them."
Sam's experience working with an external partner gave him valuable insights into working in industry. Practical experience throughout candidature is an excellent way to position yourself as career-ready when considering post-PhD opportunities.
"Making formal reports to partners. I go to their premises, I have an office over there as well. (It allows me) to be close to them and to transfer my knowledge to them as well.
I was closely engaged with managers, scientists and engineers to transfer my knowledge to their business…but it wasn't a one way road and I learned a lot"
Sam also worked with international research colleagues as a visiting researcher at Linkoping University in Sweden.
"I conducted a research project within the Laboratory of Organic Electronics team at LIU, as a world class team in the field of conducting polymers."
Careers in Focus: helping you to reflect, plan and manage your skills needs in alignment with your career ambitions
Sam worked on understanding his personal research interests to align them with his knowledge and experience, and to engage in conversations with those around him to help guide his career goals:
"I tried to map out my interests, my knowledge and my experience to figure out what I really want to achieve. I try to have a conversation with everyone around, my supervisor, my immediate colleague.
Then I engaged with my industry partner, and the end user to figure out what I want to do and what I want to achieve. And find out where I can apply my knowledge."
Sam engaged in a combination of formal and informal opportunities to develop his networks and expand his employment horizons. He reflected on the importance of these activities:
"to be engaged with others. Doing research is not something you only do alone."