Overview
The UniSA One Team Project Framework (OTPF) has been developed to provide all staff with the knowledge and tools to initiate, plan and approve, deliver, and close and review projects in the support of the university delivering successful outcomes for its stakeholders.

The OTPF does not seek to prescribe an approach, rather it aims to provide a best practice methodology enabling consistency and transparency, and supports the development of project management capability across the organisation. The framework also seeks to support the university's one team approach to collaboration and enterprise support encouraging staff to work across organisational boundaries.

Whilst staff are encouraged to use the framework to enable a consistent approach to project management, the OTPF empowers staff to use those tools, techniques and methodologies that they believe will support the delivery of successful outcomes for their stakeholders and the organisation as a whole.
One Team Project Framework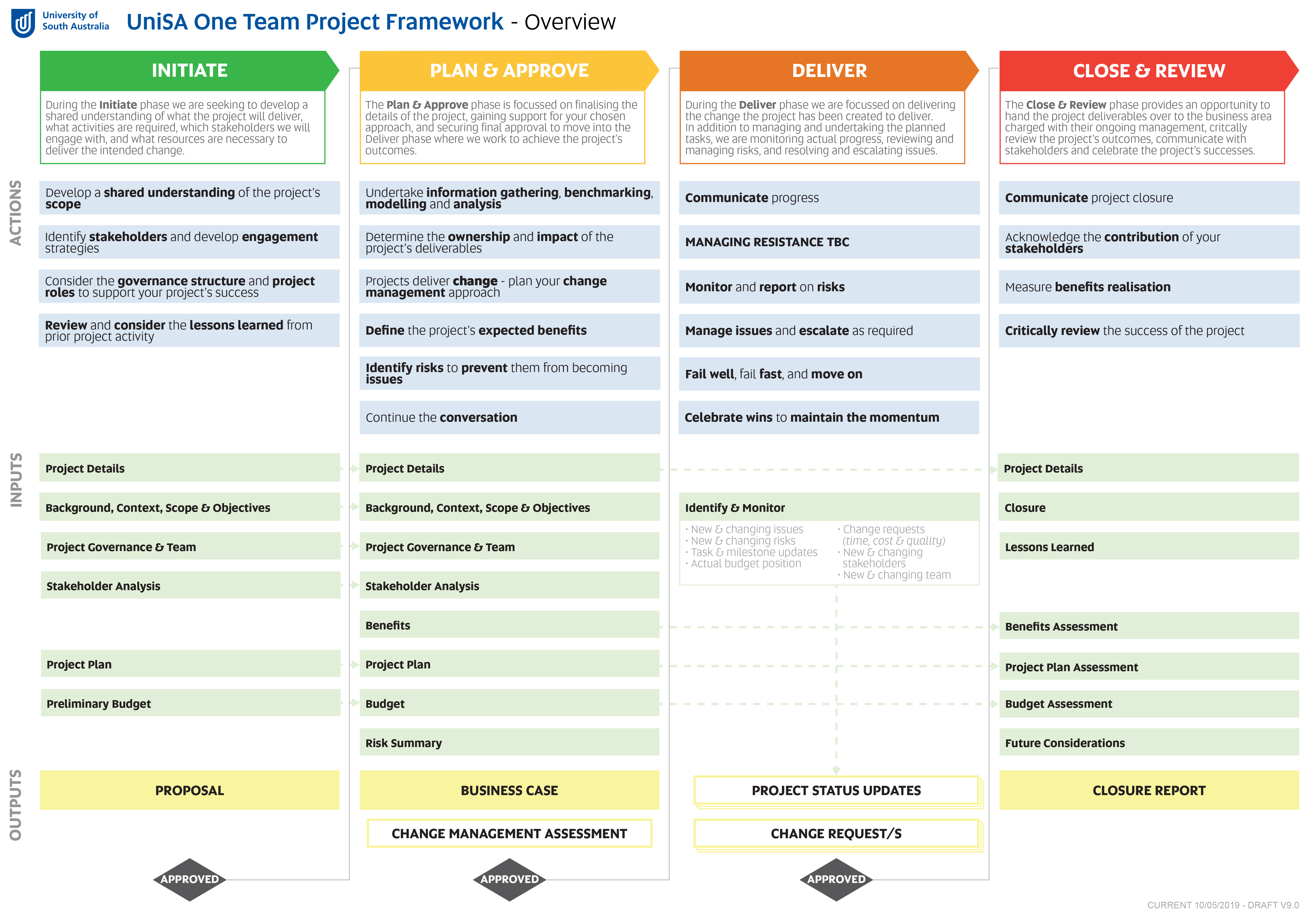 Approach
The OTPF is based on a range of project management methodologies, including PRINCE 2, PMBOK and Agile, but has been customised to best support the project activity undertaken at UniSA and balance the needs of users, stakeholders and decision makers.

Like most project frameworks, the OTPF is based around a phased approach. The use of phases has the following benefits: they ensure that we consult and plan our projects before we commence activity, they enable a scalable approach whereby a detailed business case is only developed if the project has wide support, and they provide control through decision 'gates' between phases that require approval to proceed with the project.

The 4 phases that make up the OTPF, and the purposes they serve, are detailed below:
The One Team Project Framework tools and outputs are available on the OTPF SharePoint site.