International Women's Day
Join us for tea, coffee and refreshments at the 2021 Adelaide International Women's Day Breakfast, which will be live streamed to each of our metropolitan and regional campuses. Hear from Senator the Hon Penny Wong and Natasha Stott Despoja AO who will be discussing 'Women in Leadership: Achieving an equal future in a COVID-19 role'.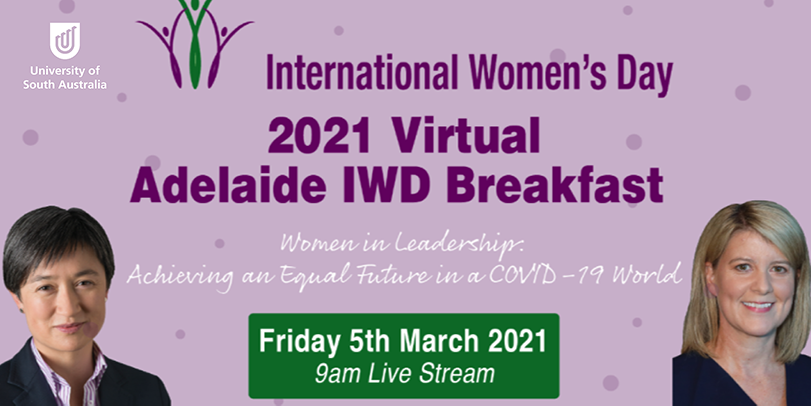 Friday 5 March 2021, 8.45 am – 10.30 am
City East Campus
H2-02
Mawson Lakes Campus
GP1-09
City West Campus
H2-16
Whyalla Campus
M2-69
Magill Campus
H1-44
Mt Gambier Campus
LC1-33
Speakers
Senator The Hon Penny Wong
A member of the Australian Labor Party, Penny Wong was elected as a Senator for South Australia in the Senate of the Australian Parliament in 2001. In 2004, Penny was elected to the Shadow Ministry. Following the election of the Labor Government in 2007 Penny was appointed the Minister for Climate Change and Water. After the 2010 election Penny was appointed the Minister for Finance and Deregulation. In 2013, Penny was appointed Leader of the Government in the Senate. After the change of Government she was appointed the Leader of the Opposition in the Senate. Penny is the first woman to hold both these roles.
Natasha Stott Despoja AO
Ms Stott Despoja AO is a women's rights campaigner and former South Australian Senator and was made an honorary doctor of University of South Austrlia in recognition of both her parliamentary and post-parliamentary contributions to the community in 2019. Ms Stott Despoja was recently elected to the United Nations Committee on the Elimination of Discrimination against Women.